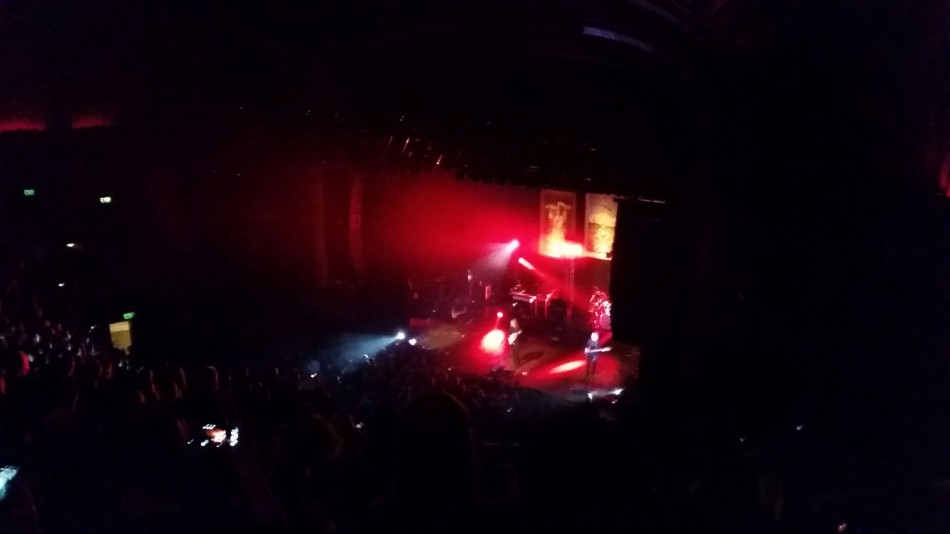 Monday December 8, The Warfield, San Francisco. I was running a bit late as it was (due to ongoing protests in Berkeley), and arrived shortly after the night's openers expecting an enjoyable few hours.
Perhaps it's something about the venue, but every time we enter The Warfield, we seem to be compelled to comment on the attire of the crowd. Well, Monday night's entrance was a baptism by metalheads. Metal-chained boots, a few back-of-the-neck 'Fuck Off' tattoo's, and a whirlwind of hair colors were my first welcoming signs into the metalhead den. Walking past the canvasses of previous Warfield performers, I knew the night would be killer when I saw a handful of long-haired Mastodon supporters holding up the 'sign of the horns' under the picture of Gabriel Iglesias for a photo.
Ten minutes later, the crowd was impatiently waiting for Opeth inside the pit. Five minutes later, I was being tossed and smashed in a localized mosh pit driven by a dedicated Opeth fan with a death growl and melodic yell of one of his favorite Opeth songs.
It was at this moment a musical revelation dawned upon my naïve metal mind.
At most other gigs, the chant of the crowd moments before the act is a form of mild summoning to invoke the presence of whomever they paid their money to see. At metal gigs, this is only partly true. The other part is summoning metal itself, channeling that headbanging vibe before any mortal man can put a pick to a guitar and shred the night away. Really, we were bringing metal to The Warfield to welcome Opeth, and not waiting for Opeth to be the fuel source.
The dedication was admirable and respectable; they were bringing the emotion of the performer's tunes to them, so that the performer could take that, channel it and blow the crowd away. As the mantra of the death growl came to a close (and after my body had felt solid ground for the first time in 10 minutes), the ceremony closed with a red-haired woman bellowing, "BRING US SOME FUCKIN' METAL!"
And so they did. Erupting from the catacombs of silence came "Eternal Rains Will Come," a jazz fusion that evolved into a ballad. It was beautiful — poetry at its finest — with research, sweat, and purpose poured into every note. Metal was not about that 'blasturbation' or incessant distorted monotonic rhythms, it was about fusing anything which has purpose into an idiosyncratic style. And Opeth pulled it off beautifully.
Lead vocalist Mikael Åkerfeldt had this Poe-ish aura around him: speaking in idiosyncratic narratives. The band was comfortable with its audience, and the audience welcomed every song as if it were their last. At all times there was a conveyer belt of moshers entering and exiting the moshpit. People would go, people would go hard, and then people would go back to a distant safety to recover, then return.
I was told by several metalheads around me that a woman was texting during opener In Flames, and the band brought the woman onstage and told her "if she was going to be on her phone, then she should do something right and film the crowd." Talk about band-audience connection.
In honor of metal and what we saw, I'll end with an ode to one audience member who bellowed "Fuck it, give me something to remember" after Åkerfeldt declared the band's last song. Here are the lyrics to "Still Day Beneath the Sun":
There is a light that hits the gloom around
Shows the footprints round this grave
Dried up roses scattered on the mound
Honouring the one engraved

Will ever the morning
Carry away
The souls of those for whom we cry

Leaving, grieving
Seeking, meeting
Binding, unwinding
Sighing "You"

Black procession through the narrow aisles
Another's gone for all to see
Near the site for one who lost his trials
Sleeping 'neath the ground is me

Still day beneath the sun
Asking you who is the one
And when the day is late
We know who must forever wait
Article by Nikos Zarikos
Comments
comments