If you find yourself in Dwinelle Hall on a Wednesday night in need of refuge from an endless deluge of midterms, problem sets, and essays, I suggest you make your way to the second floor. Follow the sweet sound of guitar strums and smooth harmonies reverberating down the empty halls and you will discover a sonic sanctuary in Room 206. From 8 to 9:30 PM every Wednesday night, a motley crew of UC Berkeley students are united by a common passion for singing, songwriting, and performing.
The Wednesday evening leading into spring break draws a packed room. "What's everyone doing for break?" asks Sanjeev Suresh, co-founder of Songwriting at Berkeley, as fellow co-founder Marcus Lee strums whimiscal R&B chords on his guitar during the meeting's opening cypher. Standing in a circle around an imaginary fire, the members all take turns freestyling two measures about their upcoming plans before everyone joins in on a sing-along chorus:
"Spriiiing breeeaaak, I can't waaaiiit"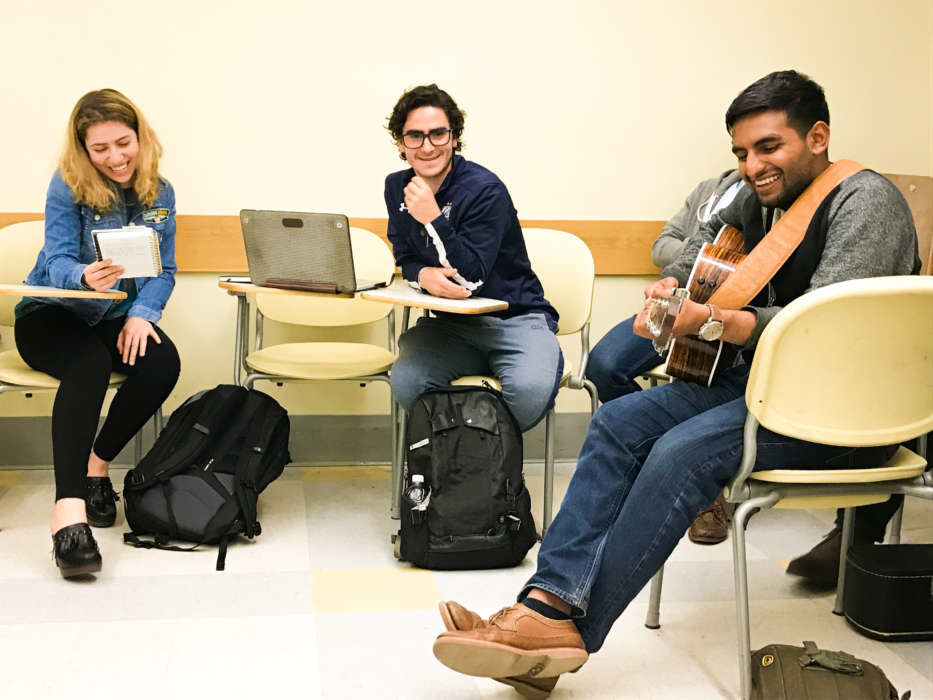 A year and a half old, Songwriting at Berkeley only began to gain traction two semesters ago. "We formed out of frustration," explains Sanjeev, who found the inspiration to songwrite after attending a Jason Mraz concert. "As a freshman, if you were a singer interested in pursuing your own music, the only options you had coming into were to either audition for an acapella group, an ensemble, or instead start a YouTube channel to pursue something on your own."
After attending several open mics in the area and becoming dissatisfied with the lack of a singer-songwriter community, Sanjeev and Marcus met through College Talent Tour (fka Berkeley Star) auditions and dedicated themselves to creating a space for songwriters. "We knew a community like this existed but didn't have a place to meet," says Marcus, a self-taught guitarist whose aspirations to tour stem from artists like Eminem and Mumford & Sons. "We'd bounce ideas off each other to figure out how to make this club successful. We were so crazy back then," they laugh, "Two computer science and EECS majors talking about creating a music club."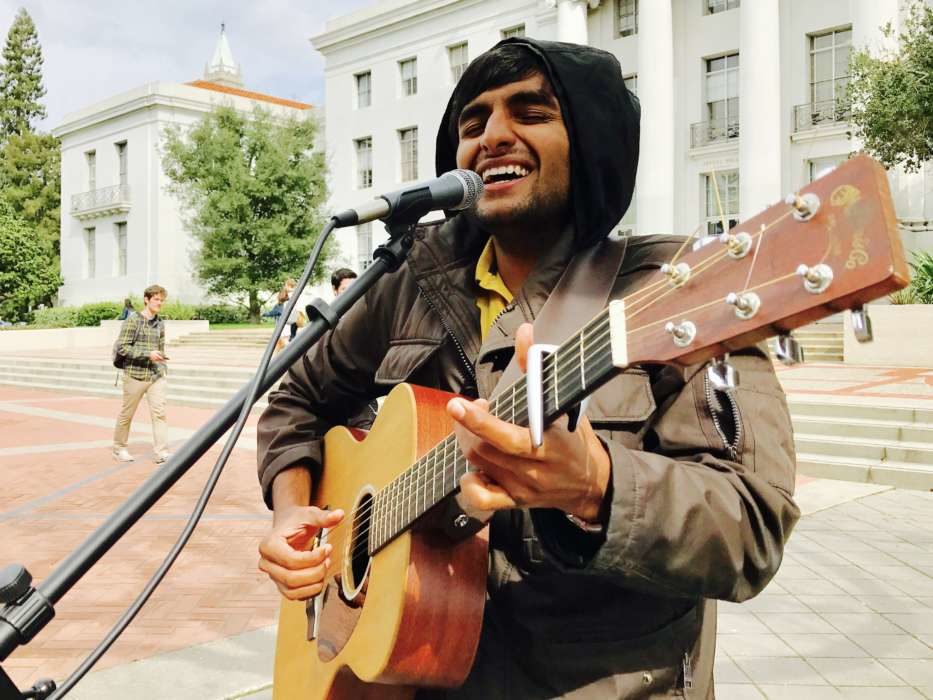 "We are a group of singers and instrumentalists who push each other to improve our craft."
Songwriting at Berkeley first appeared at UC Berkeley as a sought-after DeCal this past fall semester before it split off into a club that caught the eyes and ears of the larger student community, including freshman Kayla Flores, who discovered the club after watching their covers on Facebook. "When I first arrived at Cal, I was looking for a music-oriented club that had a fit for the vision I had." A talented singer inspired by the poetic genius of Frank Ocean, Kayla explains that she always had a passion for singing, but began to focus more on writing original music after joining Songwriting at Berkeley.
If you often attend open mic nights in the Berkeley area, chances are you will see some familiar faces. "We regularly attend and throw our own open mics" says Marcus, "But we also have the drive to do so much more, like recording an album by the end of the year." During busy school days, you can hear them busking on Sproul plaza. "It's a great way to test out our options before we play at a more formal venue, and a chance to put in performing hours in front of people rather than in your bedroom," Sanjeev remarks, "It teaches us to put on a dope performance and connect with people no matter what or who's watching. We've been approached about many performance opportunities because of that!"
Erika Keer, a senior who grew up singing and performing in musicals and choirs, has been eagerly contacting various venues for club public performances. "April is our club's busiest month. We [performed] at the Music for Memories Gala hosted by Active for Alzheimer's on Wednesday April 12. Come on over to the weekly farmer's market in Downtown Berkeley and you'll find us singing there, too. We're also performing at SoDoI Tasting House in a week on April 22! We're trying to perform in as many different styles, scenes, and settings as we can in our community."
Along with carefree jam sessions, open mics, and community performances, Songwriting Club pushes each member to improve their songwriting skills with exercises like a seven-day songwriting challenge to tackle writer's block and experiment with different song topics and styles. They also threw a Grammy's After-Party inspired formal social event, where members dressed up for a elegant night of music at Anna Head Alumnae Hall, rotating performances on the stage with a full band set up.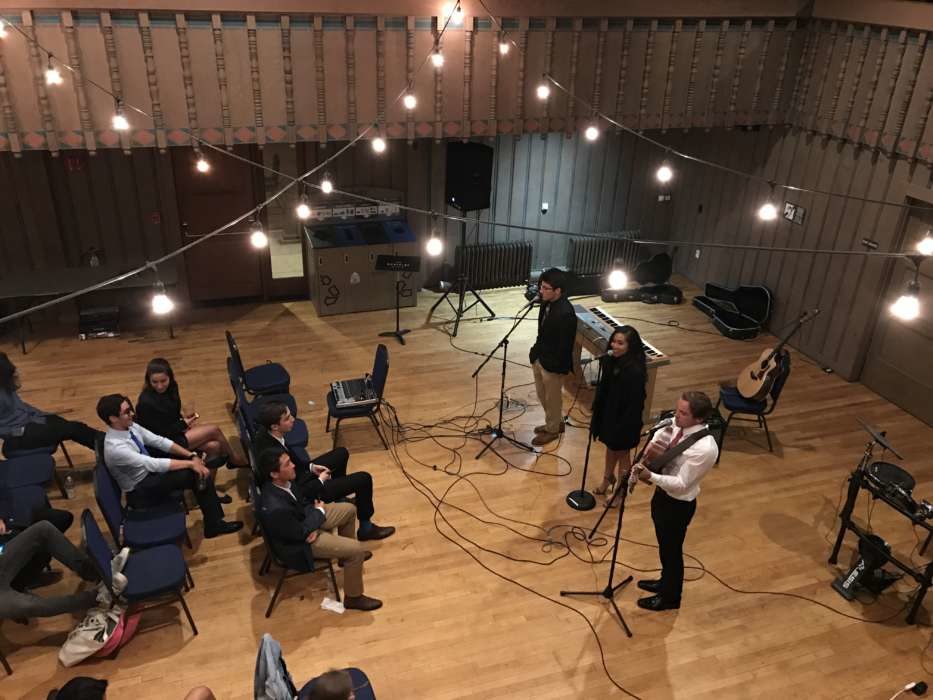 Above all else, it is the people and their passion that turn Songwriting at Berkeley from a club to a community. "We're a group of people who have our individual aspirations but like to do the same thing, so we grow and learn from each other," Marcus raves, "Songwriting at Berkeley has introduced me to diverse opinions and a wealth of knowledge of what songwriting is and how to do it and to people who support my passion."
"Singing and performing was a huge a part of my life since I was a kid," Erica reminisces, "When I came to Berkeley, that part of me went away for a few years. With this club, it picked back up and introduced me to songwriting. After going through a breakup that inspired with a wave of songs, I wanted to figure out how to write songs from scratch; not by chance, but by intention."
"The club is important to me because of how open, inclusive, and welcoming it is to everyone," Kayla muses, "Berkeley can be pretty intimidating and hyper-competitive, but this space makes people safe and comfortable sharing what they have to say."  
"I've become less ashamed to say that I like this," Sanjeev reveals. "Before, all I had was my roommate to whom I would say things like 'Check out this chord!' or 'This lyric is really doing it for me right now.' I songwrite because I want to find something true about the world. I want to capture it, put it in a song, and see what people think of it. Is this right? Is this true?"
Sanjeev hopes that any member, new or old, feels welcome. "It's always exciting because we have new people dropping in all the time and we want to integrate them in our club."
"It's especially exciting when someone picks up a guitar, starts playing a melody, and everyone just jumps into a sing-a-long," adds Erika. "It's a small moment I've been craving for a long time. It's cool to know that we're just hanging out in a room in Dwinelle and all of a sudden there's a concert among us."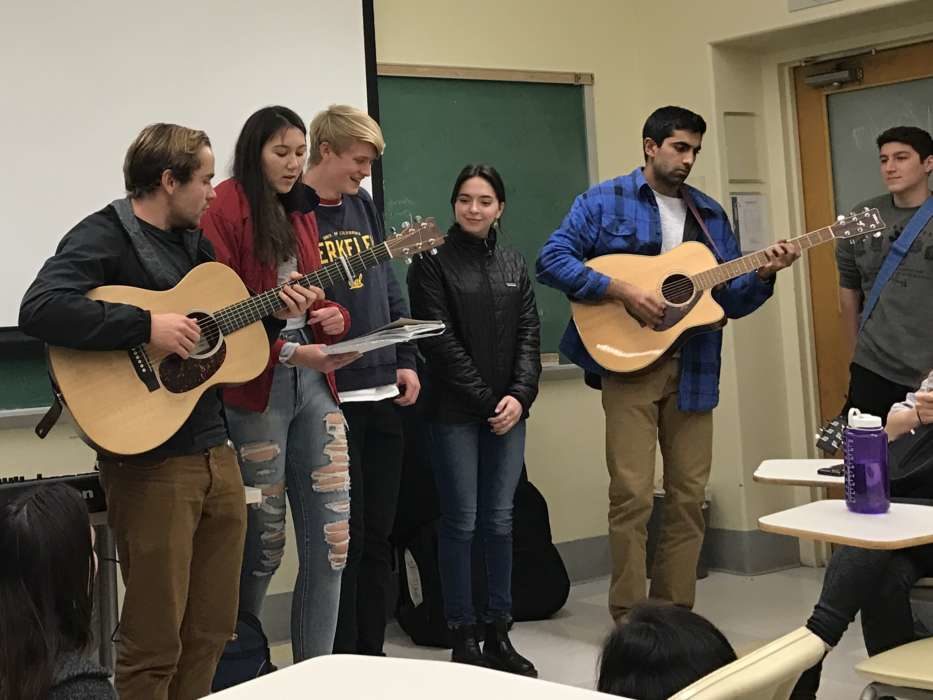 Article and interview by Kenneth Zhang
Comments
comments