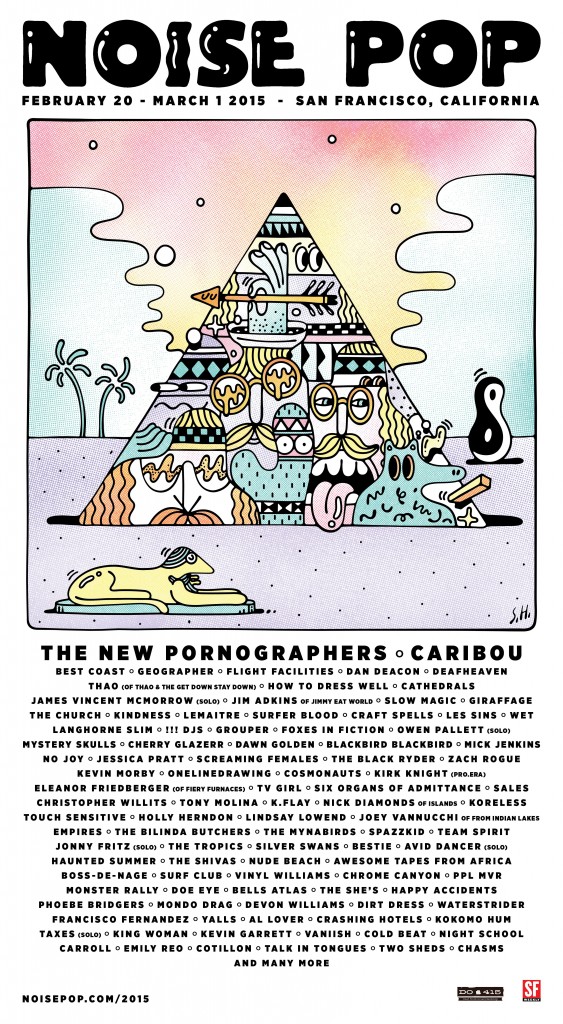 Now in its 23rd year, San Francisco's celebrated annual Noise Pop festival returns next week with over a hundred artists at about 50 shows in 18 venues in San Francisco and the East Bay. In addition to live music events, a specifically curated film series spanning 14 feature films runs February 20-25. The first event of the festival: a pre-party at the California Academy of Sciences on February 19 will be DJ'd by Allan Wilson and by !!!, while Caribou and Koreless will wrap up NP15 with two sold-out shows the first weekend of march at The Fillmore.
Yesterday, the festival announced its closing night party: Deafheaven, Boss-de-Nage, Mortal Bodies, and Cloak at Rickshaw Stop March 1.
General film and music badges are now sold out, but Super Fan badges with happy hour perks are still available for $400 and most single show tickets are still available for up to $30.
Performances we've tapped include: Screaming Females (2/21), Salad Days (film, 2/21) Night School (2/24), Thao (2/24), Flight Facilities (2/24), Geographer, (2/27), Slow Magic (2/27), CATHEDRALS (2/27 and 2/28), Dan Deacon (2/28), The New Pornographers (2/28), Cherry Glazerr (2/28), the Orchid Tapes Showcase (2/28), and James Vincent McMorrow (3/1). Unfortunately for us, we college kids never seem to have nearly the same UBER allowance (for bar-hopping purposes) as Noise Pop Talent Buyer Chad Heimann.
We spoke with Heimann over the phone on Tuesday about the reopening of Swedish Music Hall, Noise Pop's commitment to local and independent music, and his personal picks for this year's festival.
Hi Chad — how are you? How's the office?
The office is good. Everyone's a little bit stressed, but no one's cried yet. We're actually ordering chicken wings right now, so everyone seems to be in good spirits.
Tell me about Noise Pop 2015. Swedish Music Hall, for example – is that a new venue in the city?
It's a historic venue that's been around as a hall, Swedish American Hall, since the early 1900s. It closed, along with Café Du Nord, earlier last year. Café Du Nord was the bottom venue, and Swedish Music Hall was the upstairs venue; they were run by the same people. Swedish was bigger, but it also could not accommodate drums, so a lot of things were acoustic – special shows like Sufjan Stevens and The Mountain Goats happened there. We did some shows there back in the day. The venue's new owners have given Noise Pop the opportunity to be the exclusive bookers, so this is the first time we're running our own venue. Following the festival, we'll be booking shows there during the year. We're really excited about that. This is also the first time doing shows at Leo's in Oakland.
That one's real intimate. [So is Noise Pop.] One thing we do love about the festival is that, historically, you've been able to help local outfits gain more exposure by pairing them with nationally-recognized acts. Is there a criteria for local bands and musicians? I've noticed you tend to avoid having the same act play two festivals in a row.
There isn't a specific criteria we believe in besides good music. We try to ensure that pairings fit organically and to keep at least half of the bill at each show local. There have been some acts where we decided to give a year off, but other times, we like to fall back on old reliables. I think we do also make a good effort at finding out what's new and now, locals who we should be championing.
What are some new ones this year that you're excited about, then?
Definitely Hot Flash Heat Wave who are supporting Surfer Blood. I'm a firm believer; I've seen them once before. A big band I've been championing for are The Bilinda Butchers, who are going to be on the Great American show with Craft Spells – that's actually going to be a super good show because we also have Cotillion, a great new Burger Records act. They're from LA, but recently migrated to San Francisco. Their record just came out last weekend; it's super solid. And then this tiny little band from SF called Balms. I just listened to their Bandcamp, on which they had only one song a year ago. Since then they have slowly started recording, putting more songs out, and playing more shows. I knew from the beginning of booking Noise Pop that I wanted to find a spot for them.
You're… the talent manager?
The talent buyer, yes. So I booked about 90% of Noise Pop this year, perhaps 85% to be more fair.
Well, Noise Pop is very much described as an indie festival. How big is too big? Like, if Beyonce wanted to perform, how would you say no?
Oh, I wouldn't. The way we describe ourselves as independent is that we're independently owned. We have the same owners who have been doing this for 23 years. I think this year [our lineup's] skewed a little more pop, but we do stick to our independent roots by championing independent as well as legacy artists like The Church.
You guys are getting bigger… I think this is the largest lineup you've had!
I think so. It's kind of on par with what we've done in the past. There's 50-something shows.
That's a lot; you've grown over the last 23 years.
Definitely.
What's next?
… making Swedish Hall a priority; booking great quality shows throughout the year in that venue where locals can go and check out great music in an intimate venue. Doing a third 20th Street Block Party which will be happening this September, and starting to book Treasure Island 2015.
Alright, so The B-Side has met you before as Chad Salty. One of our photographers covered Giraffage… at Leo's, actually. You said you messed up too much during your sets to record them [and upload to Soundcloud]. Are you performing at Noise Pop this year?
I might actually. It's not confirmed, but I might do a little DJ set with Aaron Axelson after Wet plays on Friday night, following POPSCENE.
This year's film series looks very cool.
You know, something I'm really happy about is… for the three years I've worked here, I've rarely gotten the opportunity to go to the films. Traditionally, the film series ran during the same time frame the music did. This year, we've decided to spread it out. The film actually starts the week before the music, it gets you ready and gives you the option to enjoy everything a little more.
Is there a separate panel that chooses the film?
Yes, we have our head of production Kelley-Ann Schilke who curates the film programming every year. Which is great, since I know very little about films so I don't have to book that as well. The film component started in 2000.
Oh wow, so it's going on 15 years. That's a milestone. Any other shouts?
The one other thing I'm personally very excited about it that we've never teamed up with a label to do a showcase.
Orchid Tapes?
I'm very proud of that one. It was one of the key bookings in Swedish Music Hall. It's been a pleasure working with Warren [Hildebrand]; we're still working on our last two acts for it, but just knowing we have Foxes in Fiction and Owen Pallett one of the first weeks of Swedish Music Hall's re-opening… that gets me very excited.
That's actually very personal to me because Warren's from my hometown; we crossed paths years ago – I interviewed him for my high school paper. He moved to Brooklyn since, started this label, and it's just taken off. It's absolutely brilliant.
Oh yeah, it's phenomenal to see how that label's grown. We're excited because it's still on the cusp and people are still figuring it out. I've been promoting it heavily this past month. We've seen great ticket sales for it.
I've never seen Warren live, which I've always regretted, so I'll 100% be there myself. Final question, to wrap things up: which shows will we find you at, what are you doing during the set changes, and what drink do you have in your hand?
You'll definitely see me at two-thirds of Noise Pop. Key shows for me: Christopher Willits' OPENING, the opening night party, Flight Facilities, Giraffage, Orchid Tapes showcase, and Deafheaven. Between set changes, I'll be frantically running into an UBER to get to the next venue. I'm trying to beat my record – last year, I think I did six shows in one night and went through $500 worth of UBER credit in a week. This year, I want to try to do seven events. Drink in hand… a bourbon and club soda. Because it's zero calories.
Article by Joanna Jiang
Comments
comments