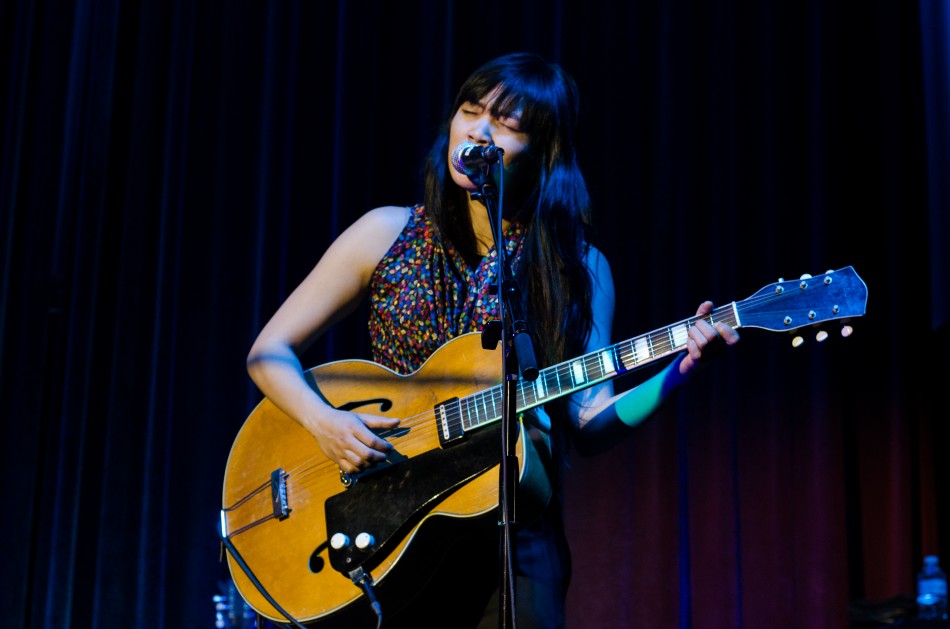 In one of numerous Noise Pop 2015 offerings this past Tuesday, Thao Nguyen played an intimate acoustic session at the Swedish American Hall in San Francisco. The night was host to a mixture of local and non-local talents, each with their own musical flair.
Debbie Neigher, a local solo artist, welcomed the flow of guests with her enchanting vocals, eloquent piano work, and bubbly stage presence. Annie Girl of Annie Girl and The Flight, a Colorado native, took to the platform accompanied by Joe Lewis, bassist of The Flight. The duo exhibited their skills as indie rock artists under the self-determined label of "dream rock," but theirs was too dreamy a set and lacked the right amount of pop to keep the audience interested. After them, Laura Burhenn of The Mynabirds played an elegant solo set on keyboard. It was difficult not to acknowledge the similarities between Neigher and Burhenn: skillful piano playing, powerful vocals, and lively interactions between the performers and their audience kept the crowd hollering after the two musicians for more.
After Burhenn made her exit, Nguyen and the Swedish American staff executed a standard set change during which Nguyen's celebrity in the San Francisco music scene was made apparent as groups of fans took turns approaching her to share a few words and take pictures with her. She, in turn, displayed humility and a deep appreciation for the support.
Wielding an acoustic guitar and fueled by thunderous applause once the stage was set, Nguyen greeted the eager audience simply by introducing herself ("Hi, I'm Thao"). Then, without hesitation, she opened with "Know Better Learn Faster." Bobbing heads and smiles spanned the entire audience as Nguyen passionately strummed and sang, going on to play "When We Swam," a song to which many sang along.
Nguyen beckoned for Jason Slota, drummer of her support band The Get Down Stay Down, to take the stage alongside her; now accompanied by drums and a tambourine, Nguyen took her performance to a level where the flow of folk rock streamed from her fingertips with more conviction and authority than ever. Nguyen's energy and charisma was unrelenting; she often made jokes between songs and acknowledged specific members in the audience.
She may have began with an introduction, but by the end she had demonstrated herself: a musician, and a genuine human-being, with mystifying talent and charm.
Article and photos by Edfil Dulay
Editor's note: A previous version of this article stated incorrectly that Willis Thompson was Nguyen's drummer.
Comments
comments