Yup, that's your doctor. He's in. At the party. It's something we call "alternative remedies." The kitschy lo-fi disco coming from that yellowed ceiling speaker? It's the new Neon Indian.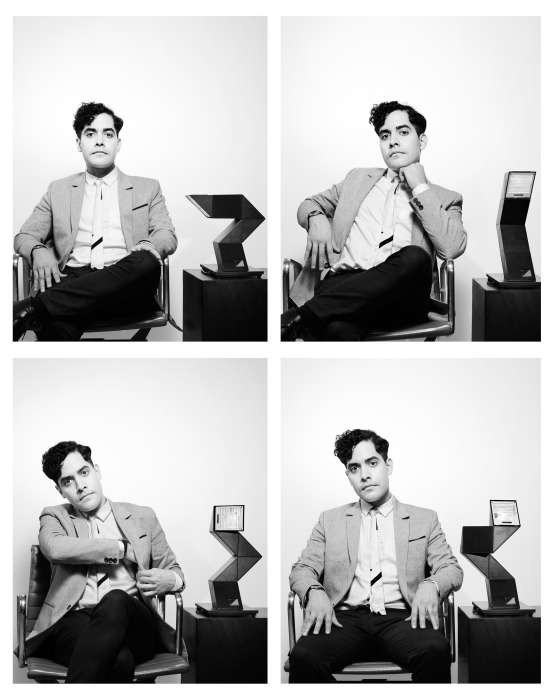 In a move similar to Lana Del Rey's recent Honeymoon (and many before it, I'm certain), VEGA INTL. Night School arrives this Friday 10/16 via Mom + Pop Records with a caller hotline.
27-year-old producer Alan Palomo's third full-length is also bewitchingly retro, and a return to a sonic disposition from his earlier days, much like Honeymoon recaptured the vibes of Born to Die (2012). For Palomo, VEGA INTL. Night School is four years in the making, following a complete wipeout of the material he had created while touring on Era Extrana (2011). The new album is not a reimagining of what he lost, but something else entirely — Palomo is just unfamiliar enough here to sound like 4am nightlife in a foreign country. VEGA INTL. 's dancier, glitzier, and screams Bangkok or Hong Kong, baby.
It's Multi-Love's younger, more glamorous, less responsible cousin.
"Most of what I've learned about human nature in my twenties has happened after dark," Palomo says in a press release. "People are just kind of more honest then. More deliberate."
"No names to remember / Just you and I," he whispers enchantingly on "Techno Clique" in a hazily slurred but compelling promise that is understood to be completely non-exclusive. But we're still a techno clique, he and I. He and every other one of his listeners. His night schoolers.
The surreal hooks characteristic of Neon Indian remain present; I had to revisit Era Extrana and Psychic Chasms (2009) to confirm Palomo sings on previous records. Once again, VEGA INTL. is a record on which Palomo's vocals take a backseat role to vibrant synth swatches and funky beats. He's about as good as RATATAT is at instrumental hooks, which is pretty darn good; additional comparisons can be drawn between VEGA INTL. tracks such as intro title "Hit Parade" or mid-album instrumental "Bozo" and Magnifique's "Intro" and "Cold Fingers." It's been a retro year in new releases.
Piecemeal, there's not a poor showing on VEGA INTL. Night School; each track opens strong and draws to a dashing, non-committal close; the record's greatest flaw is also its strongest suit: cohesiveness across tracks. Silent mere seconds at each ending are superseded by strong starts, such as the transit between "Hit Parade" and lead single "Annie." The best of these is the follow-up to third single "Slumlord:" "Slumlord's Re-lease." The two consecutive tracks function fabulously alone, but even more fabulously together.
The slower, quieter movements are slower and quieter only slightly. "Street Level," "Baby's Eyes," and "Smut!" are no less memorable declarations of self, skinny loves, and neoprene skinnies. "News From the Sun" is an unashamed live bootleg (read: confession). But apply jazz hands and most of the rest of the album — "The Glitzy Hive" and "61 Cygni Ave" in particular — is sure-as-hell fun to Charleston to. A half decade after Era Extrana and Psychic Chasms, Palomo comes to terms with himself on VEGA INTL. Night School, resolutely grounded.
Neon Indian's harnessed the desert mirages and acid trips scattered (the scattered desert trips and acid mirages?) throughout previous work into something considerably more poppy, but poppy in an alternative-youth-will-love-this-today-because-it-sounds-like-pop-from-the-80s way. It strikes a resonant chord with the nightcrawlers. And we're okay with that.
Stream VEGA INTL. Night School via NPR and we'll see you on the dance floor… after dark.
Article by Joanna Jiang
Comments
comments