The overwhelming takeaway from Katy Perry's single "Bon Appétit" (featuring Atlanta rap-trio Migos) is probably one of squirming discomfort. The song, still clinging to its position on Billboard Hot 100 for the fifth week, was released with a music video starring men dressed as chefs who prepare (as in, putting her on a platter and tenderizing her bare flour-caked ass with their hands) and cook the "old Katy Perry" into a disturbing sort of mincemeat pie.
To make matters worse, Perry tried throwing down some "moves" during the Migos verse on their May 20th SNL performance. The result, which went viral in the form of video, .gif, and memeage, resembles a white grandmother trying to dance to what the youngsters are serving up. The entire fiasco may bring to mind Miley Cyrus's flagrant abuse of hip-hop culture (there is too much here to contain in a hyperlink. If you don't know already, Google it.), but is Katy Perry really the perpetrator of another incendiary trend?
This is hardly the first time that Perry has teamed up with the most popular hip-hop artists in an effort to stay on the frontline of pop-culture. There was Kanye's feature on Perry's melodramatic 2011 hit, "E.T.," in which West spouts silly innuendos loosely connected to the theme of space ("They callin' me an alien, a big headed astronaut / maybe 'cause your boy Yeezy get ass a lot"), and Juicy J's trapped-out verse on "Dark Horse". And let's not forget about "California Girls," Katy Perry's summer 2010 collabo with Snoop Dogg, a success by most commercial and critical standards. Other major rap influences that have appeared in her recent discography include the likes of Lil Yachty, Nikki Minaj, and Missy Elliot. Taylor Swift, who qualifies as Perry's greatest pop rival, released her first mash up with a rap superpower in 2014 when Kendrick Lamar landed verses on "Bad Blood" (a song which ironically contains subtle jabs at Katy Perry).
When it comes to ascending hip-hop acts working with high-profile pop singers, the implications can be complex. For Kendrick Lamar, one of the most outspoken and eloquent voices of the Black Lives Matter Movement, making a chart-topping pop song with Taylor Swift (who is a political non-entity) might seem like a sellout power-play. But according to an interview Lamar gave with Billboard in 2015, the choice may have been more about artistic experimentation than money: "When you put two people in the studio, we both have to have the same passion for the music in order for it to be right… it's not really just about the names." Besides, why shouldn't the titans of different genres join forces, even if it does come with a big payout ("Bad Blood" reached No. 1 in four different continents)? As seen with Calvin Harris's brilliant "Slide" featuring Frank Ocean & Migos, the ménage of vastly different genres can also expose listeners to great artists in original forms.
So why can Calvin Harris work with Migos but when Katy Perry does it everyone gets upset?
For one, Calvin Harris never dabbed on SNL. But the case for social inflammation deepened after Katy Perry announced her collaboration with Migos on "Bon Appétit" in late April — from the LGBT+ community. All three members of the Migos hit-maker had made homophobic remarks in a Rolling Stone interview about fellow Atlanta rapper iLoveMakonnen after he came out on Twitter in January: "'They supported him?' Quavo asks, raising an eyebrow. 'That's because the world is fucked up,' says Offset. 'This world is not right.'" This is probably not the kind of press you want to hear about collaborators if you are the recipient of the National Equality Award, which Perry received at the Human Rights Campaign gala in March. Migos deflected their comments on Instagram and the song was subsequently released, to the chagrin of parts of the black and LGBT+ music communities.
Look, I know Katy Perry is an easy target. It seems that she has been criticized every time she has rallied to support a cause, and she has a lot of causes. Perry has been outspoken about her own struggles with depression, and about the pitfalls of fame. In a recent interview with The New York Times, she bemoaned "this strange race to be the most woke," adding, "They want you to stand for something, but once you do, and if you don't do it perfectly, they're ready to take you right down." Her new album Witness (currently US No. 1) and her recent social media activity, including a several-day live stream on YouTube (which happens to be her newest business partner), strives to show fans the realest Katy Perry yet. The pop star, who has built a brand on being a goofy sex-cupcake, insists she finally feels "wide awake" — and the assumption is that the new image will move her new record.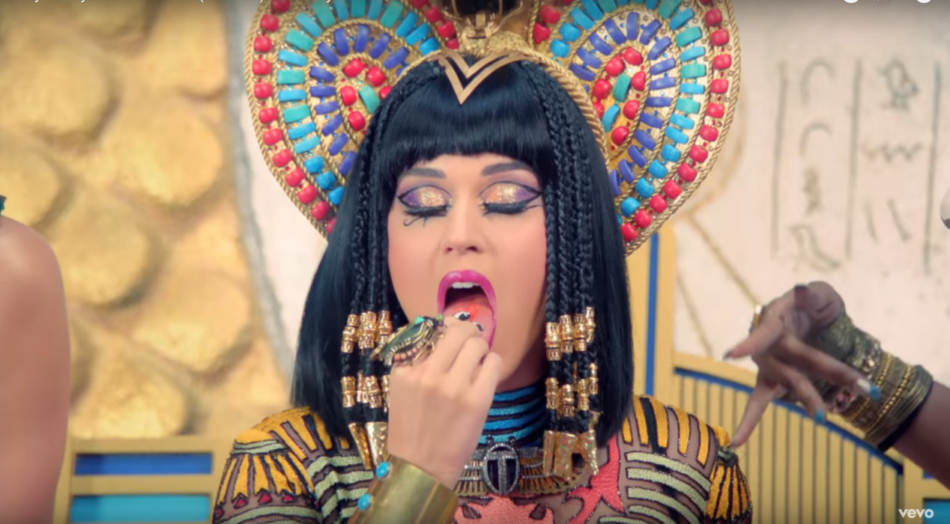 The notion of a sellout pop star is intrinsically flawed. The entire "genre" is designed to sell music, and to placate us as we commute to work or the party. If you are not trying to sell music as a pop star, then you are just a personality. On top of this, the Madonna model has set a precedent that female pop stars are expected to redesign themselves every couple of years in order to stay relevant. Even as Perry publicly telegraphs her path to personal transcendence, she inadvertently plays into this system. Unfortunately, listening to Witness makes one wonder if this is really just an identity crisis disguised as a transformation.
This isn't really the time for me to critique the musical value of "Bon Appétit," but I'm going to anyway. The lyrics are what to expect from an American pop star writing a song called "Bon Appétit" — an overwrought sexual metaphor that has nothing to do with French culture — and the vibe is dreamy, sultry, summer dance-pop, with a bouncy build-up to the best part of the song: the Migos verse.
Katy Perry occupies a special rung of pop culture, one that comes with a higher bar of expectations. She has more Twitter followers than any other human, and she tied Michael Jackson's all-time Billboard record. While it may be heartening for some fans to see Perry finally making music with her own vision, her accolades demand that she has a good one. Unfortunately, she falls short in this regard and the byproduct is unsettling at best and offensive at worst.
The conglomeration of trends in "Bon Appétit" and Witness come off as scattered and shallow in many respects. It's like she woke up from a four-year coma after her last album and started hastily grabbing for everything that got big in the meantime: 90's inspired dance, international pop, Miley Cyrus' haircut, The Guys that Brought You "Versace," and The Dab. She has been trying so hard to stay relevant that I kept looking for fidget spinners in her latest music video.
Written by John Lawson
Comments
comments