Milo Greene played the fifth night of their tour with Luxley and Bombay Bicycle Club at The Warfield in San Francisco on Sunday. Started in 2010, Milo Greene is a "self-described cinematic pop band" with one album, Milo Greene (2012), out and a second, Control, to be released in January 2015. The quintet contains percussionist Curtis Marrero, and four lead singers, each of whom also play a variety of instruments. We were fortunate enough to chat with the vocalists — Robbie Arnett, Marlana Sheetz, Graham Fink, and Andrew Heringer — in their greenroom before soundcheck.
You describe yourselves as a cinematic pop band. What does that mean to you and the industry?
Graham: I think it just means that we're big fans of movies and we've always written music with the idea that it would have a visual counterpart. So when we're writing music, we're thinking about what would be a nice visual accompaniment to that. Which is why we made a movie to go along with the first album.
Milo Greene was a fictional booking agent you invented. Does he still exist?
Marlana: He doesn't need to anymore. That's a good thing.
Andrew: We don't use the Milo name. In college, we were all playing music and just starting out, so we were trying to seem professional. We made up Milo Greene to be our professional liaison to get us gigs. It worked for a time and we all kind of joked about it as being something funny. The joke kept on and here we are as the band Milo Greene.
Did he give you more legitimacy starting out?
Andrew: Yeah, exactly. We would email venues and say "Hi, I'm Milo Greene, and I represent so-and-so" and then people would be more willing.
What did you call yourself back then?
Marlana: We used the name separately, when we were all doing solo stuff. Whatever each of us was working on.
Four lead singers is an unusual structure for a band. Is there a reason you set it up this way?
Andrew: That's what brought us together at first, was playing around with all the vocals. It came out of a desire to see what we could do with a bunch of vocals.
Is your structure part of a collaborative theme? Do you all write songs, etc.?
Marlana: Mhmm, definitely. Super collaborative.
How did your soundscape change in your new album, Control?
Graham: The instruments that we used on the record and what we were using as a foundation for writing changed – that informed the sound. A lot of our first album was written with us just sitting around in a room with acoustic guitars, and I think that's really reflected in the album. This album was made a lot more using keyboards as the foundation, using our individual recording studios to start songs, and using drum beats and rhythm as a heavy foundation for the music. So I think the songs kind of showcase that. They also showcase each of us as individual vocalists in addition to our harmonies, which were kind of prevalent throughout our entire first record.
It seems like "1957" is your most popular song among your fans.
Graham: It's our slam-hit single!
Marlana: It's the one we shoved down everybody's throats.
Did you intend it to be a favorite?
Marlana: It came at a time when you decide what you're going to push the hardest, and that seemed like it was one of the biggest standouts on the first record, so it made sense. You try to push one song in particular, as much as possible. That's usually how it works. That one is the one that we decided to pick, and naturally that is the one most people know. It's cool, people like that song a lot. It's awesome, it's definitely done a lot of things for us.
Do you guys have a favorite song (not necessarily "1957")?
Marlana: I've got a lot of favorites on the new record. I'm really excited for it. But I like everything we do. I think it all sounds good. It depends – some I like the recordings more and some I like them live more.
Graham: I think "What's the Matter" from our first record was certainly a favorite amongst all of us.
Do you have any interesting fan stories?
Marlana: Yeah, actually. Recently, on this tour, we got a gal who is a big super-fan. Her name is Hannah and she is from San Francisco. She and her friend drove down to San Diego and saw the San Diego show and then came up to LA and saw the LA show. Last night they were in Pomona and saw the Pomona show, and then they drove back today and they should be here today. She got a tattoo on her knuckles of "1957". So I'd say that's a pretty hardcore one right there.
Before becoming musicians, did you have different plans? Or did you always know you'd end up in a band?
Graham: I still think I'm going to become a professional soccer player. [laughs] Once the band kind disintegrates, so I can get back to that.
Marlana: I don't know. I don't know what I would do.
Was it difficult to leave your old bands to start a new project?
Graham: I think all our old projects were kind of plateauing and they'd run their course. It was serendipitous timing that my old band and Robbie and Curt's band (we'd played shows together)… neither of our bands were really doing what we wanted them to be doing. They introduced me to Andrew and Marlena and we kind of just started – hit the ground running and haven't looked back the past four years.
Marlana: They brought over a pack of beer and it all went down from there!
Graham: Actually I think it was jello shots. [laughs]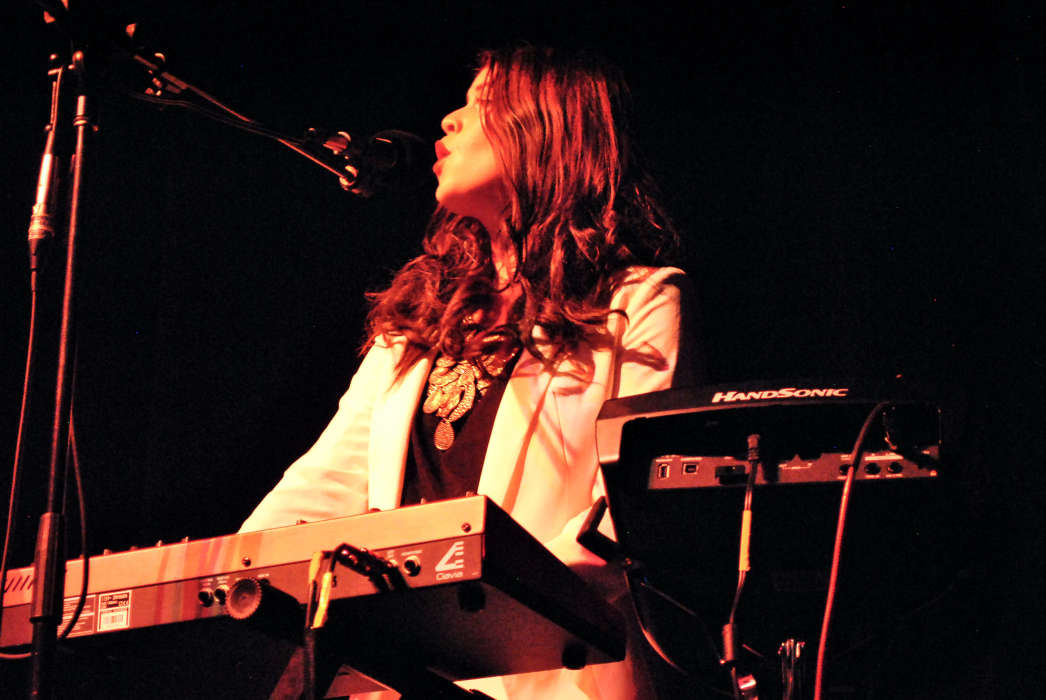 What is the most disastrous thing that has happened on stage in all your touring?
Andrew: Oh, London. Where we broke that string. The first song Graham broke the lowest string on the bass.
Graham: Nah, it was the A string.
Andrew: Okay, it was the A string, second lowest. None of the opening bands had a bass, at all. So we had to do the entire rest of the show without the string, that was pretty pivotal.
Marlana: Vital, yeah. [laughs] And I'm not a good musician, so I'm playing these songs that I normally play on bass — I had no idea what to do with [them] at this point without it. There's only four strings and so when one of them is gone, it's just very stressful. It ended up being a situation where I handed it to Andrew and said "You have to play it on this song!" and he said "Alright, then you have to play guitar!"
Andrew: And here are the guitar chords!
Marlana: He said, "Here are the chords! Let's go!". I was just like "Aaaahhhh!"
Graham: Yeah, when you're rethinking on the fly how you're playing the entire part of the song. It was fine, I mean, my heart was pounding the whole time. It woke you up out of the routine, playing the same thing every night.
Did the audience notice?
Graham: Yeah… [laughs] Marlana: They knew because we couldn't stop talking about it!
Graham: We kept trying to wrangle the other bands. One of the bands only had keyboards, they didn't actually have a bass guitar. The other band had left already… so there was not a bass to be had.
Marlana: In the theater world you're not supposed to tell the audience what mistakes are happening or when things go wrong. And I just always do the opposite. If something goes wrong I immediately want to tell everybody so they can just get on that level [laughs]. I don't know, I think it's kind of funny. If I was an audience member and the band said "Oh, things are getting f***** up right now!", I'd think it was funny and interesting, but sometimes you've just got to keep your mouth shut.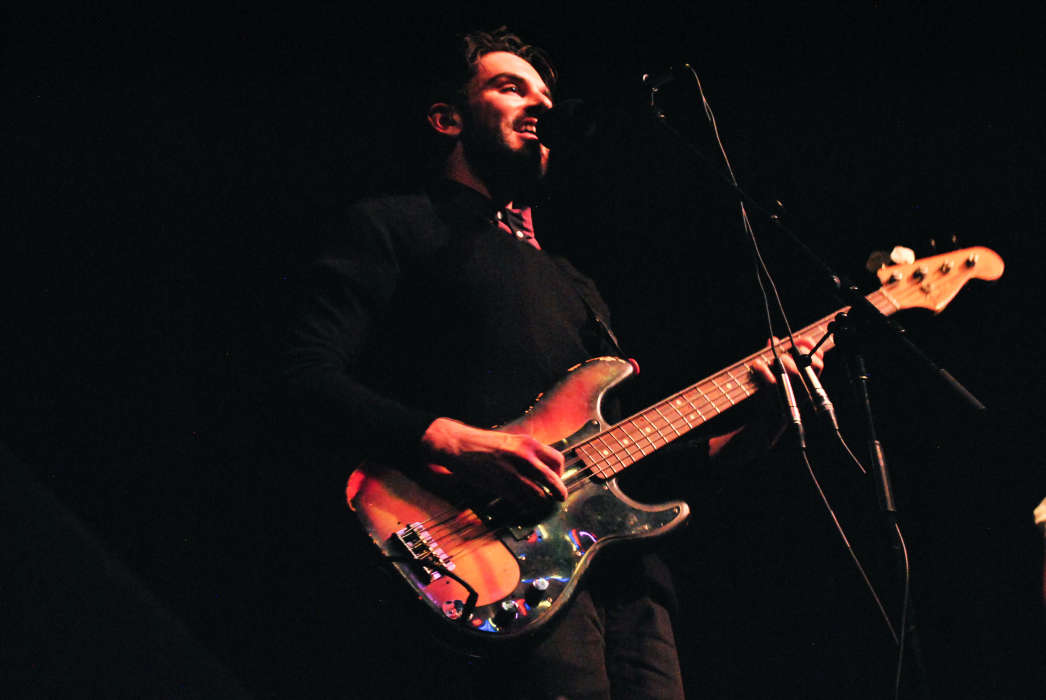 What artist past or present would you most want to collaborate with?
Graham: David Bowie. Because he's my hero. I don't know, I think he's amazing.
Andrew: There's a record by a guy named S. Carey. I love that record — I think if I were to have a producer on that record, I would love to work with Sean on something.
Marlana: I think I'd pick Gloria Estefan and do a super Latin record with her. That'd be rad.
Robbie: I don't know, I'd probably… I'd like to meet Trent Reznor, that'd be cool.
Marlana: Yeah for sure. Gone Girl! Can't wait to see that.
Andrew: I think pretty much every one of those influences, you can see how it creates the sound that we have.
Do you have an experiences where you've met someone that you've always idolized?
Marlana: Actually, it's kind of funny. A couple of us did a session with Damien Rice this last year, just doing backup vocals for him. It was kind of a trip because his album O was really big when I was in high school. It was a pivotal point. Basically that album taught me how to harmonize in a lot of ways. That was really funny. I haven't listened to Damien in a really long time so then going into the studio and hearing his voice live and being like "Woah!" brought me back immediately to my high school years. Being like "Oh my god, that boyfriend! He was such an a**hole!" [laughs]. I was thinking that it's so weird that some people are making those same memories with our music. It just trips me up.
Andrew: I think just being in the same room with a voice that you've heard over and over and over, but never actually connected, to see that happening in person is just a trip.
Marlana: Yeah, in high school, I didn't think "Oh wow, one day I'm going to be doing a session with that guy, and he's going to laugh at my jokes." That's tight. [laughs]
Check out the rest of Milo Greene's tour here and preorder Control via iTunes.
Article and photos by Kavitha George
Comments
comments