Mac DeMarco doesn't just play, he performs. And on Monday night, the whole Bay Area was on hand to see it. One got the sense that this show was destined to be a special experience when, nearly an hour before his set began, fans had already poured into Oakland's Fox Theater in mass numbers, filling it with palpable levels of anticipation and excitement. Excitement that transformed into raucous energy the second Mac and his eccentric band took the stage.
The night was opened with "The Way You'd Love Her," the single off DeMarco's most recent album, Another One (2015), jumping into his laid back, articulate guitar melodies and soothing vocals that have make his albums so widely accessible and successful.  He played songs old and new, ranging from the warm, romantic guitar progression of "Ode to Viceroy" to the slowed-down, melancholic synth of "Another One," demonstrating the true variety of sound on the albums he has released at this still-early point in his career. His goofy, relaxed stage presence exuded a sort of blissful happiness that mesmerized the audience, encouraging the need completely give in and celebrate the moment.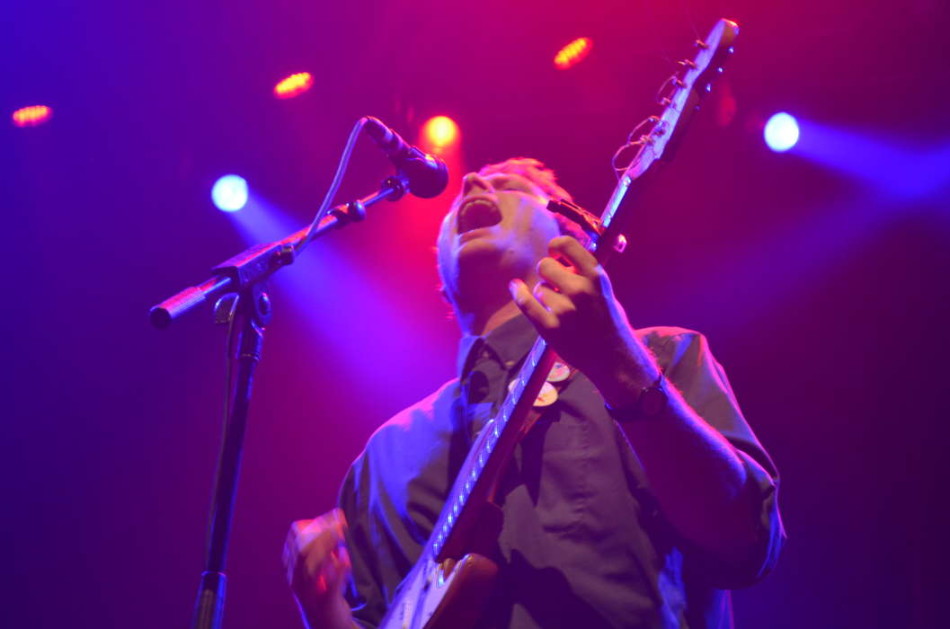 Living up to his class clown reputation, DeMearco and his bandmates frequently interspersed quirky jokes and their trademark eccentric behavior between songs. His wacky antics not only entertained, but radiated a sense of sheer confidence, serving to demonstrate the importance of simply being oneself without regard for anything other than one purpose: have a great time.  With this down to earth persona, it is easy to see how Mac DeMarco has gained his large fanbase, as his "chill" vibe generates an air of true sincerity that makes him uniquely relatable.
DeMarco laid everything out on stage, playing fan favorite "Salad Days" to the reverberating sound of a loyal fan base that sang their La La La's (as well as every other word) along with him. DeMarco even jumped into the audience mid-solo at one point, crowdsurfing the entire span of the bottom floor, escalating the energy in the Fox beyond that of an average concert to an out of control party atmosphere.
For the encore, Mac DeMarco put a memorable cap on the night, returning to the stage shirtless and immediately falling into a ten minute cover of Metallica's "Enter Sandman." The audience's chaotic energy reached a peak as Mac's contagious likability yielded a haze of dancing that showed everyone present why DeMarco has been called one of indie rock's greatest performers. If you have the chance to see his show, go, and you will not be disappointed.  The Bay Area will be eagerly awaiting his return.
Article by Jack Hendershott, photos by Darius Kay
Comments
comments