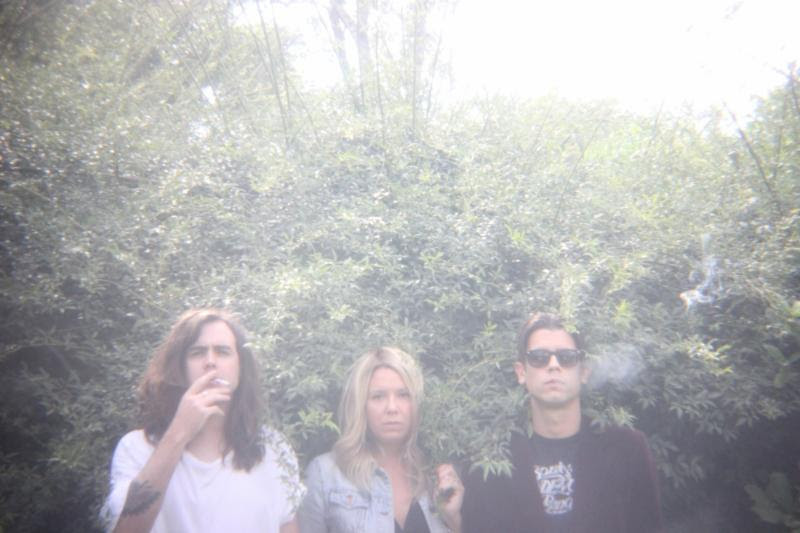 Funny thing about this album: I first heard it in reverse order. With a sticky-sweet, snail-paced request for "one more day" ("Spirit Communication") to start and a more affirmative "long tone out" ("Shoot 100 Panes of Glass") to escape, Exi was a bit of a flub. Then the band's publicist expressed his personal love for the record and I gave it a second listen, in effect recognizing my error.
Thus the significance of track order. At first glance, Austin-based "minimalist pop band" Love Inks' latest album, out September 9th via Republic of Music, is nothing extraordinary. In fact, after the lead single and intro track, "Shoot 100 Panes of Glass," Exi sounds like an amateurish lo-fi production.
However.
The vocals are a muted lavender, a shade that looks almost grey in half-light. But look closer, and the presence of hue is there. "Dawn / Poem" and "Spirit Communication" mark a full circle, asking their respective lovers to surrender a little more time. The band's use of a drum machine and occasional '80s-style synth isn't an intuitive complement to Sherry LeBlanc's whispery vocals, but the combination works in ways formerly unimaginable.
The twee-st twee appears on Exi in the form of "I Don't Hear That," a track composed of a syncopated heartbeat and isolated guitar tones. Later, LeBlanc embodies the role of the bipolar girlfriend, singing, "I don't want you here if you gotta stay / but you're not gonna go away / because we're Regular Lovers," with an equally sparse instrumental background.
The writing on Exi ranges from sounding like a bad rendition of the Backstreet Boys ("New West") to beautifully hopeful swells with lyrics a la Matt + Kim's "Daylight" ("Sky Machine"). Its stylistic tendencies straddle a mellow compromise between indie folk and downtempo synth pop. The beauty in Exi's production lies in the margins: turn each track up past the perpetual bleed of sustained, overlapping melody notes to hear every new instrumental entry and departure.
Love Inks are on tour this Thursday to promote the new album and will be in Europe to finish the year.
Article by Joanna Jiang
Comments
comments