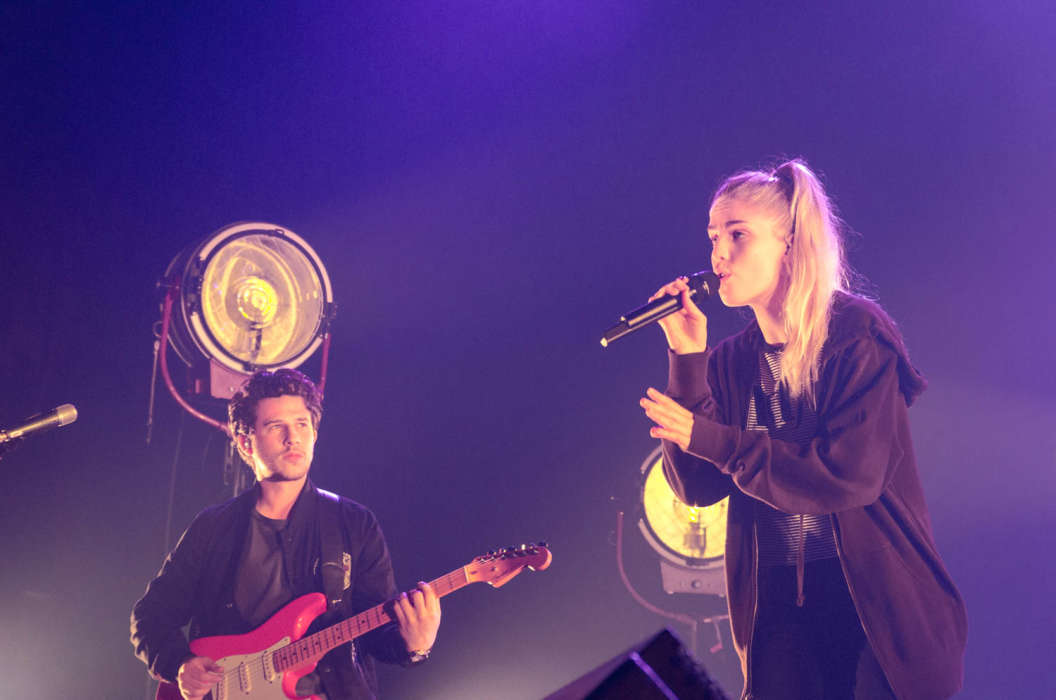 "In our live career, we really are inexperienced," admitted London Grammar vocalist Hannah Reid in an interview with the Guardian this past summer. In other instances, they have displayed a frankly averse attitude towards live performance. Their opener, Until the Ribbon Breaks, has been less inclined to share this sentiment, diving right into the live circuit with a debut tour opening for Lorde in 2013.
Beside this divergence of opinion, the two acts are quite similar. Both trade in electronic pop, and are UK trios led by enigmatic vocalists who double as primary songwriters for their respective bands. Pete Lawrie Winfield, a film scholar, and Hannah Reid, formerly an aspiring psychoanalyst, took the spotlight Saturday night at the Fox Theater, performing one after the other in a stunning sold-out Oakland debut to round out their US tour.
The evening began, surprisingly, on time and progressed without complications. As we'd expect from A Lesson Unlearnt (2014), Until the Ribbon Breaks brought with them a little more musical variety between the funky "A Taste of Silver" and mellow chillout track "Goldfish," with which they closed. The band's willingness to explore a variety of styles — and their ability to combine them in a single album or performance with such grace — makes them a threat in multiple musical circles and soon to be highly-coveted collaborators, if not already.
It was a shame few audience members had heard of Until the Ribbon Breaks prior to the performance, but when London Grammar appeared shortly after, they effortlessly established the cause for the evening's packed, buzzing crowd.
For a relatively timid outfit, London Grammar's intro was something to behold: each member entered the stage individually; guitarist Dan Rothman layered shrill guitar pitches atop keyboardist Dot Major's bed of synth before a set of coupled snare rolls signaled Reid's arrival.
Without hesitation and in full form, they progressed into a prescribed setlist: "Hey Now," "Darling Are You Gonna Leave Me," and "Shyer" to start. The latter song turned into a dance track midway, drawing attention to the pronunciation of Major's production live.
"I think someone in front is smoking something they shouldn't be," joked Reid, dressed in a tee that read "Adjö" — "goodbye" in Swedish.
Dan reassured her that, "it's normal here."
They continued their set of abridged If You Wait (2013) singles, including a stirring rendition of mid-album track, "Sights." Though the band introduced each song as though they were a small town name at a local bar on a rainy Tuesday, Saturday's crowd refused to acknowledge London Grammar's apparent insecurity: at one point, an eager audience member tossed a bouquet onstage with a notecard and phone number attached, directed at Reid. When it came time for the encore, the entire pit jumped up and down on the Fox's wooden floor.
Musically speaking, London Grammar's set was an hour exact in both time and technicality. And in both respects, they left the crowd wanting more.
Article by Joanna Jiang
Photos by Luke Sheard and Nicole White
Comments
comments