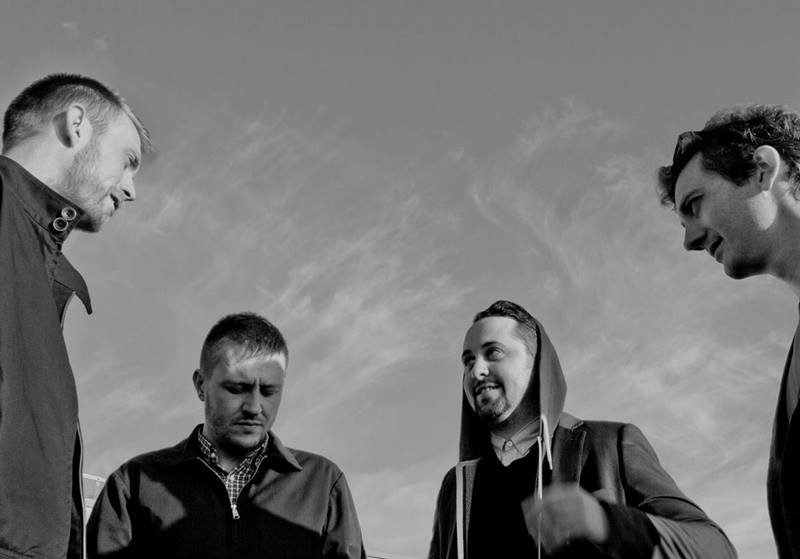 English instrumental rockers 65daysofstatic are a bit shy, but their sound certainly isn't. Last Thursday at San Francisco's Bottom of the Hill, the quartet played a sold out show with Massachusetts-based Caspian and up-and-coming emo revivalists, The World Is a Beautiful Place & I Am No Longer Afraid to Die.
For a band still trying to make new material "feel right," as 65daysofstatic guitarist Paul later explained to me, they had no difficulty making the crowd feel all right. They filled both the time and space of the venue with enrapturing melodies, complex rhythms, and intergalactic synth stabs.
I caught up with Paul an hour before the show, which was part of a supporting tour for their sixth and latest studio album, White Light. He shared with me some of the band's general studio habits, how Moby racks up some envy points, and told me a few of the extraordinary experiences they've had during their decade-plus years of playing.
You've been 65daysofstatic for over a decade now, and successfully so. Are you feeling it?
PAUL: Yeah. Especially on this tour. The last time we toured America was a bit different, because it was with the Cure. But the first time, in 2007, we played similar venues. It was new and brilliant. We're not famous at all–we've been making ground in Europe over the past five years and now we've managed to get back here. Dropping back into America is exciting, but it's certainly a challenge. We're not the kids that were here before [opening for The Cure].
I think post-rock is a beautiful genre, but you probably know more about it than I do. Do you recall your main inspiration and contemporaries when you just started out with The Fall of Math?
PAUL: In America, "post-rock" is a title that people aren't embarrassed by. But in England, it's usually shorthand for a band who wants to be like Mogwai, but isn't quite as good. There are bands doing brilliant things with instrumental guitar music, but others just copy and diminish [Mogwai-style post-rock]. So we don't really consider ourselves post-rock. But that may very much be an English thing.
What would you call yourselves, then?
PAUL: Well, I wouldn't. I'd put on our record and say, "it sounds like this." That's the beauty of the Internet: you can be playing someone's music on your phone in 10 seconds rather than trying to explain. But again, that wasn't a slight against the genre. It's some beautiful stuff. Godspeed You! Black Emperor is one of my favorite bands. I guess Caspian, too, are often classified as post-rock.
As far as inspirations go, we don't get much conscious inspiration from music nowadays. It's everything else in the world that is happening. The world's a bit messed up these days. It's all falling apart at different rates. All we want to do is be useful; being a band is a bit selfish these days.
But you're capturing the moments, right? If it's going to fall apart, it might as well be beautiful.
PAUL: Right, yeah. In that sense, music is relevant.
Are there any instruments you currently use now that you couldn't have fathomed using then?
PAUL: The big difference now is laptops and their affordability. When we starting touring on Exploding, we bought two new MacBooks and that became the live show. It's less romantic, but it keeps us light.
We used to carry loads of synths about and run the whole show off a bunch of giant samplers. Computers weren't fast enough at the time, so they would crash onstage. All of this lent itself to that scruffy, punky, early 65. As much as I would love to turn up to a venue with racks of analogues and synthesizers, traveling with all that equipment is unrealistic.
Historically, your album titles have been conceptual. Escape from New York, We Were Exploding Anyway, and Silent Running, to name a few. Where do these titles come from?
PAUL: The first one's easy. By the end of our six-month tour with The Cure, we kind of lost our minds a little bit, playing full arenas every night… it was ridiculous. Escape from New York was perfect.
In general, [our titles] are very hard to come by. We don't have lyrics, so it's all quite ambiguous. We basically trust each other to come up with titles. Besides, the music seems to articulate what we're trying to say without us diluting it with language.
Do titles have to do with your inspiration for the song, maybe? For instance, "Taipei," off Wild Light. Did you go to Taipei?
PAUL: Yeah, the first time we went to Taiwan, we had three days off in the capital. Which is unheard of on tour. We had an incredible time there, seeing the city and the experience really stayed with us. Taipei's kept itself lean and lively somehow. It has all of the today's new technology, but none of capitalism's trashy signage. The song "Taipei" started on a laptop in a hotel room.
When Richard Hall, or Moby, wrote his 2011 release, Destroyed, he did it primarily in hotel rooms at 3am. Is there any particular time or place you found yourself working consistently on Wild Light? Any time or place you would prefer to write?
PAUL: I envy Moby because he's just one guy. On this tour, I've been doing bit and pieces whenever inspiration strikes. (Another great thing about laptops.) [Our drummer] Rob, on the other hand, could never write on a laptop in a hotel room. For Wild Light, we had a rehearsal room where we'd go every day for months.
So you're not writing while you tour?
PAUL: We keep ideas and sketches, but we're not the type of band who writes on tour. We'll spend hours in rehearsal sometimes and not come up with anything. There's a Picasso quote that goes, "when inspiration strikes, it has to find you working." 80% of making anything is horrible. It's stubbornness, doing it even if nothing's happening. And when the moment strikes, you have to hope that all four of you are in the same room.
I guess it's supposed to be hard, because if we were just turning out songs, then what's the point? We want to do something that…
… resonates?
PAUL: Yeah.
I understand that 65daysofstatic is very much a live band. In studio, do you record each part separately and many times or are you more inclined to use the first take?
PAUL: No, we're not purists like that. Wild Light is our first record where we're really proud of the production value. We spent so much time working on each individual detail, including whole days working on single guitar tones, trying to make the brightest sound possible. Building our live show, we found that the songs sounded weak compared to what we'd made.
It's hard to translate Wild Light without a million guitars at our disposal or a grand piano or any of those things we had in the studio. It's been a nice, unexpected learning curve, because in the past, it's always been the other way around: trying to capture the live show on record.
What would you do with 65 days to live? Where would you go? Whom would you serenade?
PAUL: That's a depressing question. I think I'd rather have one day than sixty-five, and I'd probably jump on a plane and go see my family.
I guess that was a bit dark. What are you looking forward to on the rest of this tour?
PAUL: We're eight weeks now, with two weeks left and it's been really good. Wild Light truly feels like a beginning, whereas We Were Exploding Anyway felt like a record we'd been trying to write for ten years. On this tour, we've been trying to work out how to play these new songs in a way that feels right.
And you're getting there, yeah?
PAUL: I hope so. Our tour's almost over now! I imagine we'll continue touring on this album, though.
Paul flashed a smile and we headed downstairs where the show was gearing to start. The World Is a Beautiful Place had just finished their soundcheck in the main hall, and the cozy venue gradually filled with anxious fans.
Fans who, later that night, would attest that all three sets were exceptional, even though many had arrived for just one the three acts, like opener The World Is a Beautiful Place & I Am No Longer Afraid to Die.
The World Is a Beautiful Place, a whopping eight piece band, were just as honest and quirky as their moniker. Midway through the set, vocalist David Bello had some blunt words for a boozed fan who confessed to recently breaking up with his girlfriend.
"No one asked," he responded, extracting some laughter from the crowd.
The Connecticut band played most of their debut Whenever, If Ever in sequence, including "Heartbeat in the Brain" and "The Layers of Skin We Drag Around."
The end of their set marked the end of vocals for the evening. Between following act Caspian and 65daysofstatic, perhaps ten sentences in total were uttered.
Caspian, another large act with five members, began their set with the looped narrative "If you're gonna try, go all the way." It repeated several times before the lights dimmed and the stage pitched into darkness. Notable numbers were the incredibly hard, bone-gnawing rendition of "Quovis" and a surprisingly danceable rendition of "Halls of the Summer."
But the highlight was easily "Gone in Bloom and Bough," a ten-minute behemoth interlude from last year's Waking Season. Their Audiotree session recording can be viewed below, but it's worth experiencing live and reason enough for attending a show. It also contrasted nicely with their shorter finale. Frontman Phil Jamieson likened San Francisco to "a sort of promised land or something," the band finished up their last piece with a 30-second drum circle at center stage.
The air was still buzzing with that percussive energy when 65daysofstatic took the stage. They immediately launched into "Retreat! Retreat!," one of their oldest and most distinctive tracks. They also delivered high-energy with both "Prisms" and "Taipei." But they returned to a scruffier sound on "This Cat is a Landmine."
One of the more interesting moments was when guitarist Joe Shrewsbury revealed that the band had broken their keyboard on tour. They thanked helpful fan Sophie, who offered on Facebook to lend out her Nord.
Later, Caspian's Phil also pleased the crowd with a guest appearance.
The Caspian / 65daysofstatic / TWIABP North American Tour is happening now through November 26. They'll head east across the southern states, and finally close up in Philadelphia.
Check for dates on their official website and purchase Wild Light via German label Superball Records.
Interview and article by Joanna Jiang
Comments
comments