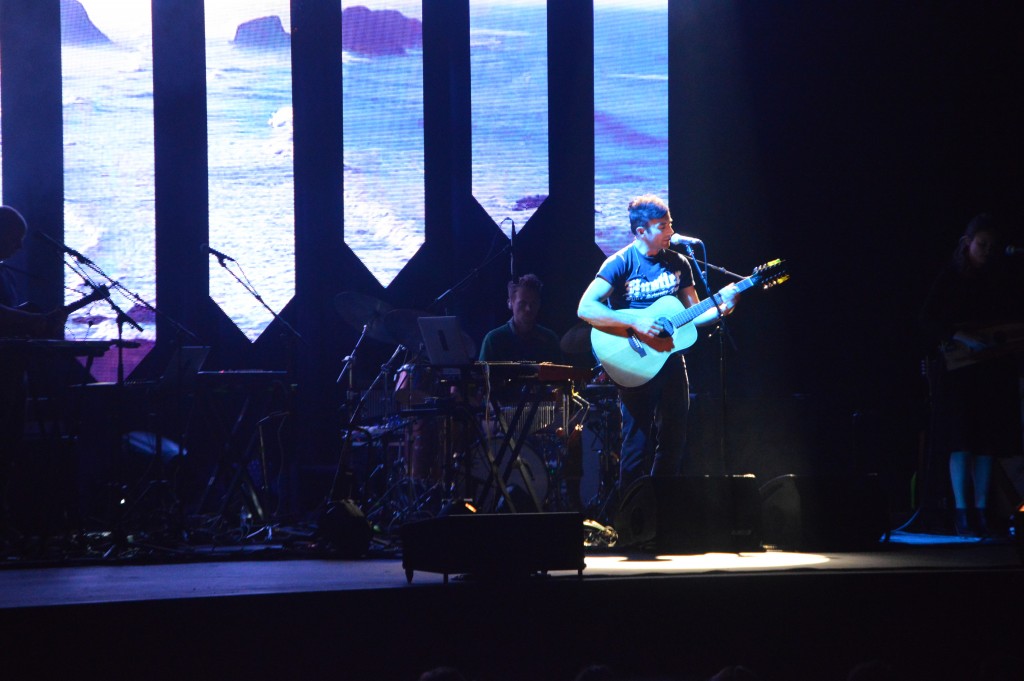 Sufjan Stevens's latest record, Carrie and Lowell (2015), a devastatingly beautiful tribute to his late mother, forgoes Stevens's usual ornate orchestration in favor of stripped-back acoustics. Each song is beautiful and simple and shocking in its raw, nerve-direct emotional content, and it would have been child's play for him to simply recreate this sound at the Fox Theatre on a cool Oakland Saturday. It would have been an incredible show too — after all, Carrie and Lowell is an incredible album. But if you, for a second, expect Sufjan to play it safe with his music and performances, it's possible you aren't following his career closely enough.
Those in attendance Saturday evening witnessed him push his new songs to past their limits, eschewing all expectations in the deliverance of an unimaginably powerful performance.
A pair of haunting and faithful renditions of Carrie album openers "Death With Dignity" and "Should Have Known Better" started the show on a rather somber note, with Sufjan looking very reverently downtrodden up onstage with his four-piece band behind him. Then, starting with "Drawn to the Blood," the show took off in an entirely new direction. Rather than a retelling, the song got a total retooling, with aggressive pounding synths taking the place of the original string instrumentation. From there, many other tracks saw this same treatment, ending with extended jams that were punishingly loud and that threatened to fall apart while still somehow staying grounded to their songs.
The feeling in the audience was one of absolute captivation. These songs, which always carried extreme emotional power, now exploded onstage and reflected those huge, overpowering emotions with huge, overpowering sounds. It was something like staring death directly in the face, and yet it still felt like a cause for celebration. The end of "Fourth of July" put a rather fine point on it, chanting "We're all gonna die!" at its end… many times longer and more intense than on the studio recording. It became a cathartic meditation on our own undeniable and perfect finiteness. An audience member recounting this moment to a friend after a show, exclaimed "Goddamn it, I'm quitting my job!"
Something else worth noting — Sufjan Stevens is a funny-ass dude. About halfway through the show, after he had finished covering his new material, he broke the silence he had cultivated up to that point by donning a silly green hat and launching into a routine that easily could have lent itself to a half-hour comedy special. Among the topics breached were appreciating the truly great bowel movements in your life, his parents believing that they were star people, and a childhood dog who carried the re-embodied spirit of Karl Marx. Perhaps it's a case of "you had to be there," but by any token he had the audience in stitches.
Several solid minutes of frighteningly, exhilaratingly loud feedback jamming rounded out "Blue Bucket of Gold," then Sufjan and his band took a joint bow. It was during the ensuing encore that we finally got what we desperately wanted (and knew was coming): to hear some songs off from Illinois (2005). The arrangements for these songs were fairly close to their original recordings, but we at the B-Side can say without embarrassment that when we finally experienced "Casimir Pulaski Day" in a live setting, big fat tears were shed. Sufjan does that to you.
Article and photos by Logan Hansen
Comments
comments