I had never attended a show at The Chapel.
Doors opened at 7:00 pm. I arrived at the venue exactly two minutes before 7 after stalling for thirty minutes at the Community Thrift Store on Valencia. I was the only one inside for quite awhile besides the staff (What was a venue noob to expect?).
Albeit my fashionably early check in, I was accompanied by the liquid light show being prepared. The visuals prompted me to explore what my consciousness had to offer during the wait. But before I could reach a meditative state, my mind kept picturing L.A. Witch under the stimulating projections with Sade Sanchez, lead singer and guitarist, singing sinister proclamations from "Kill My Baby Tonight."
"I'm gonna kill my baby tonight / If he don't come home on time." L.A. Witch was yet to murder the stage and disrupt the Monday night peace.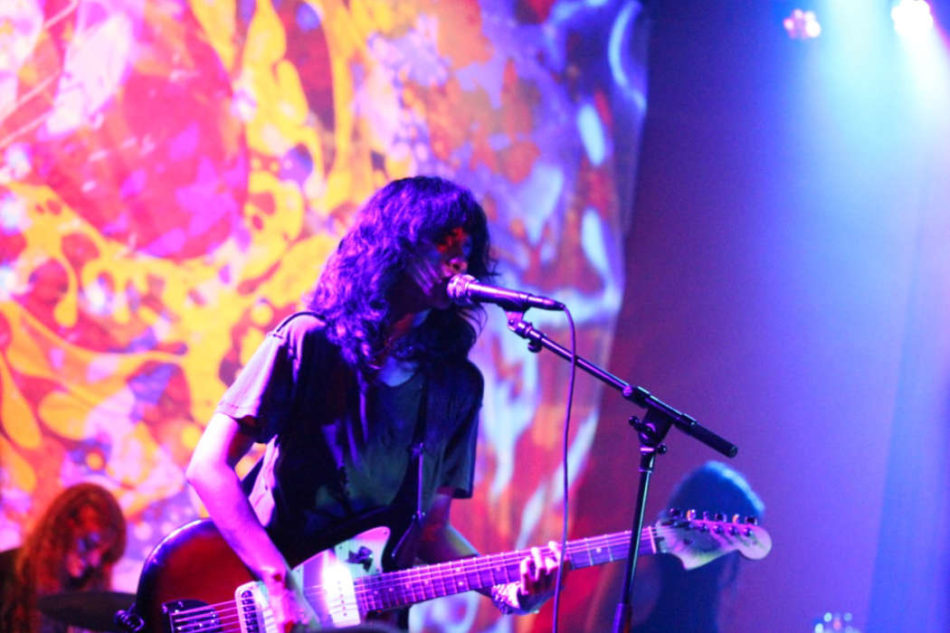 Local San Francisco band Bear Call filled The Chapel with angst and romance as they opened for L.A. Witch. Their sound and lyricism were reminiscent of a mix between Southern California surf rock/surf punk/post punk bands such as The Frights and The Buttertones undoubtedly bringing many back to their respective dreamy problematic teenage realms. Bear Call energized the intimate gathering preparing them for the arrival of the wicked (in a good sense) witches hailing from Los Angeles.
This was L.A. Witch's first show of their six-week tour. Gracing The Chapel with an illuminating light show and the band's ominous, psychedelic, garage, punk, desert rock, 60's girl group, reverb drenched sound, with Sade Sanchez on lead guitar and vocals, Irita Pai on bass, and Ellie English on drums, the dynamic trio put the crowd in a trance that drew them in deeper after every song.
They played songs from their newly released self-titled album, L.A. Witch (2017), under Suicide Squeeze Records, such as "Brian," "Baby in Blue Jeans," "Untitled," and of course, the one I had been anticipating for, "Kill My Baby Tonight." After hearing the intense desert guitar riffs and partaking in collective foot-tapping induced by the drums and the bass in the hit "Kill My Baby Tonight," a baby was definitely killed, and it was me.
Despite the fact that they don't actually engage in spells and stuff, their music sure does create similar effects. As I crouched to get photos on the left side of the stage, the crowd looked so lost in the performance it appeared hexed. The band closed the set with "Get Lost" but was summoned back by the cheers of the mystified Chapel for an encore in which they played two more new songs. 
Out of all the stops L.A. Witch will be making in their tour, Desert Daze 2017 is the perfect place to experience their set. Maybe I'll venture out to Joshua Tree and utilize the convenient Desert Daze Rideshare just to see them again and other highly acclaimed psych and shoegaze entities. You probably should too.
Article and Photos by Bianca Lu
Comments
comments