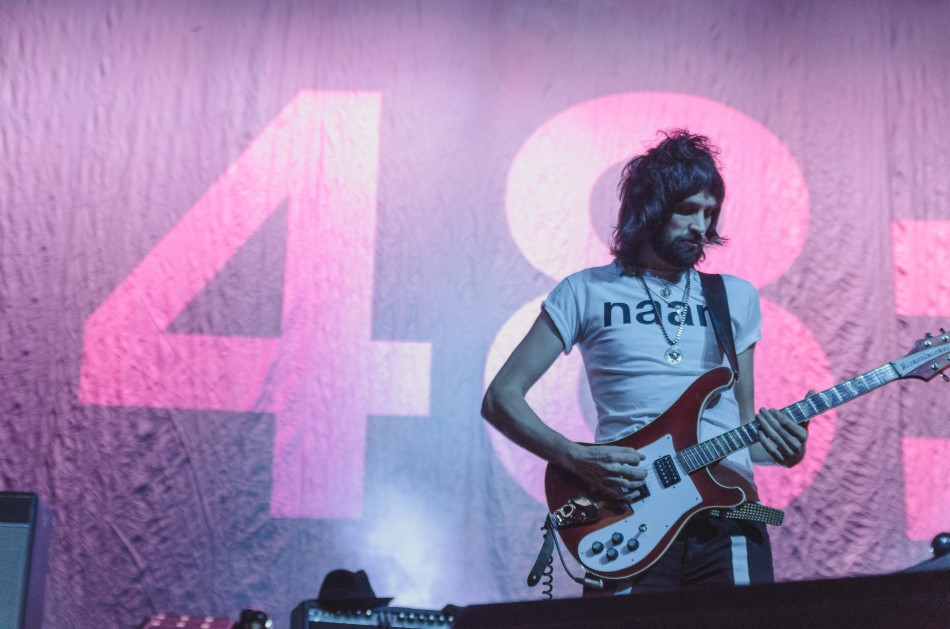 It's safe to say that Kasabian are used to playing bigger venues, much bigger than the Fox Theater in Oakland. Ahead of the release of 48:13 the band spent a summer touring festivals, headlining Glastonbury Festival for their first time.
Opening with the first two tracks off their latest album ("Shiva" and the energetic "Bumblebee"), frontman Tom Meighan comes bounding onto the stage with a contagious energy that quickly transfers to the crowd. Meighan, donning his signature sunglasses, is a commanding presence; he baits the crowd in to applause, dancing and jumping around as the band begins a well known classic, "Shoot the Runner." It's safe to say that the members dynamic stage personas don't go uninterrupted, as later in the set Meigham glances towards guitarist Sergio Pizzorno asking, "I think this is our first time in Oakland, right?"
Meighan takes control of the audience in a harder fashion, producing the feeling of a slight wall between him and you, calling the audience up to join the band in clapping and jumping around, in which everyone is compelled to take part. In contrast, Pizzorno is much more open and engaging with the audience. Kasabian's dynamic transform even smaller venues, like the Fox, to that of a stadium.
With an enormous banner reading "48:13" to their backs, theatrical energy, and a masterful perfection of their psychedelic-rock sound, Kasabian make a venue thicken, conveying the environment of a large stadium and making the audience's ability to realize their presence at the front of the stage to be all-the-more thrilling.  Even songs like "I.D." off their self-titled album (released over a decade ago), feel like they were just written for headlining, open-air appearances, an art the band members have mastered over time.
Article and photos by Luke Sheard (more photos at Luke Sheard Photography)
Comments
comments