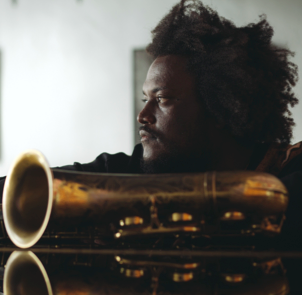 The night of December 10 teased Los Angeles with light rain and black clouds. For those about the streets clear skies returned around eight. Those awaiting inside Club Nokia for Inglewood native and jazz prodigy Kamasi Washington were in for a surprise. They were sheltered from the weather outside, but Washington would make sure his own storm would not subside. His debut album The Epic (2015), a full three-hours long, would provide more than enough material to shower the audience with some of the most thunderous jazz out. Recorded alongside eight other albums in the same studio within the span of one month, Washington's album has reached critical acclaim and high praise.
They're calling him the next John Coltrane.
The stage was furnished with two drum sets, space for an entire string and choral section, as well as seven other music stands. Even before anyone had taken the stage, it was quite full. Clearly the 10-piece band The Next Step, a group Washington and several of his childhood friends had formed, were set to perform. Washington considers them "family" and interestingly "people I grew up and went to high school with" as noted in a recent Pitchfork documentary.
Low End Theory co-founder and resident DJ Daddy Kev set the mood with a lo-fi yet groovy opening set. Low End has put on many musicians in the underground Angeleno music scene. These include Washington's label head Flying Lotus and bandmate Stephen Bruner, popularly known as Thundercat. Lotus designed his Brainfeeder label to gather talented musicians spread throughout Los Angeles features Washington, Thundercat, and fellow Next Step-er Miguel Atwood-Ferguson. Cool and funky bass-boosted riffs from "Them Changes," Washington's collaboration with Lotus and Thundercat, fittingly ended Kev's set. The performance was certainly an ode to Washington's current successes.
Highlighting his contributions and most notable works, including his saxophone on "How Much A Dollar Cost" – recently hailed as President Obama's favorite song – Kev's set flaunted Washington's jazz genius, and rightly so.
Onstage stood a mysterious empty chair. Kev ended gracefully, and within minutes The Next Step emerged. After excited applause came audible gasps and cries of confusion as Washington appeared amongst the shuffle carrying crutches and a sporting a sly grin. Sitting down in the now understood seat Washington said, "I know what y'all are thinking," addressing the audience's obvious concerns, "how'd he get his hair like that?" Received with warm laughter he then flexed his storytelling abilities – with a charming childlike excitement – recounting his interaction with a "baby, a rabbit, and a country road, causing such a commotion I fell and twisted my ankle." "Now that sounds a lot better than 'I was walkin' down this cobblestone road, started slidin' then tripped and fell' [laughs] but that's not what happened," he added. A comfortable and relieved Washington then sighed, "but thank you so much LA – we back home." Fresh off a world tour, Washington exhaled and then prepared for the demand of his next story. This one, however, would have no words.
From the very beginning, Washington did anything but hog the spotlight. Diving headfirst into an explosive flourish of brass, vocals, bass, and drums, Washington and The Next Step lived up to the praise they've been recently receiving. Within minutes however Washington lent the stage to his bandmate Brandon Coleman, also known as "Professor Boogie." Boogie's following keytar solo affirmed his nickname and then some. With blazing fire in his eyes he scorched his keytar unleashing whimsical scales. Demonstrating an absolute mastery of his craft, his fingers oscillated at lightning speed with incredibly smooth execution. His improvised exhibition was thrillingly magnetic, leaving almost the entire audience in a hypnotic trance. Definitely a hard act to follow, his level of musicianship was not matched by the solos that proceeded.
The attention then panned to Washington's father Rickey. Rickey's passionate flute playing featured a broad spectrum of sound filled with resonant minor and powerful major notes. At a few points the veins of his temple and forehead visibly protruded, and was painfully forced to stop himself completely. These pauses, however brief, marred his solo and exposed his obvious exacerbation. After both solos, Kamasi took advantage of a brief pause and admitted "I love these guys," clearly expressing that, in his heart, these performers were all family.
The 10-piece then transitioned into the album's first song "Change the Guard," introducing a flavorful theme that would return throughout the show. Closing the first act with a sweet goodbye of deep minor hues and resounding percussion, Washington told his audience the next act would feature two surprise guests. Hushed cries of "Kendrick Lamar" filled the room, the audience anxious to see who was to be unveiled.
As promised, Washington brought out two guests: Terrence Martin and DJ Battlekat, introducing Martin as "one of the best saxophone players [he'd] ever heard." He also noted Martin was the man who "mastered one of the greatest albums of the year if not of all time, one of the best projects I've had the honor of being a part of," referring to Kendrick Lamar's sophomore album To Pimp a Butterfly. Both Martin and Washington played saxophone on many tracks including "u" and "i," Martin mastering the entire album and Washington responsible for leading the string section. Together they opened with a groovy melody backed by the entire stage before launching into the familiar opening riff of Lamar's interlude "For Free" to the delight of the entire room.
The fanfare of saxophones sharply rose and fell in a melodious manner only ringing that naturally when heard live. Martin proved to be the expert he was praised to be, effortlessly weaving in and out of complex riffs reflecting a lifetime of experience. The fire generated by that performance inspired Thundercat's brother, Ronald Bruner, to launch into his own dynamic drum solo. He began with an impressive display of intricate patterns and percussive skill. His flair waned however when he challenged elder bandmate Tony Austin to a drum competition. Their attempts to trump each other yielded a painfully long and exhausting display.
Breaking the monotony, Washington then directed the attention to upright bass player Miles Mosley. Mosley – member of the music collective West Coast Get Down alongside fellow Next Step members Austin, Coleman, Bruner, Ryan Porter, Cameron Graves, and Washington himself – struck his bass with flashes of skillful bowing and masterful slaps. A relief from the drone of the preceding solo, he reawakened the entire audience with merciless pounding from his song "Abraham" on his trusty upright.
His performance was nothing short of electrifying. Getting a fair share of the Club Nokia balcony to their feet and everyone's hands in the air, Mosley was true to form and really got the west coast down. It's no surprise he's reached worldwide critical acclaim.
The concert impressed all. General favorites were the choral section paired with Washington's unapologetically strong and fast notes that climbed up and down at a pace matched only by seasoned legends such as Coltrane himself. Simultaneously shrill and deep, Washington's melodies garnered audible 'wow's and 'my God's. The 10-piece's experimental sound included a myriad of varying styles from classical to new age and Coltrane to Davis; they were able to switch into atypical time signatures and still accomplish a smooth vibrational rhythm everybody could bob their head to.
Besides Washington's awesome performance, Thundercat was notably brilliance. The texture of his bass-work was curiously bright and rich; the accompanist exhibited a tempered sleight of hand that wobbled perfectly in line with the band's overall rhythm.
They exited gracefully with "The Rhythm Changes" in which lead singer Patrice Quinn's beautiful falsetto vividly highlighted incredible control. An ode to the inevitable changes we all endure, the band showed a more paced and smoother side than what was found in the rest of their songs. Washington's saxophone sang with a beautiful melodic ring, accompanied by the rest of the band's swinging harmony. Battered from some of the coldest jazz playing in contemporary music, the audience rose to their feet in applause at the end of the show. The standing ovation was well-deserved.
Article by Dan Savo
Comments
comments