As her steady guitar strums started to feel intensely meditative, building somber isolation in the darkness of The Fillmore, her voice closed the verse with a timid release:  "I was just wondering if there's any way that you made a mistake."
And with those last two words, her near-whisper broke with soft pain. Three songs into Julien Baker's set, and I already felt a shiver. As "Happy to Be Here" ended with the powerfully pained refrain of "why not me?", I looked around to see a mesmerized, and touched audience. Once she finished, Baker's eyes were welling up and pensive. After such an intimate start to the night, mine were getting there as well.
When I had first heard about Julien Baker, recommendations came almost simultaneously from four different friends, all praising her 2015 debut Sprained Ankle for its beautifully sad, nearly overwhelming expression. Recorded sparsely when she was only 18 years old, the album's indie folk/emo-leaning tracks provide a direct line to the emotional richness of her personal experiences—noted for the atypical combination of being a queer, Memphis-native Christian. When her more thoroughly produced follow-up, Turn Out the Lights, was released earlier this October, the songs were poignant and well-written, but my friends and I all generally agreed that the fuller sound felt less compelling than the striking intimacy of her first.
Fortunately for myself and any fellow fans who craved the same minimal approach, Julien Baker delivered on stage. Dressed in all black, and accompanied by only a few light bulbs for stage decoration, Baker stood front and center with only her guitar, pedals, and piano. She gorgeously crafted every ambient twinkle live with loops and precise, subtle guitarwork, and occasionally added elements of piano to complement the emotional swells. As she sang dynamically through each song, the audience's sole focus on Baker could hardly seem more engaging. Yet, when she switched to just acoustic guitar for a few songs, starting with the fingerpicking of Sprained Ankle's "Blacktop," the audience's attentive awe towards Baker only intensified.
The intimate focus Baker allowed herself to be the center of was truly immersive, and throughout the whole night she maintained a pained, honest vulnerability. Without any other backing instrumentals or visuals to distract, the emotional arching of her performance was channeled thoroughly and directly to the audience. Mid-set fan-favorites such as "Sprained Ankle" and "Rejoice" prompted audible excitement from the crowd with their first guitar notes notes, all with Baker still steeped in the melancholy of her lyrics, as if she was performing for herself in her bedroom. Fellow Tennessee-native Camille Faulkner also contributed haunting violin accompaniment for several songs, which although lessened the isolated intensity that Baker maintained as a solo performer, did reframe some of her newer songs with a rewardingly minimal approach.
Baker's brilliant, quiet moments are not to take away praise from her cathartic climaxes, however. Nearly every song seemed to progress into explosively supported high notes, and the intensity of her close-eyed, scream-like expression brilliantly illustrated her internal anguish. That the dramatic power of her climaxes didn't ever become tiresome or or any less impassioned is a testament to how captivating and talented she is as a performer. Even musical subtleties such as the stiff guitar strums on Turn Out The Lights' "Sour Breath" were so boldly driven that I couldn't help but emotionally crumble under their weight.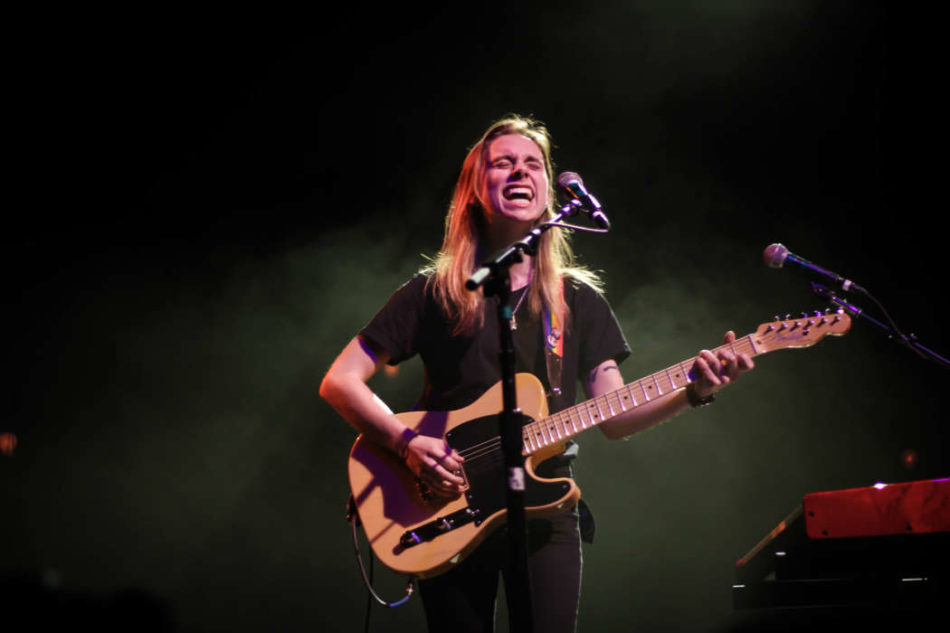 Baker's limited but unguarded interactions with the crowd also helped establish the night's energy of vulnerable honesty. Speaking with a quiet politeness every few songs, her thoughtful and subdued personality seemed completely in-sync with the sentiment of her music, making it all the more powerful. She spoke about being grateful even when everything seems to be difficult, and after accidentally starting a song with a mismatched synth-textured keyboard sound, she joked about the mistake and thanked us for laughing: "It's disarming when an audience can laugh with you."
Likewise, the audience was wholly engaged with Baker's performance all throughout. Mostly still and silent throughout (besides the occasional singing along and gracious applause), the audience felt like truly dedicated and entranced fans. Several even filmed full songs on their phones, although they luckily kept them low to not maintain respect for the performance.
Once the time came for an encore, Baker walked back and lightly apologized for having to adhere to the tradition of misleadingly saying the previous song would be her last. Her smile showed gratitude for getting to share her music with such an affected audience, and she closed the night with a heart-wrenching performance of Sprained Ankle's "Go Home." She sang her last cathartic refrain, "I know my body is just dirty clothes; I'm tired of washing my hands, God, I wanna go home." This was probably the most amount of shivers I've felt from a concert, and I went home absolutely touched and grateful.
Written by Dylan Medlock
Photos by Roann Pao
Comments
comments