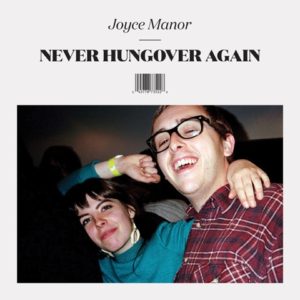 It's a wonderful feeling when a band can be both sweetly nostalgic while maintaining a wholly mature and unique sound. Joyce Manor, although hailed as being a leader in the emo-revival movement, is doing something different –- but not so different that they lose their sentimentality. Never Hungover Again, set to be released on July 22nd via Epitaph and the third album from the Torrance, CA-based pop-punk outfit delivers the same consciousness and seemingly unrefined lyrical wailings of previous albums. But unlike Joyce Manor (2011) and Of All Things I Will Soon Grow Tired (2012), the band seems to have blended characteristics from their earlier work into one cohesive sound.
Opening track, "Christmas Card," doesn't take time for a dramatic build. It gets right to the lyrics with the line, "looking at your face in the dark, you don't even look that smart," and continues with relentless vocals and a poetic cadence, which is not broken until mid-way through the track. The breaks in instrumentation perfectly portray the pensive state in Never Hungover Again. Guitar and drums are simultaneously animated as this culmination of thought is met with the simple conclusion from lead-vocalist Barry Johnson: "you know I think about it still." At the end, this statement is repeated once, followed by the trailing off of the guitar, in acceptance of this fact.
Produced by Joe Reinhart, the quality of the guitar recording is similar to that found in Reinhart's melodic punk outfit, Algernon Cadwallader. "End of the Summer" features those sweeping, clean riffs. Having toured with Joyce Manor in 2012, Reinhart stated that he didn't want to get involved with the band's technique but merely wanted to capture their sound, and such can be heard –- the guitar is crisper than ever before.
"Catalina Fight Song" was released months before than the album itself, along with the band's first music video. The song is definitely the anthem of the album; while it's not the best track, it captures the unembellished energy and assumes the ambivalent, but easily relatable, lyrics that have attracted their large fan base.
Never Hungover Again, boasts the same raw, pop-punk energy and the emotional lyrics of previous albums but is definitely more accessible. Progressions are more predictable throughout the album, unlike previous songs such as "Beach Community" off of their self-titled. Never Hungover Again is also missing the epic introductions that were featured on earlier tracks such as "Five Beer Plan," off Of All Thing I Will Soon Grow Tired, where Matt Ebert's despondent bass line is paired with Barry Johnson's screaming vocals, which, then, unexpectedly switches into a fast-paced punk jam.
After three albums, there may be less of a want to experiment musically or Joyce Manor have mastered their sound; the band has reported songs from their new release, such as "The Jerk," coming together effortlessly. Has this seamless composition eradicated the punchy vocal breaks and bass lines of previous albums? Possibly. Songs like "Victoria" and "Heart Tattoo" are more traditionally catchy with their guitar slides preceding bridge introductions and repetitive back-up vocals, respectively.
Small criticisms aside, Never Hungover Again is a big step for the band, whose self-titled was an amazing record that seemed to have come out of nowhere. Any record after that could have been too pop-punk with a loss of authenticity or could have given up the melodies and gotten back to their power-violence beginnings, but Never Hungover Again is solid –- its lyrics are worthy of being sung out from the pit and its melodies are contagious but not overdone.
This album isn't that house party with your friends; it's the morning after: that sticky-sweet feeling, red solo cups on the ground, reflecting on the night before. Misgiving and drained, it's not a satisfactory feeling, nor a negative one, just a collection of honest emotions.
Stream Never Hungover Again and see Joyce Manor at one of their upcoming tour dates.
Comments
comments