Five years is a long time. During which, a lot of things can happen: marriage, buying a new home – and the release of a fourth album. Joanna Newsom's latest album Divers (2015) brings pieces of her past into a record coming in at just under an hour. Take, for instance, her recent marriage to comedian Andy Samberg. In an interview with Uncut, Newsom explains how being married is "inviting death into your life…because there is someone you can't bear to lose." And this is a theme we can see in songs on Divers, like the final song on the record "Time as a Symptom" where she sings: "So it would seem to be true/when cruel birth debases, we forget/When cruel death debases/we believe it erases all the rest/that precedes."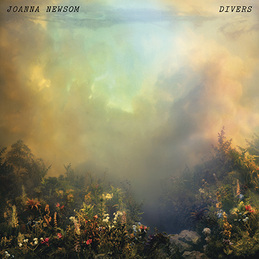 Yet the overarching theme of the album seems to be stated in the title itself. "For me, it's not just the diving that's important," says Newsom. "[I]t's the implication of the medium that's being moved through in the process of diving." It comes up in songs like "Anecdotes," "You Will Not Take My Heart Alive," and of course the title track, "Divers." But all of this is expected in some way. Even as a singer, Newsom is a storyteller. Her songs feature characters and plots and intricate storylines that the listener gets to experience with each song. Her greatest gift, which she showed off again in this album, is her ability to transport the listener to another world, another time.
Unlike her last two albums, Divers is much more accessible for the beginner Newsom fan. All but two of the songs come in under six minutes, and there are definite shifts between each track, both lyrically and musically. The piano in "Sapokanikan" is reminiscent of an old-Americana bar; "Same Old Man" has a folkier sound possibly found in a small Californian town like Nevada City, where Newsom grew up. Yet, there is still that spark of Newsom in it. The last word of her final song "Time as a Symptom" ends with her singing "trans-" while the first word spoken on the album in "Anecdotes" in "sending." There are "layers, layers, layers" in each of her songs, and there's always something for fans to look for.
Divers is not similar to Newsom's three disc LP Have One On Me (2010), nor is it evocative of her five song sophomore album Ys (2006). Instead, it is a new journey and experience for fans to embark on. Newsom's ability to create an album that successfully transports each listener to a dream-like state is not only incredible, but at this point, anticipated.
Article by Leka Gopal.
Comments
comments