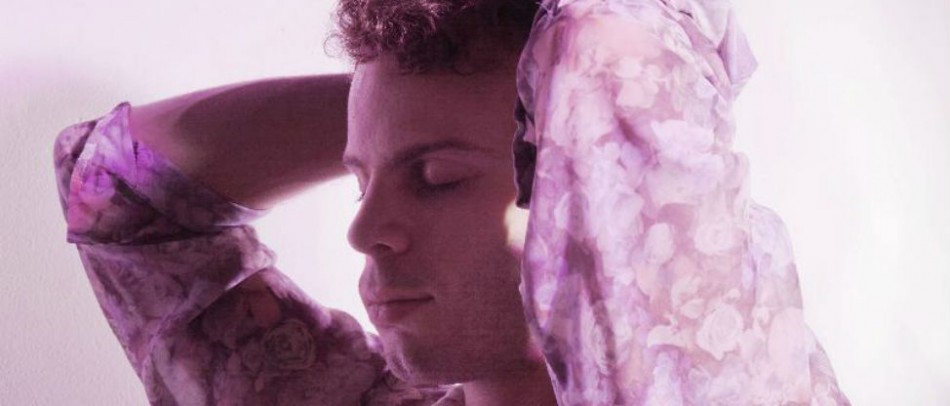 Dan Vidmar, or Shy Girls as he's better known, seemed a little roadworn when we spoke to him backstage last Friday, but he didn't show it in his performance two hours later at Rickshaw Stop's weekly POPSCENE. The sold-out show was populated primarily by Shy Girls enthusiasts, reflecting the recent surge of recognition the bedroom-producer has received since his February mixtape 4WZ.
The realization of this success is still slow for Vidmar, whose moniker four years ago was a NSFW Google search. Without prompt, the Rickshaw crowd gathered eagerly around the front of the hall as Vidmar and his live bandmates started their set with "Perfect Form." Up on the balcony, benches were pushed back during the second song to make for more standing room at the railing. By "Renegade," Vidmar's clear, pure pitches had captured even those who were in the building simply with friends. With a live set as musically sound and stunning as Friday's, a snowball effect since the start of the tour comes as no surprise.
The 27-year-old from Portland by way of Pennsylvania told us that he's looking forward to getting home this weekend "to do laundry." He prefers Blue Star to Voodoo, is "down with Dijon [mustard]," and appears positively happy with the town he now calls home. Read below for a slightly abridged version of our chat.
First, tell me about a funny experience you've had on this tour — funny haha or funny strange.
Oh, yikes. Let me think. I feel like every day I'm touring has been hilarious.
Is it the people you're with?
Yeah, and the situations in general.
Anything today?
Today we just played Mario Kart all the way here. And ran into some friends at an In N Out somewhere in the middle of California. Our Uber driver in Miami was a big Shy Girls fan, that was kinda weird at three in the morning.
S/he knew who you were?
Yeah, and didn't actually come to the show.
Well, I guess s/he were out driving. Who comprises Shy Girls on tour?
It's me; Ingmar Karlsson plays keyboard and guitar; Akila Fields plays keys; and Noah Bernstein plays saxophone and the beats.
In your view, how does the live show differ, and what should we expect?
The live shows have a little more energy — some of the songs we play a little bit faster. There's a lot more guitar involved; there's a little more improvisation. Also, the way that I sing – I take some more liberties, do some more ad-libbing, stuff like that. I think it's fairly different given the fact that we don't have a live drummer.
What's the story on the moniker? I know you've said elsewhere it was "just off the top of your head." When I first started listening to your music, I thought you were just singing about shy girls, haha.
[laughs] Maybe that's a better story to use. The truth is, I had a journal full of ideas from years ago – names, albums, things written down, and Shy Girls popped out while I was making the first demos for the project.
Was there a period of time for you that "Out of Touch" is specifically about? Or is it more like social commentary?
It's a little bit of social commentary; it's sort of about the younger generation that I'm in. When we got out of college, the depression sort of hit and there's – especially in Portland – a lot of underemployed people who are trying to do more creative things but are very poor yet like to have a good time and sort of lose touch with reality a little bit… lose touch with what made them who they were.
https://soundcloud.com/shygirls/out-of-touch-ft-rome-fortune
Speaking of Portland, what made you move out there? What was attractive about it?
I moved to Portland after college wanting to get away from the East Coast. And I love the East Coast—nothing against it—I just grew up in Pennsylvania and went to school in the same town; I just wanted to get away. I had this realization that I could move anywhere, and I'd visited Portland the spring break of my senior year and I loved it. Just sort of on a whim decided to move there… and I found a job at a hospital.
Something about Portland that always struck a chord with me… first of all, it's so beautiful. Oregon in general is so beautiful. It's a big enough city that it has a lot to offer for an artist and somebody in his or her twenties who's looking to have friends and relationships. It's also small enough that there's a real scene, unlike some bigger cities where it's just…
Hustle and bustle?
Yeah, hustle and bustle and just like, competitiveness.
I was just [in Portland] this past spring break – it is beautiful. It's quiet, but it's got character.
Yeah, totally.
So your lyrics also seem rather stream-of-consciousness. Do you have any go-to writing spots or is it just when things hit you?
It's mostly when things hit me. I was just writing ten minutes ago. Or in the car seems to be a common [place] for me. Also, when I'm falling asleep at night. This sort of hypnogogic state is an inspiration mindset for me.
What's the story behind the title 4WZ?
It's named after a radio station in my hometown in Pennsylvania, which was the pop radio station I listened to growing up. They play a lot of urban crossover pop, like TLC…
Do they know?
I have no idea. I feel like they probably do. It's a really small town and my mom has probably told everyone.
Do you ever still tune in to that station?
No, but I should.
It seems on 4WZ you hit a darker, slower groove. Would you say this is a better reflection of your personal style or just a natural progression of sound from your previous EP, Timeshare?
I think it reflects my (very personal) inner workings, especially during the last year of my life. Not that I've had a dark year, but in some ways Timeshare was more about coming out with these songs I'd worked really hard on crafting and 4WZ was things that I needed to say and songs I needed to put out there for me, if that makes sense.
Is there older material on either of these records then? Things you were working on during your college years or prior?
No, I think most of Timeshare was written in a couple months; and most of 4WZ was six to eight.
That's pretty prolific. Where was [4WZ] conceived?
4WZ was half in Portland, half in Los Angeles. I was spending a lot of time down there writing and working with other co-producers, getting their flavour on the production which was really fun.
You had some neat collaborators on that one as well, lots of good talent. How do you usually reach out to most of these people?
A lot of them were people whom I'd already met or knew through mutual friends. They were all people I feel really connected to in a way. For example, Rome Fortune, Antwon, and Tei Shi – at the time, we were all unsigned or signed to very small labels and hustling in a very similar way. It just felt right.
The plucky motif on your most recent HUNTAR remix — was that a stem he already had but hadn't emphasized, or did you pull that in?
That wasn't in it the track, just part of the remix. I took a few liberties, I guess.
That's actually my favourite bit, and it's not in the original. Whose idea was it for you to remix "Love I Know?"
HUNTAR reached out. I think we had a mutual connection.
https://soundcloud.com/huntarmusic/love-i-know-shy-girls-remix
Your musical taste seems to be very up-to-date. What did you grow up listening to?
First, I was listening to a lot of Disney. Then my parents played a lot of country in the house; then I got into reggae and classic rock. E-music, classical music… I've been all over the place.
What was your favourite Disney film?
Aladdin.
You weren't a musical theatre kid, were you?
I was not, but I was really into sing-alongs.
How do you feel about Mustard?
DJ Mustard? I have a lot of respect for him. I don't particularly love all his tracks, but if he were to branch out a little bit, I might appreciate [his stuff] a little more. True talent is a little more timeless.
Pick your go-to: horror film; coffee shop; xhampagne.
Blair Witch honestly is one of my favourites. Coffee shop, I actually don't drink coffee, but Coava is a cool place to hang out.
And finally, [your go-to] champagne?
Whatever is cheap. My publishing company actually bought me a bottle of nice champagne when 4WZ came out and had it sent to me. I opened it up and immediately started drinking it out of the bottle – a bunch of my friends were over and then one of them looks at me and goes, "That's a $100 bottle of champagne, dude." I had no idea.
Article by Joanna Jiang
Comments
comments