This year's Phono del Sol was a lively celebration of local art, public parks, and music. The 2016 lineup featured Chairlift, Alvvays, Born Ruffians, Mr Little Jeans, Adam Vida, The Seshen, The She's, Hot Flash Heat Wave, and Dick Stusso, all of whom were energetic and excited to be a part of the festivities. In addition to an impressive and larger lineup compared to past years, the festival hosted a variety of food trucks, vendors, tents, and other activities, such as face painting and beer gardens.
Despite a limit of six hours of music in the park due to state laws, the daytime festival was full with potential for whatever its guests wanted it to be. Phono del Sol prides itself on being one of the few shows in San Francisco that truly provides a flexible, all-ages atmosphere, meaning there was something at the event for everyone. Some stood at the front of the crowd, dancing madly and migrating between stages. Others chose to sit near the top of the hill between the two stages, simply turning 180 degrees for each new set. In the middle of the grassy hills and valleys of Potrero del Sol Park were also a huge playground and skatepark, both heavily used. As kids danced and dogs sniffed and chased each other, patrons found spots to unroll their blankets and spread out. Whether you were 5, 25, or 55, there was plenty to do and see.
To start the music were Dick Stusso and Hot Flash Heat Wave. Stusso, whose real name is Nic Russo, is originally from Oakland and likens himself to a drunk and unsuccessful Elvis Presley. He recently put out Nashville Dreams/Sings the Blues (2015) and his performance was just as sentimental, part ballad, part rock, and part country. Fellow locals Hot Flash Heat Wave, on the other field, had people starting to dance. Upbeat and irresistible, hits like "Gutter Girl" from their debut album Neopolitan (2015) set the mood for more music to come. And, following their lead, The She's took over next. Hannah Valente, Samantha Perez, Sinclair Riley, and Eva Treadway are young, newly able to drink but with three albums under their belt. They kept the audience moving, with the full stride of the festival now in swing.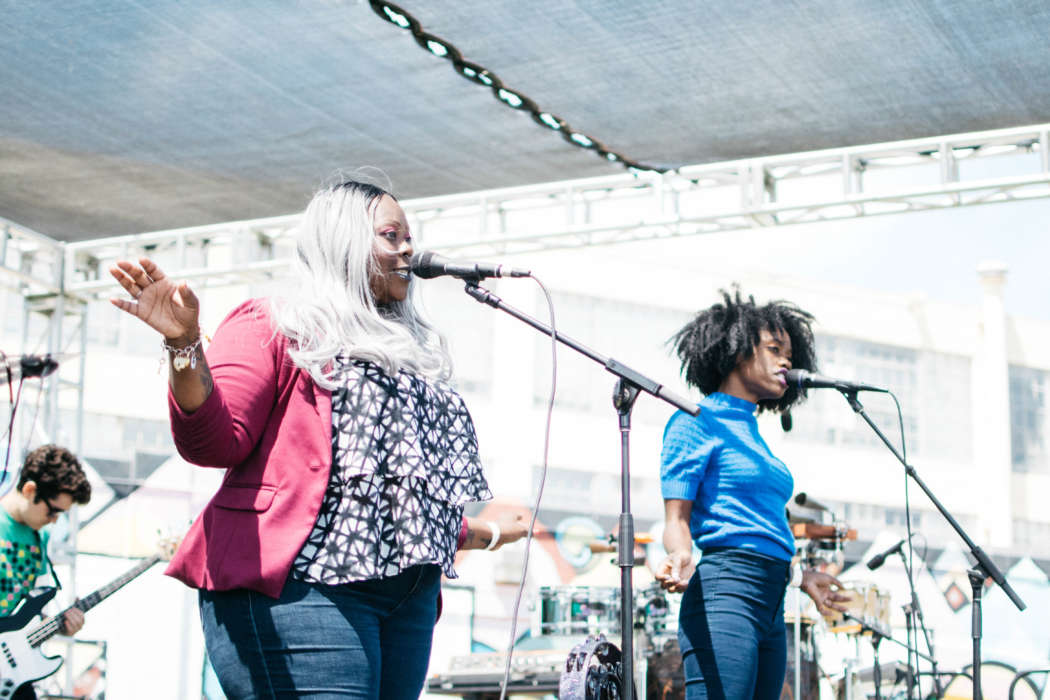 At The Seshen, vocalists Lalin St. Juste and Akasha Orr's hands were swimming in the air as they swayed, closing their eyes to articulate and hit notes. Bringing out finger cymbals and maracas, The Seshen exuded energy — even the musicians on stage were dancing, which is to be expected with lyrical, musically textured songs like "Time War" and "Pieces" from their self-titled 2013 release. During the chorus of "The Fall," both vocalists pointed at the crowd for emphasis. "It all falls down, and that spirals fast / Reach for another half, but it slips from my hands," they sang. Known for mixing live and electronic elements The Seshen were refreshing, colorful, and confident in their musicality. Their combination of experimental electronica, R&B, West African influences, and psychedelic pop resulted in a compelling concert experience.
Adam Vida (fka: A-1) brought a similar energy, though a different genre. "If there's one thing I know, it's that hip hop doesn't stop," he announced, encouraging people to go toward the front to start the party. Vida loved talking to the crowd, taking the opportunity to explain his roots in SF (he proudly took off his jacket to reveal a Giants jersey) and his passion for spreading love. Telling the audience to high-five or hug a stranger beside them, he launched into raps about oppression, death, and pessimism, preaching about a time and place where money, gender, and race would no longer matter ("We don't want to be divided no more / That's when we became beautiful"). Never still and continuously interacting with the audience, Vida shared a remix of Nickelodeon's "All That" and emphasized his ideology of THURL, which stands for think, hustle, understand, and really live. He gave plenty of shout-outs, including ones to his mom, random names shouted by the audience, and Lil B. The last song he played was called "Winning" because, he said, winning is better than losing. Good-natured, expressive, and at times rambling, Vida got the crowd engaged and optimistic, even joining the crowd and rapping the second half of his set among them.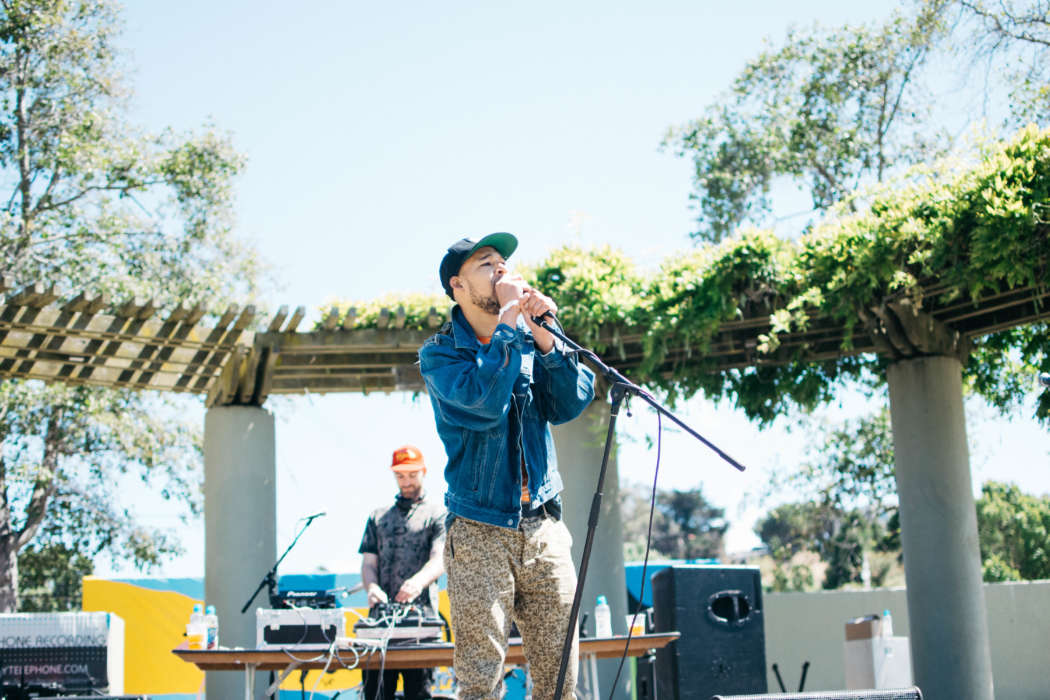 Monica Birkenes, known as Mr Little Jeans, came onto the stage wearing all black. She started the performance with "Runaway," its breathy vocals radiant and signaling a change from the set just before. In-between playing "Valentine," "Oh Sailor," and "Good Mistake" from Pocketknife (2013), she mentioned her past shows at the Rickshaw Stop. Immediately likeable and comfortable on stage, Birkenes danced, waved, and shared with the audience most things, like taking a Snapchat video, spilling her water, and asking for a song to play next. As the music started for "Lady Luck" she jumped and span around, her arms flung out. "Practice the chorus because I'm gonna need your help," she shouted as "The Suburbs" began. Her speaking and singing voices were clearly different — one was casual and bright, the other light and gentle, fused with electro-pop.
Before Birkenes stepped off-stage she declared, "Thank you SF, I fucking love you!"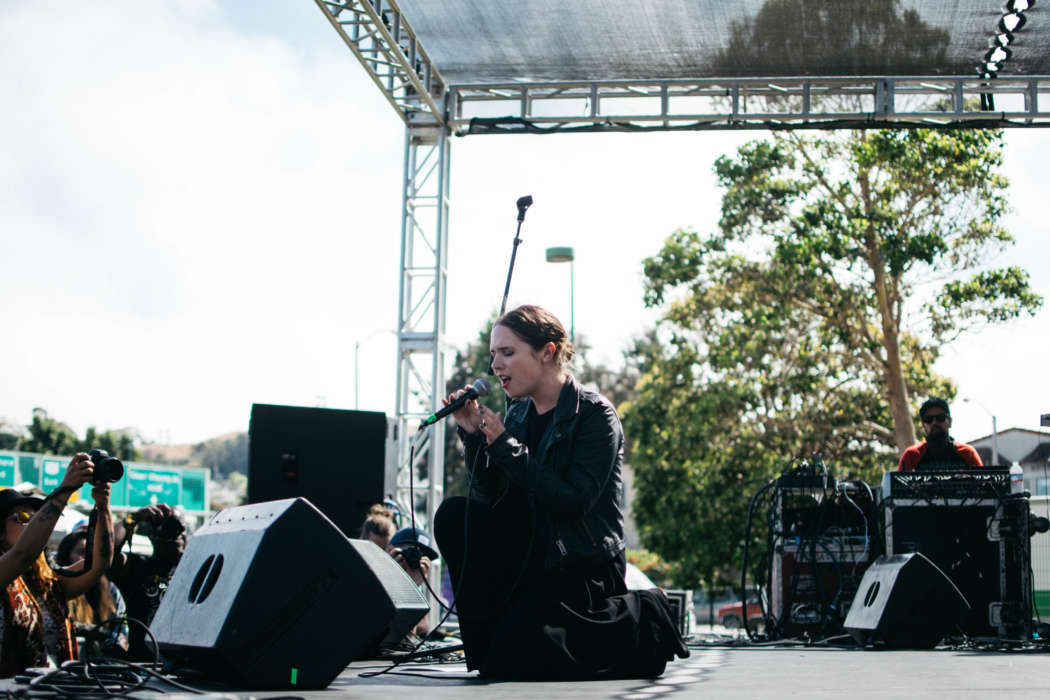 "I would like to feel the pain of a broken heart / Just to let me know that I can fall apart," is how indie rock unit Born Ruffians began their set, throwing an energetic "What's up!" at the crowd after they opened with "Kurt Vonnegut." Melodious and laid-back, their music coincided with the turn of the afternoon to evening. Band members Mitch Derosier, Adam Hindle, Luke Lalonde, and Andy Lloyd gave their all to their instruments, with keyboardist Lloyd at times shaking a tambourine while guitarist and vocalist Lalonde played vehemently on his guitar. Performing for the enthusiastic crowd fan favorites like "Hummingbird" and "I Need A Life" from Red, Yellow, & Blue (2008) the band talked about traveling from Toronto and playing with a broken guitar. "That's perseverance," one of them joked. The band performed "Needle" last, one of their most popular tracks from Birthmarks (2013). The audience responded by exploding with recognition.
Alvvays, also from Toronto, seemed to be the perfect fit for the festival's summer vibes. With songs like "Adult Diversion" and "Party Police" from the band's self-titled debut album Alvvays (2014), the number of dancers in the crowd grew larger and larger. The band's beachy, indie pop sound, created by Molly Rankin, Kerri LacLellan, Alec O'Hanley, Brian Murphy, and Philip MacIsaac, was an invitation for guests to shake loose, sunglasses and all. They ended with hit single "Archie, Marry Me," the chorus "Hey, hey, marry me, oh Archie," echoing across the park.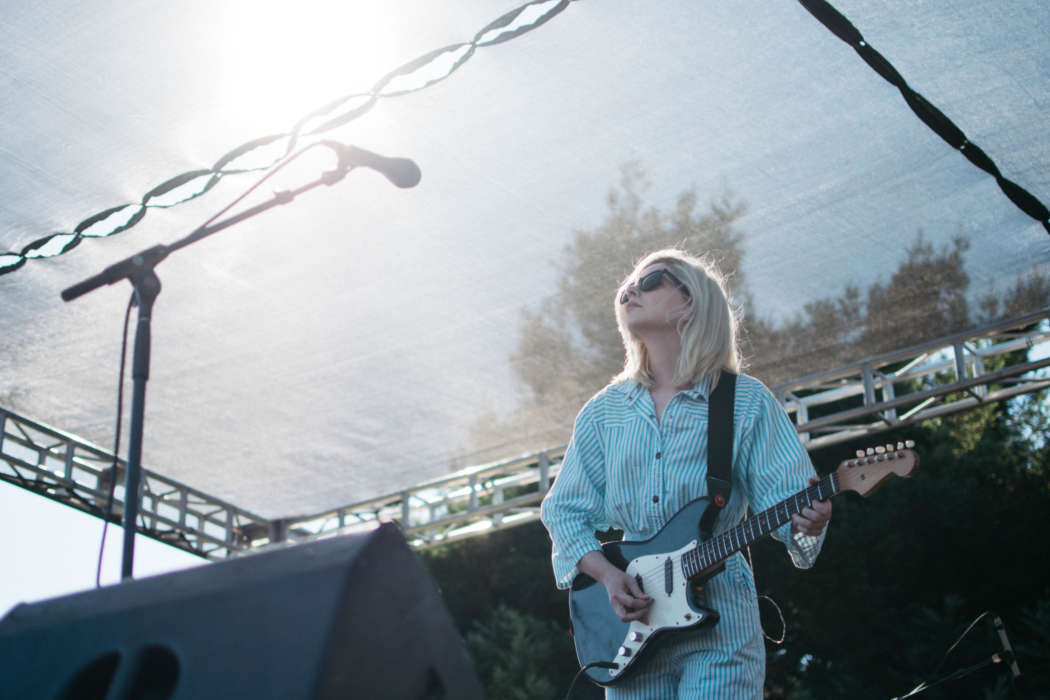 At that point, with the evening summer sun approaching and anticipation built, many were waiting for headliner Chairlift. Before their performance, members of The Bay Bridged gave shout-outs and thanks to celebrate the result of the team's seven month journey planning and promoting Phono del Sol along with Tiny Telephone and DoTheBay. After the band finally arrived ("We're in a park!" shouted the delighted vocalist Caroline Polachek), the audio went out during the first song. The audience persisted in cheering, despite the hiccup. The band went on to play a mix of new and old music, the new including "Romeo" and "Crying in Public" from latest release Moth (2016) and the old including "I Belong in Your Arms" from Something (2012). Prior to "Crying in Public" Polachek announced its title, adding "You guys know about that here don't you," and "Can we get a sway going?" Later in the show, to call other vocalist Patrick Wimberly to the front, Polachek chanted "Patrick, Patrick, Patrick" which the crowd quickly and passionately picked up on, continuing to chant even after Wimberly had already stepped forward.
Giving some love to SF and mentioning their past show at the Independent, Chairlift was friendly and continued to engage with the audience, who very clearly loved them back. "That saxophone though!" someone in the crowd yelled. Upon the start of the famed "Bruises" from Does You Inspire You (2008), Polachek encouraged everyone to sing the words if they knew them. And of course, they did.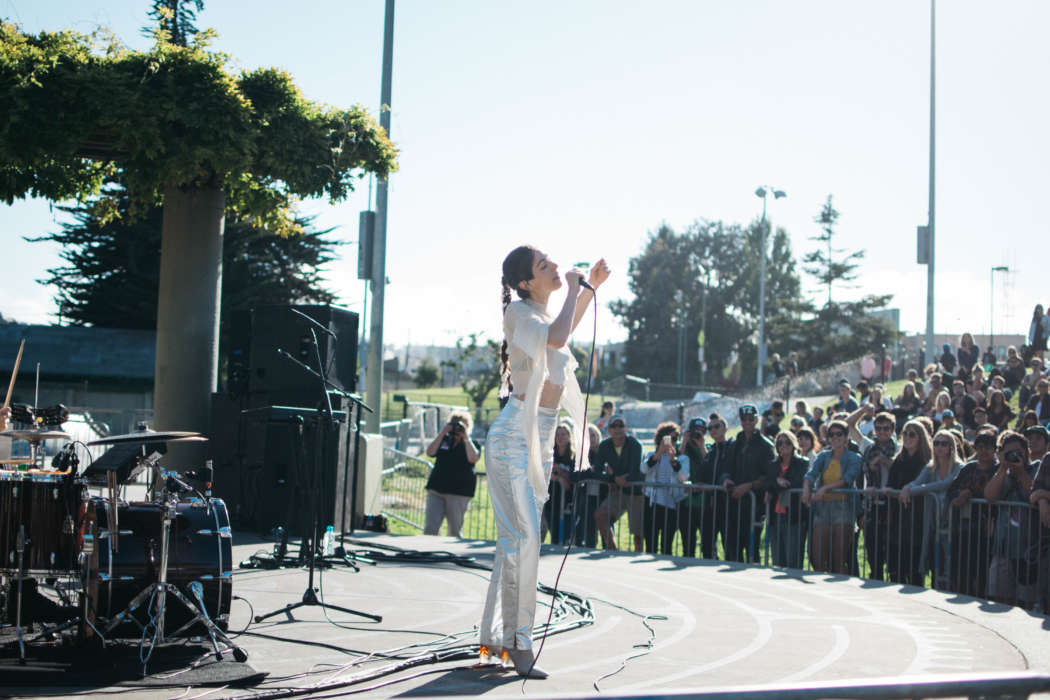 Phono del Sol is a hidden treasure of SF's festival scene. Still relatively new, non-profit, and in support of local parks, the event's limit of six hours of music is in fact one of its greatest assets — while other festivals of its kind can be huge and last hours, Phono del Sol is small and strictly daytime. As a result it is unusually low-key, an event in which common stresses (for instance, picking certain artists over others or moving from one of many stages to another) are gone. Available additions to the main festival included a pre-festival brunch and an all-ages after-party with Yumi Zouma, The Peach Kings, and French Cassettes at the Rickshaw Stop, for those who wanted to party earlier or into the night.
There is comfort in the fact that smaller festivals like Phono del Sol exist. It will, no doubt, continue to grow in future years, and we might someday see the addition of more artists, stages, or even a second day. For now, the coziness of the festival is its charm.
Check out more photos from the festival below.
Article by Valerie Law
Photos by Jay Mahabal
Comments
comments