On March 25, the Brooklyn-based folktronic band, Howard will be releasing their new EP, Please Recycle. With green initiatives in full swing, the EP title may sound like a friendly PSA of some kind- telling you to start separating your bottles from your cans. However, Please Recycle is actually a nod to the bands' literal recycling of their latest LP, Religion.
Religion, which was released a little over a year ago, was the bands' first self-produced LP. It gained a fair am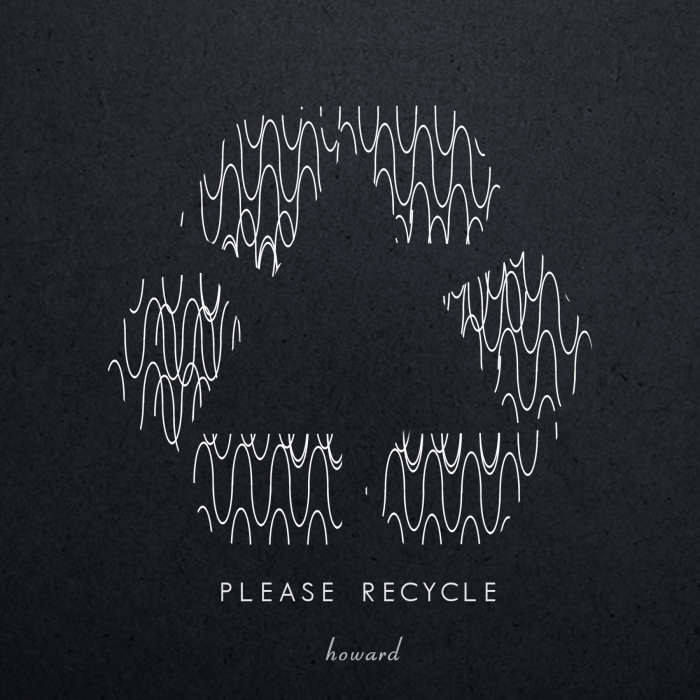 ount of success with the track "Money Can't Buy" reaching over five million streams on Spotify. Religion combines electronic and acoustic elements with smooth vocals provided by lead singer Howard Feibusch.
However, the band decided to take a new approach when it came to their latest EP. Tracks from Religion were broken apart and pieced back together to form new, eclectic sounds, so that their previous work was literally recycled. Please Recycle, while being heavily reminiscent of Religion, also brings forth its own unique sound. Please Recycle is a true representation of the bands' ability to successfully manipulate their art in the studio.
The names of each of the five tracks, including "Glass" and "Plastic", hint at the recycled theme of the EP. It is clear that the musical elements were pulled from Religion, but it is hard to discern exactly which tracks have been used. Howard integrates the sounds so well that it is impossible to really know how many songs from Religion have been incorporated in each track, making this album more than a mere reproduction.
Howard scrapped out most of the vocals in Please Recycle, incorporating only a few in order to complement the sound. Ultimately Please Recycle succeeded more as a musical experiment than a mainstream EP. These tracks may not necessarily be the ones played on your next road trip and may not be heard on mainstream radio, but that was definitely not the intention.
Please Recycle is first and foremost a work of art and should be appreciated as thus. Howard's ability to integrate such unique blends of music is evident in each track. The recycled sounds are fresh and interesting to listen to, especially coming after Religion. The creative genius behind this EP was in the studio and truly succeeded in incorporating old material into new, dynamic sounds.
Article by Erica Munson
Comments
comments