"People are going hard at the Jay Som show!" someone in the crowd exclaimed.
Jay Som, AKA Oakland-based musician Melina Duterte, looked up and beamed.
"People are going hard at the Jay Som show!" she agreed.
I wasn't really expecting a mosh pit last Friday night at Great American Music Hall, but with a packed venue full of enthusiastic fans and Jay Som's animated zeal, it made sense. Infusing a fun, carpe diem edge to material from Turn Into (2015) and latest release Everybody Works (2017), it was hard not to mirror the joy Duterte and her bandmates were having, which included miming free throws between verses to engaging in improvisational duels.
As Duterte told B-Side last week, "I trust [my bandmates] a lot. They're all very creative and have their own sound. I never want to be like, 'You have to play like this, or just like the record.'" Throughout the evening, this individualist philosophy was manifest in free interpretations of tracks from both of the band's well-loved albums. For instance, a slick interlude bolstering "Turn Into" featured tight drum fills from Zachary Elsasser and a funky synth line courtesy of Dylan Allard, "Our Red Door" got a glitchy drum pad treatment, and Everybody Works' gentle closer "For Light" transformed into a hypnotic post rock ballad that somehow accommodated more moshing.
Additional interpretations imbued Jay Som's ultra infectious single "Baybee." Twangy musings from guitarist Oliver Pinnell and Allard's solid bassline prompted everyone – even those up in the balcony – to move and belt along with Melina. In what seemed like an experiment to test the hometown fans, Duterte then stepped back from the mic for the bridge. Without missing a word, the audience continued to chant "Baybee"'s pleading lyrics: "Sweetheart, listen / Make up your mind / Whatever helps you sleep / In the night." Duterte looked to her bandmates in surprise and laughed. "Not gonna lie, I like you guys," she said afterwards. "Everyone looks so good."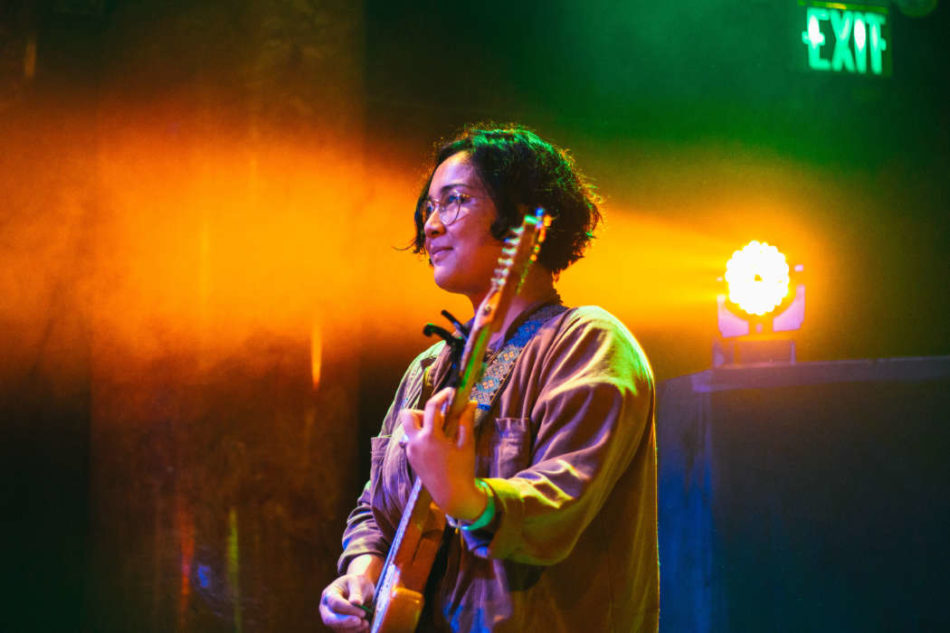 The most intimate moment of the night emerged around the midpoint of the set. After "Baybee," Duterte's bandmates left the stage to let Melina play solo. Melina shut her eyes and channeled the intimate headspace she crafted so wonderfully on Everybody Works with "(Bedhead)".  Jay Som described this particular song as one about "feeling very comfortable about using your voice and getting on stage and being yourself," and in her subdued and solitary delivery this message felt extra-powerful. The performance  recalled her beginnings as an artist, back when Duterte would tour as a solo act and entrust her vulnerability to an audience night after night. "On the tip of my tongue / I breathe again / I bury my stutter," Jay Som sang in hushed tones, her fuzzy guitar strums whirling around her voice.
After the rest of the band returned to the stage, it didn't take long for the merriment to resume. "Smells like vape up here… Uh oh, San Francisco," teased Duterte, referring to an earlier story of how she once got in trouble for smoking weed in this very room. "I assume you know what to do," Duterte then said before jumping into "The Bus Song." And with that, the crowd geared up for what's now any Jay Som show's rite of passage. "BUT I LIKE THE BUS!" the audience shouted in unison while moshing once more. In the midst of this raucous, Melina smiled in bewilderment, took a napkin out of her front shirt pocket – which, I feel is important to note, was paired with an excellent Aaliyah t-shirt – and delicately dabbed sweat off her face, some physical proof of how hectic the night had become.
Jay Som returned for her encore with a straw cowboy hat and electrifying barnburner "1 Billion Dogs." Duterte and Pinnell traded playful guitar solos, and by the explosive ending, Allard was on the ground, his bass in sync with the velocity of Elsasser's crash cymbals.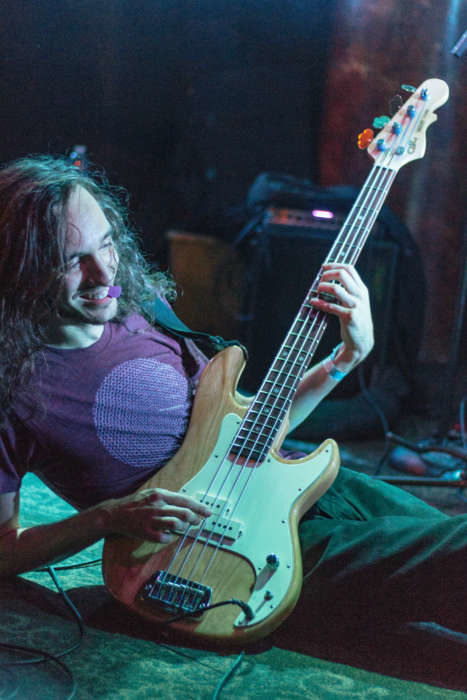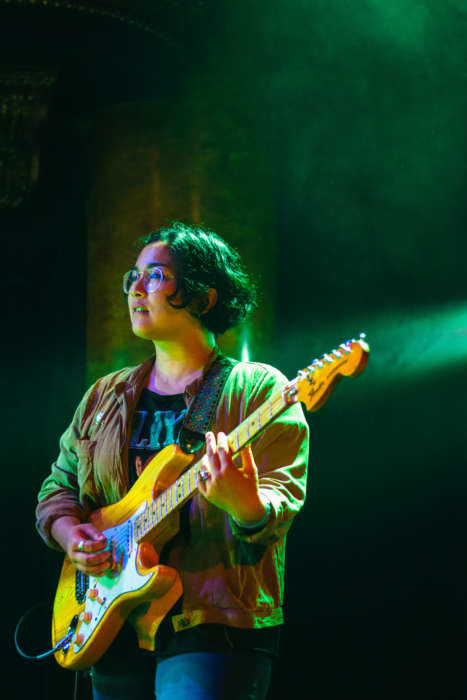 Jay Som gingerly wrapped up the  set with "I Think You're Alright" and "Lipstick Stains." During these confessional love songs, Melina's spotlight dimmed so deeply that she only appeared to the audience as a dark silhouette. Duterte tipped the cowboy hat down and let mist from the fog machine envelop her. The scene in its entirety cast Melina as the wandering hero of old Spaghetti Westerns, a mysterious drifter who keeps her secrets and intentions in the shadows. But this is anything but true for Duterte: she isn't afraid to lay out her anger about growing up in high school or her struggles entering adult life. She isn't afraid to tell her bandmates she loves them between songs, or afraid to express her queer identity to the public. I'm reminded of something Melina told me last fall, before the release of Everybody Works. "I do feel like it is important to show honesty and vulnerability in your music," she said. "Because everyone goes through it."
So go to a Jay Som show and sing your heart out with everyone else during "The Bus Song." Savor that moment where you can both relish in anonymity amongst fellow strangers, and still affirm with one another how liberating it is to realize "I can be whoever I want to be."
Written by Adrienne Lee
Photos by Alice Langford
Comments
comments