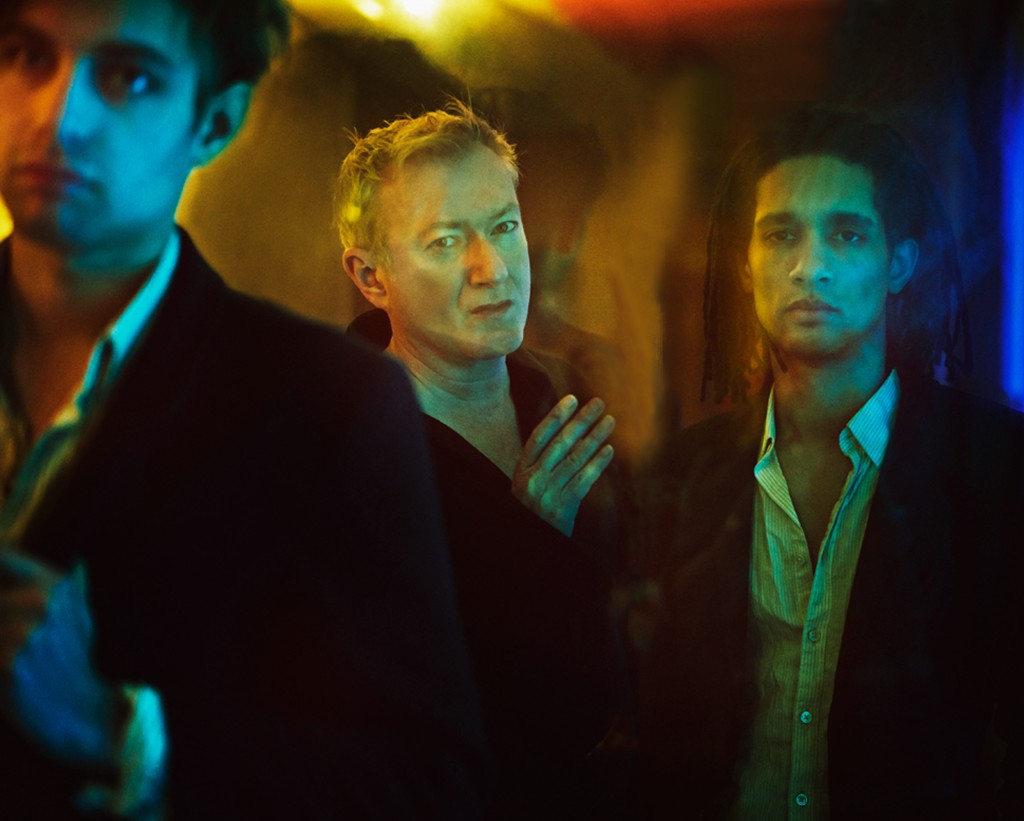 In 1978, Sony introduced the first portable stereo, the Walkman. College kids everywhere laughed their asses off at Animal House, the Bee Gees released "Stayin' Alive," and Gang of Four released "Damaged Goods."
It was the English band's first single off their debut classic Entertainment! (1979), which not too long ago was rated by Pitchfork Media as the eighth-best record of the 1970s. On Tuesday, Gang of Four will add once more to their discography, issuing What Happens Next (2015) on Metropolis Records.
Over a 35-year period, the band has broken up twice — once in the 1980s and again in the 1990s. All four original members reconvened in 2004 to re-record previously issued material not only as a statement of "we can still rock out," but more as a "fuck you" to EMI, who was still reaping large royalties off of the albums. The songs on Return the Gift (2005), the re-recorded Entertainment!, and Solid Gold (1981) proved that the band had maintained their grit and strength. It solidified the band's status as an important influence in rock songwriting (post-punk in particular); their anti-consumerism and counterculture sentiments had been instrumental in shifting subject material in the early 1980s punk scene. It was evident though, that Return the Gift and a world tour would not guarantee new work.
Yet in 2011, a new lineup of Gang of Four released new material. Andy Gill and Jon King, who had previously done their own thing in the 1990s in the form of two studio albums — Mall (1991) and Shrinkwrapped (1995) — teamed up with new members Mark Heaney and Thomas McNeice for the assertive, yet questionable Content (2011).
And now, after Jon King's departure from the group in 2011, we're left with only one member of the original Gang remaining, Andy Gill. Although Gill had consistently been the lead songwriter, the voice of Gang of Four had left: who would take over and deliver the bitter, spiteful lyrics as well or articulately as King?
But of course, John Sterry, Alison Mosshart, and Herbert Grönemeyer — an unknown male vocalist, an indie rock front woman, and the bestselling artist in Germany, respectively. Who better to express simmering anti-establishment contempt?
As it turns out, What Happens Next is actually very in line with Gang of Four's previous work, which may not come as a surprise, considering Andy Gill is and has always been the principal songwriter of the operation. What Happens Next carries on the skeptical and passively hostile lyrical content that has been the cornerstone of the band since the 1970s. Perhaps no one could explain it better than Mosshart on "England's In My Bones:"
Now I come to the end of the road
No one taught me how to think like me
Don't have no rules, make it up on my own
Don't believe any more than I see
However, as the subject material seeps into the listener song after song, it quickly becomes detectable that there has been a tempo overhaul for What Happens Next. In comparison to other works by Gang of Four, their new material is considerably slower. While albums like Entertainment! were very decidedly on the tips of their toes, What Happens Next arrives and sits comfortably on the balls of its feet. This may annoy stalwart fans who are thirsting for an edgy, compositional style, but it ends up fitting into its own kind of groove. Andy Gill works and retools certain elements of the songwriting to more adequately portray the idea that his messages maintain their effects despite vocal changes. And for the most part, he pulls it off.
That is to say, there are definitely poorly composed tracks on the record, namely the overly aggressive, verging on belligerent, "Obey the Ghost," and the uninteresting "Graven Image." It would not be overly critical to say that the album approaches monotony in its final tracks, which seem to adhere to the dark, lumbering tones of songs preceding them without really adding anything new or provocative to the idea of What Happens Next. There is nothing confusing about What Happens Next, which is almost more a critique than praise. Hopefully Gill will make a conscious effort to stray from this rut in upcoming work, which apparently is almost definitely happening in the form of an EP or perhaps even a full-length album to be released in the next year or two, after the band tours the US.
In records past, Gang of Four have been an unpredictable machine of twangy, irritated guitar riffs and precise, smouldering drum accompaniment to their trademark lyrics. Now, the curious combination of new young members is clearly evident, as is a more serious change of pace. In departing from this formula in some respects, Gill has taken a risk and has only partially succeeded. Gang of Four's next work will now be able to respond to multiple precedents.
Gang of Four comes to San Francisco's The Independent March 23.
Article by Darius Kay
Comments
comments