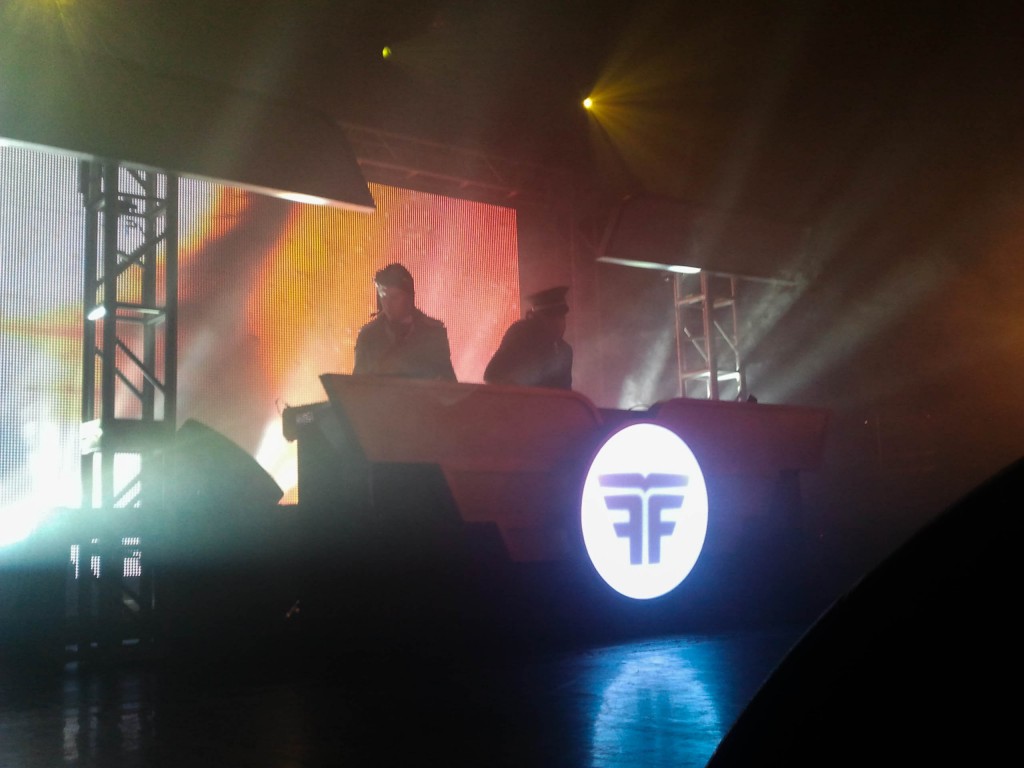 As one of the early headlining acts for this year's Noise Pop Festival, Flight Facilities transported the crowd to elevated heights last Tuesday at The Regency Ballroom, the second US stop on their Down to Earth North American Tour. Although the electronic/nu disco brainchild of Hugo Gruzman and James Lyell started out back (Outback) in 2009 releasing mixtapes, the project has taken off beyond their native Australia, especially since the release of debut album Down to Earth (2014).
Before a sparsely-filled main floor, Touch Sensitive opened with some heavy beats and bass guitar. Producer Michael di Francesco was able to get the crowd swaying, but the beats began to meld together repetitively. Near the end of his short 25-minute set, Francesco transitioned into crowd-favorite "Pizza Guy."
After a prolonged delay, Flight Facilities finally made their way to their booth onstage in their signature pilot outfits complete with pilot caps. Following a safety announcement, vocalist Brooke Addamo, also known as Owl Eyes, got the crowd immediately soaring with their collaborative hit "Claire de Lune" while Grusman and Lyell commanded the beats from behind. Surahn Sidhu also accompanied the Australian duo on stage, making his first of many appearances throughout the night for "With You."
The night continued on course with more songs from Down to Earth, such as "Stand Still" and the hip hop influenced "Why Do You Feel." Addamo returned again to the stage to lead the crowd in a singalong of "Crave You" followed with "Heart Attack." Before the crowd realized it, the night's journey was already over. After what felt like a much too early departure, the crowd was instantly clamoring for the duo's return trip to the stage.
During the encore, Gruzman and Lyell finally addressed the crowd. Saying that "San Fran" has always been good to them, they agreed to stay on stage for a few more minutes, but not without imparting one final missive to the crowd: to "dance like it's the last song of the night." They finished the night off with a cover of the classic Daft Punk-influenced track "Music Sounds Better With You" by Stardust.
And indeed, the music did sound better with Flight Facilities at the cockpit.
Article and photos by Isaac Yi
Comments
comments