Upon haphazardly encountering Flesh World's music while browsing bandcamp, we were welcomely surprised to find that they were far more local than our internet discoveries tend to be. Although members include Bay Area natives Jess Scott of Brilliant Colors and Scott Moore of Needles, the unique sound of Flesh World is something more than just a synthesis of their previous projects.
Scott seems to be, above all, interested in the integrity of the local scene. Before playing with Flesh World she worked with local label Make-a-Mess Records, having released work with White Fence and The Babies, among others. The label's music has been described by Scott as "punk, or pop made by punks." Flesh World's latest LP definitely fits this ilk, sounding like something off the larger Slumberland Records. Out June 2 via Iron Lung, the post-punk band's debut, The Wild Animals In My Life, lends itself to more shoegaze and noise-pop qualities.
Whirring guitars and dualistic vocals are present throughout The Wild Animals In My Life, beginning immediately with the opening track "To Lose Me," where ordinary vocals are relieved by "ohs" and "ahs" from Scott. The opening track is followed by the stylistically similar "Just To Tear Me Down," which provides  additional metered vocals that later release their tension in a moment of suspense where Scott states "either way, you cut my faith."
The title track reminds us of the anthropomorphic scene in George Orwell's Animal Farm, but with ambiguous lyrics such as "I know they're wild do as they please / I opened my civilized heart / I saw what I'd known from the start," Scott seems to be offering a critique more personal than political.
One of our favorites on the album features a prominent drum beat coupled with repetitive vocals that lead to apex of the album — a catchy chorus repeating the track's namesake, "Poolside Boys," over a meandering guitar riff.
To close, "Here In The Dark" fully entrenches itself in the reverb-saturated qualities of the album. The rhythm guitar and drumbeat are overlain with a humming lead guitar, echoing and fading with a caustic persistence.  Lyrics are severe, with the repetition of the title looming bleakly. After the drums and rhythm guitar fade, the guitar sustains — commencing as a pulsing drone, then subsiding to something between that of a whisper and a hiss.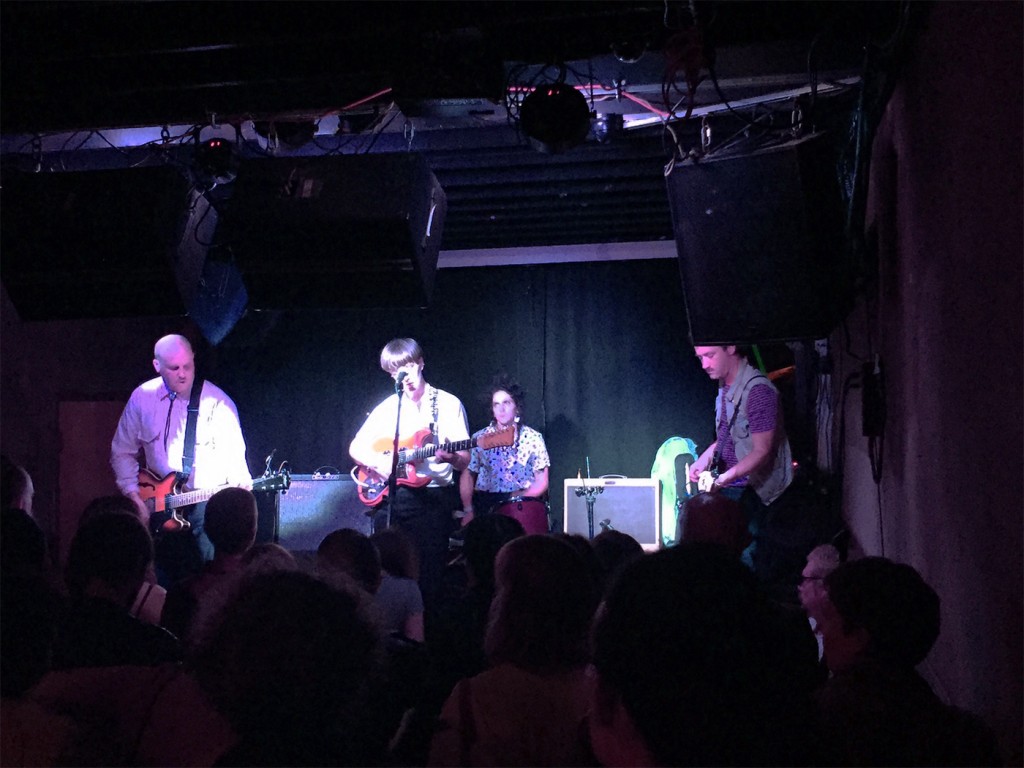 Flesh World's sound is familiar yet ethereal, with obvious punk influences but not bearing any sonic limitations of the genre. Each track features gratuitous reverb, giving the album a stormy, cyclical feeling. The lyrics are minimal and repetitive; they could be read as a series of short poems (as they do printed on a poster that comes with their record), especially on "Your Love is Like a House" and "To Lose Me" where lyrical intent is  delivered in a concise yet satisfying way.
Listening to the album is wholly fulfilling, but we recommend experiencing the band play one of their frequented local venues. If you missed Flesh World's local release party at El Rio last week, the band will be back before long on August 13 to perform at San Francisco's Rickshaw Stop.
Article by Penelope Leggett
Comments
comments