I had been a fan of Fête Records (pronounced 'fet') since I discovered them earlier this year. So when they announced their debut event in the Bay Area featuring a full lineup at the New Parish in Oakland, I was more than ready. Founded just a couple of years ago, Fête Records is an emerging record label with the spirit of a collective that is home to artists Mac Ayres, Psalm, and many more. Although not confined to any particular genre, the label hosts artists of a similar sound — ones that borrow from classic genres like soul, R&B, hip-hop, and jazz.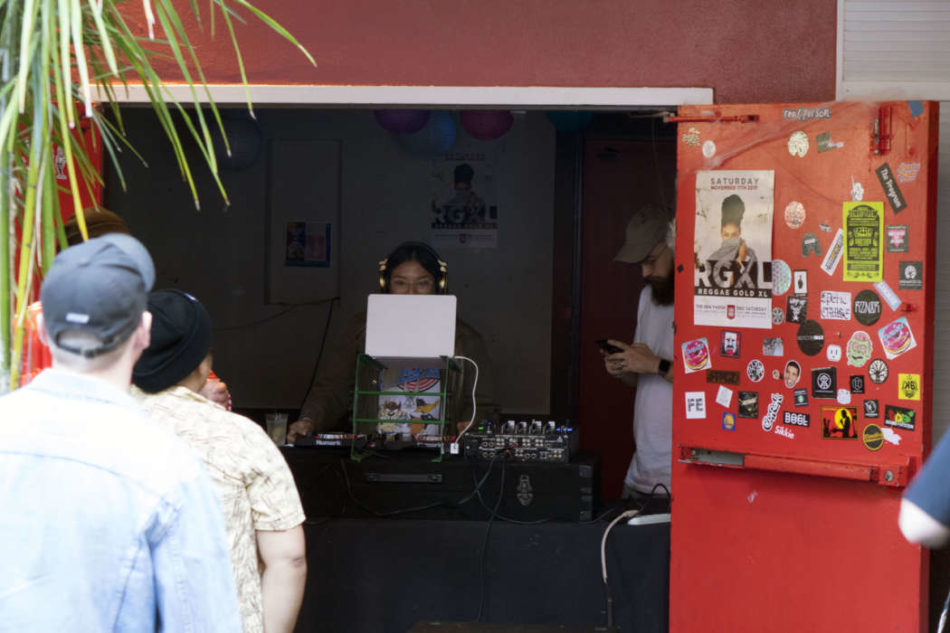 With a home base on the East Coast, it was a privilege to attend their first event out here in the Bay last Saturday, October 28, and actually hang out with some members of the Fête crew, including Mac Ayres himself.  The day-party was true to its name with the first half of the event taking place in the sun-lit courtyard that's part of the New Parish. Several DJs spun, keeping in line with the neo-soul vibe of the event. As the sun started to set, the show moved into the stage area that featured prominent skylights, an upper tier for viewing, and a conveniently located bar in the back. The understated set-up of the stage lent itself to the intimate atmosphere of the event, making you feel like purveyor in a bedroom jam sesh.
Psalm started off the set with strong vocals over a hard hip-hop beat. Singing with Miguel-like soul, he assumed the stage with a cavalier ease. The bass-heavy sound system lent itself to his set, creating the backdrop for a creamy dream-hop vibe. He sang over a Galimatias produced track that he said he ripped and as a Galimatias lover myself, I thought it was a match made in dream-hop heaven.  
Next on the lineup was Cehryl, the latest addition to the Fête Records roster. She sang and strummed an electric guitar accompanied by her friend Alex Szotak, a talented bassist plucking a 5-string bass. A majority of her songs feature a strong beat coupled with easy guitar strumming, resulting in a lovely, sultry sound.  Check out "Side Effects," a track that demonstrates the genre-bending and smooth sounds reminiscent of this entire label.  
Reva DeVito took the stage shortly after, offering a change of pace with more upbeat, groovy sounds.  She has a cultivated stage presence, moving around the stage and gliding with MJ-like ease. She pulled out a Sade cover of Sweet Taboo that had me in a tizzy — spinning off sounds of the past to create a new energy. Right after, she performed "The Move," a funky Kaytranada song which she is featured on. As she finished up her set, she introduced the last act, Mac Ayres, as the "buttery, baby boy."
With over two million plays on his song "Easy," Mac Ayres is definitely one to watch.  His sound can best be described as Reva so lovingly referred to him: buttery. In fact, one of his songs from his recent debut album made it onto the 'Butter' Spotify curated playlist. Along with a feature in this playlist and many others, Mac has garnered increasing attention these last few months with the drop of his debut EP.  
His first EP, Drive Slow (2017), was released under Fête Records in August and contains bedroom-produced tracks that transport the listener to a place of ease, sincerity, and a languid, unhurried pleasure. Opening with "Calvin's Joint," Mac looked at ease on the keyboard, free-styling and accompanying his own singing while joking around in between songs with his longtime-friend and music collaborator Chris on the drums. The casual demeanor in which they presented their music contributed to the intimate feeling of the entire event.  Mac would later recount to me how he began this whole business. He started out playing restaurant gigs with Chris, hoping at one point to be the next John Mayer, and eventually ending up where he is today: a bonafide crooner.
Following Fête Records from solely online, I was already very impressed by their digital presence and their aesthetic consistency throughout. Their presentation is gorgeously simple and streamlined — prompting me to imagine their label as one that is both highly produced and highly funded. But after attending their first event here in the Bay and getting to know their crew a little better, it's apparent that members of the Fête family are just artists looking for a way to spread their tunes and good vibes. It was humbling to uncover the genuine origins of this collective and see their music being enjoyed one coast at a time.
Written by Anna Nguyen
Comments
comments