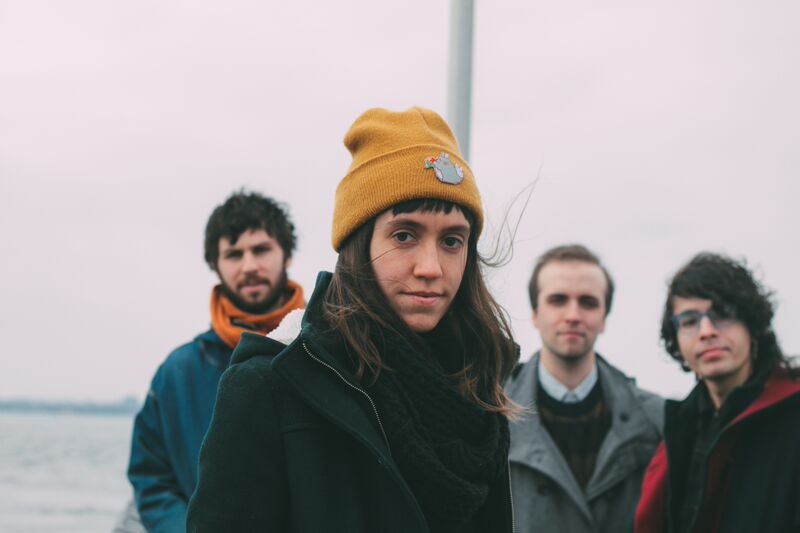 Theirs is a far too overused label. The slightest hint of a dreamy synth track, floaty lyrics, and 'ethereal' seems to be the all-too-ready stamp. I was introduced to Eskimeaux just a few days before I saw them live. The internet notified me of their ethereality before I'd even played any of their songs, so naturally I was suspicious.
Well touché, internet.
Eskimeaux first began as a demo album recorded in one night to spite frontwoman Gabrielle Smith's then-boyfriend, who'd accused her of "not doing anything." Several iterations of the creative project, from solo act to seven-piece folk band to electronic duo, have brought Eskimeaux to its current form as a four-piece, genre-defying production.
The multi-instrumentalist quartet graced Bottom of the Hill last week with that enunciated, perfectly clean and yet far-off sound; the original, unadulterated ethereal. Smith, frontwoman and founder of both Eskimeaux and Brooklyn-based art collective The Epoch, sings every track with a clear and unaffected voice, the kind that hits every note straight on, without bothering with ornamental vocalizations.
Every word out of her mouth came with clean, slightly softened edges like room-temperature butter, and loops to harmonize with her own pure sound. Her lyrics match the allure of her voice, the final line to her breakup song "Broken Necks" finding the silver lining in a lost love: "Nothing in this world is holier than friendship."
No piece of the band was bold, exactly. Every instrument, synth, and vocal was accommodating and unassuming to the others, blending in a carefully-constructed balance to create a mesmerizing, enveloping sound the audience just disappeared into, without realizing they'd left their surroundings.
If you missed their reclaiming of ethereal in San Francisco, catch Eskimeau at one of their upcoming tour dates.
Article by Kavitha George
Comments
comments