Don't be turned away by the 48,000 plays on their top song. Creature Comfort's talent and originality are not reflected in their current popularity (or lack thereof). I had a chance to Skype with two members of Creature Comfort this week, where we talked about their history, writing process, and musical future.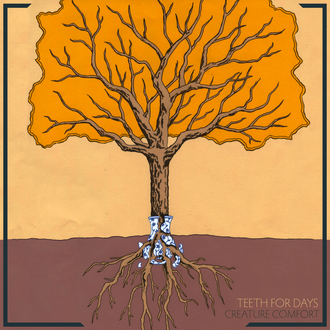 Jessey and Cole make up half of the Tullahoma, Tennessee based indie-rock group. Jessey writes, sings, and plays guitar while Cole provides the cleverly crafted bass lines. The other half consists of Nick, guitarist and "tone wizard", and Taylor, drummer. Nick and Jessey were members of their undergrad band, Paper Not Plastic. Jessey knew Cole from high school and Taylor since kindergarten.
Creature Comfort faced some complications in the beginning when Jessey took an authoritative stance. Jessey recounts how he quickly learned how forming a band is like "having a baby and giving it up for adoption," because he had to trust his band mates to do a good job instead of telling them how to do everything.
"Teeth for days" was a single released during their east coast tour a few months ago. The beachy feel landed them a spot on Spotify's playlist, "Indie songs for slackers". Jessey and Cole recall how one day, Nick was messing around with his extensive pedal board and stumbled upon this tropical progression. The band then built off this progression, formulating this breakthrough hit.
Jessey's writing process is a lyrical jigsaw. He starts out with some significant lines and builds meaningful lyrics around these few core lines. Most of his lyrical inspiration stems from everyday life. When asked about artist inspirations, Jessey and Cole claim their writing process is void of replication. They aim to make their sound completely independent of other artists, because one of their goals as musicians is to steer clear of comparison to other bands. A set-in-stone comparison would simply pigeon-hole them to one specific genre, and limit their creative output. I was able to weasel Modest Mouse out of Jessey as a band he admires a lot.
When I asked about the evolution of their music, one word was used quite often: maturity. Cole and Jessey emphasized how 5 years of being a band had taught them a lot about writing music. Through trial and error, they were able to reach a point in which they became comfortable in what they create. They believe they hit their stride with their 2016 EP, Echos and Relics.
As far as the future goes, there is still shadows surrounding their musical direction. Nick leans more toward the pop side, while Cole and Jessey are more concentrated on the introspective, rock side. Jessey mentioned how moving forward, they would have a "conversation about the future of the band." Jessey is making it his goal to play at least "one show every month." He is planning on taking some time off in January to write songs for an upcoming album. I expect this album to have a sound as refreshing and unique as "Teeth for Days."  
Creature Comfort is a low radar indie rock band that combines the best elements of rock, jazz, and pop, along with some other unidentifiable ingredients, to create a sound that's both intriguing and unique. Keep an eye on Creature Comfort.
Check out their Facebook and Spotify
Article by Brendan Redmond
Comments
comments