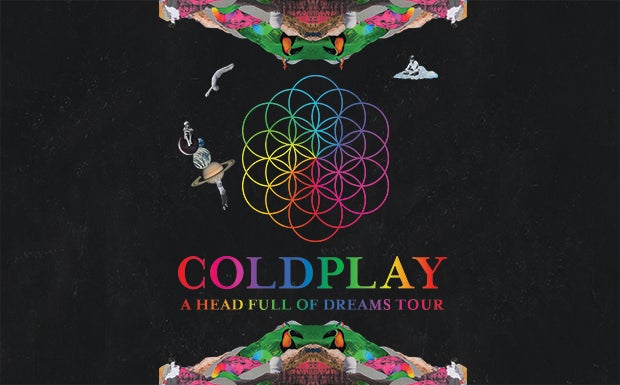 Coldplay returned to Levi's Stadium on Saturday (9/3) to bring a triumphant end to the US leg of their Head Full of Dreams tour . Their last appearance at the stadium was none other than the extravagant halftime show at Superbowl 50, featuring a full violin ensemble, fireworks, and the accompanying acts of Beyonce and Bruno Mars. That kept in mind, the band took lengths to make sure that Saturday's show made the audience entirely forget that the Superbowl even had a halftime show.
The show began with an homage to the victims of the tragedies in Denver then almost instantly transitioned into "Hymn for the Weekend" and blasts of confetti. The band's set-list left extended far enough back to the classics on their first album including "Yellow," then reached all the way to recent hits off of their most recent album "A Head Full of Dreams." That being said, it seemed almost if they payed no attention to the transitional flow or the construction of the set-list. It was almost as if they pulled the top twelve most played songs off of their Spotify page. Gems like "Clocks," "Up and Up," and "Fix You," which Chris Martin mostly sang while laying on the floor of the stage, shone through the smoke and confetti beautifully. The production value of this show was unparalleled and really bolstered many of the already well solidified performances. During "Adventure of a Lifetime" the stadium was filled with large balloons, and during a tribute to David Bowie the band brought out a large group of children from the Oakland School of the Arts. The show also featured the same video screen floor, the timpani, and bell set to play "Viva La Vida", both of which showed up during the halftime show earlier this year. Needless to say they successfully pulled of a show the audience would not forget to end their tour with a bang.
Chris Martin dominated the performance, from the large front stage to the 50 yard catwalk shooting through the crowd.  During the concert, there were few moments where you could catch him standing in one space. Song after song, he would sprint to the ends of the catwalk with his enormous trademark strides, a jacket tied to his waist almost like a superhero with a cape trailing behind him. That being said, the rest of the band members barely showed a single facial expression, staying hidden in the background. For a band as popular as Coldplay, I did not expect to see so little of the band.
The performance ended with long interluding piano and guitar solos that reflected the camaraderie and friendship that has been fostered by almost 20 years together as a group. It is unsure when we will hear from this gifted trio again, but until then, they left a great impression on the minds of every person in the audience.
Article and Photos by Arnav Chaturvedi
Comments
comments