Last Thursday at the Regency Ballroom in San Francisco, a different type of protest formed – a passive one, marked by joy, color, and music. The perpetrators? Classixx, the Los Angeles-based DJ duo of Michael David and Tyler Blake. Classixx rolled through the Bay last Friday as part of their 36-stop tour in support of their sophomore album, Faraway Reach, released in June.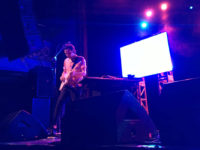 With two studio albums to their name, Classixx bring a wealth of production experience and an obvious personal bond to the stage. David and Blake, who are not only a production team, but childhood friends as well, formed Classixx in 2005, and have since remixed tracks for artists as big as Phoenix, with "Lisztomania," and Major Lazer, with "Cash Flow." Their sound is light and airy, and although it has been compared to tropical-house, the label isn't a perfect fit.
If anything, Classixx could be described as California-house, soaking in summer-ready coastal vibes.
Classixx kicked off their hour long set with the title track off Faraway Reach, a slow burning tune that let the room settle in, before bursting into "I'll Get You," a lively crowd pleaser from the group's first album, 2013's Hanging Gardens. Although the duo's set was drawn mostly from their most recent album, Classixx didn't shy from breaking out some of their earlier work, seamlessly transitioning between old and new.
Towards the end of the show, Classixx brought out Harriett Brown, one of the night's opening acts (the other being fellow LA-duo Phantoms), to perform a few songs, including "Eyes on Me," Brown's feature on Faraway Reach.
When Classixx came to the end of their set, Hanging Gardens highlight "All You're Waiting For," the crowd reached a crescendo, singing and dancing until the end, savoring every moment before the group left the stage.
The group's performance was a visual treat, too, with two screens in opposite corners of the stage filled with pastel colors, pixelated landscapes, and flags from around the world. Like they do with their music, Classixx infused the stage with playfulness and levity.
About halfway through the set, Classixx paused the music. "I know it feels weird for some of us to be at a concert right now," David said, referencing the tense atmosphere and political protests happening across the Bay during the show, "but I'd like to frame this as a moment for escapism."
For a few hours on Thursday night, Classixx succeeded. Their airy sound and infectious energy could make even the hardest cynic forget that anything negative existed outside of the warm, pastel-drenched Regency Ballroom.
If you need a break from your troubles (or just want to catch some summer vibes in the depths of winter), you can catch Classixx at Snowglobe in Lake Tahoe from December 29 to 31.
Written by Jordan Aronson
Comments
comments