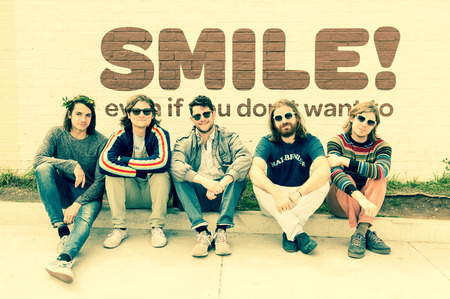 Looking for a weekend pick-me-up?
Check out Cheerleader's latest EP, On Your Side, a sunny blend of pop and alternative rock.
Each track balances whispery vocals with the textures of synthesized beats and a driving guitar line. "Future Stars" takes on a chant true to the band's name — its lyrics are spoken, not sung, as if by actual cheerleaders. "Tomorrow Always Knows" is reminiscent of '80s rollerskating music (think ABBA with a twenty-first century twist).
Cheerleader's shimmery sounds were first conceived in middle school by frontmen Joe Haller and Chris Duran. A few decades later, the band grew into a five-piece group that was subsequently discovered by ten-time Grammy nominated producer Mark Needham. This partnership launched Sunshine of Your Youth (2014), a polished ten-track album that established Cheerleader's dream pop style (and was a step up from the band's previous lo-fi recordings done at 3am in their apartment). On Your Side is another step away from those twilight recordings, with bright melodies and sweet, gushing lyrics reminding the listener that "I've been on your side all this time". 
The band is currently on tour to promote the EP (dates here).
Article by Kavya George 
Comments
comments