When I heard that Austin indie rock band Spoon would be playing a show in SF, I fondly reminisced about when I was just starting to discover indie music. Subtly experimental and minimal, yet also driven and catchy, Spoon was an essential band of 2000s indie rock, and an early favorite of mine. Admittedly, as my taste grew and turned to different directions, I hadn't kept up with their recent releases. But since I had only heard great things (and was clearly missing out), I decided to give them a shot again. Once I did, the fresh energy of They Want My Soul (2014) and Hot Thoughts (2017) quickly proved that Spoon still deserves to be a staple, and it was no surprise that they'd put on a damn good show.
Garage punk opener White Reaper were the perfect act to remind me of the rowdy rock presence that I hadn't been giving due attention to. The five-piece blew through their set, summoning a healthy dose of rock tropes like power stances and long-haired head banging, but all with authentic celebration. With a heavy drum beat starting each song, and raucous fills and cymbal rolls ending each song, the drums and bass surged forward like heavy machinery. The rhythm section's sweaty power was  matched by the pop-punk whine of the vocals, and the shameless guitar solos didn't hesitate to take the lead any chance they got. The only relatively calm moments were the breaks in between songs for guitar tuning, and even those rare spaces had sparks of guitar feedback and drum hits: they were clearly antsy to power back up. Young and energetic, White Reaper were a ideal opener for Spoon, who similarly championed a performative sheen, but by contrast were ready to make every single note count.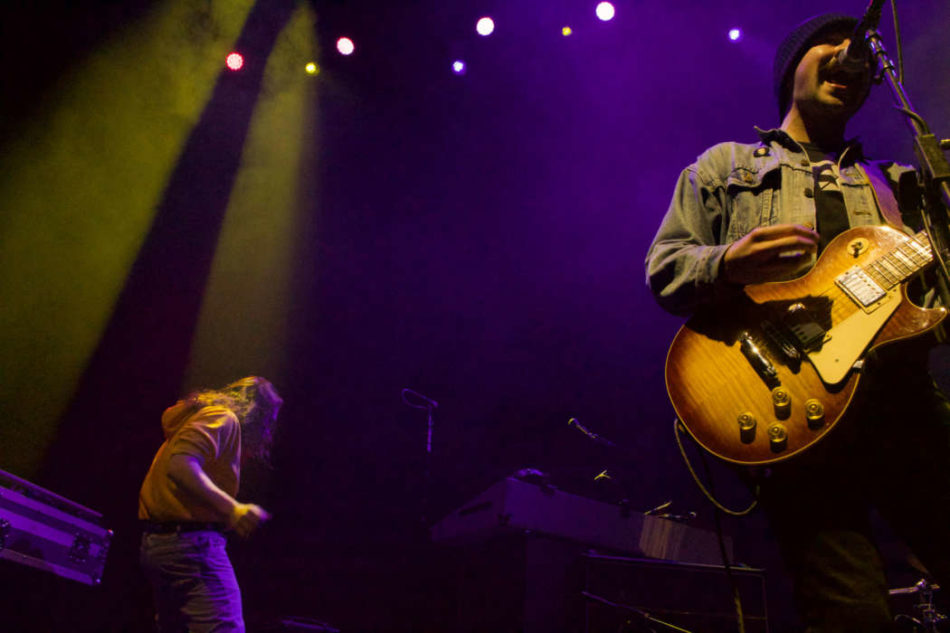 With the bluesy stomp of their most recent single, "Do I Have to Talk You Into It," Spoon kicked off the night with a commanding presence. From the start, the five band members already seemed cleanly locked in with each other, both through their tight playing and grooving body language. Bassist Rob Pope and founding drummer Jim Eno were particularly in-sync, with Pope stepping onto Eno's drum platform several times to face him directly, and even showing off their cohesion by muting a cymbal hit for Eno (the band member equivalent of finishing a significant other's' sentence).
Meanwhile, vocalist-guitarist Britt Daniels lead the group with a stylish frontman flare, reinforcing a cool confidence to the whole group. All wearing slim dress clothes, the band was assuredly and excitedly in their zone, ready to deliver like professionals while still packing a punch. And by playing two of their most popular hits, They Want My Soul's "Inside Out" and Gimme Fiction's (2005) "I Turn My Camera On" within only the first few minutes of their set, the group's confidence felt justified. Though, to be fair, Spoon's nine-album catalog spanning over two decades contains a handful of classic albums, and a plethora of fan-favorites to keep a crowd captivated—so the group has more than enough material to feel confident about.
That said, though confidence is important to a groove-driven performance, musicality is essential. Luckily Spoon was a strong rhythmic engine, and the crowd was dancing nearly non-stop since the start of their set. While Eno and Pope kept the pulse bouncing and driven, and Daniels consistently delivered satisfying grit through his vocals and guitar work, guitarists/keyboardists Alex Fishchel and Gerardo Larios sprinkled in experimental textures and perfectly complementary counterpoints to complete the dynamic balance. Each instrumental contribution fit tightly with the others like perfect clockwork, trimming any fat and channeling a sound that was sleek and infectious. The lighting was relatively simple, staying mostly within a single color per song and emphasizing rhythmic hits—which actually worked perfectly as subtle support, especially considering how difficult it was to take our eyes off the dancing band members. All of the guitarists frequently moved across the stage to play face-to-face with each other, and Daniels especially had his fair share of hip-popping and throwing his body around to the beat. Everyone on stage was fully present in the moment, and all of us in the crowd were feeling the uninhibited energy with them.
Every song felt so justly celebratory and engaging that it's actually diffic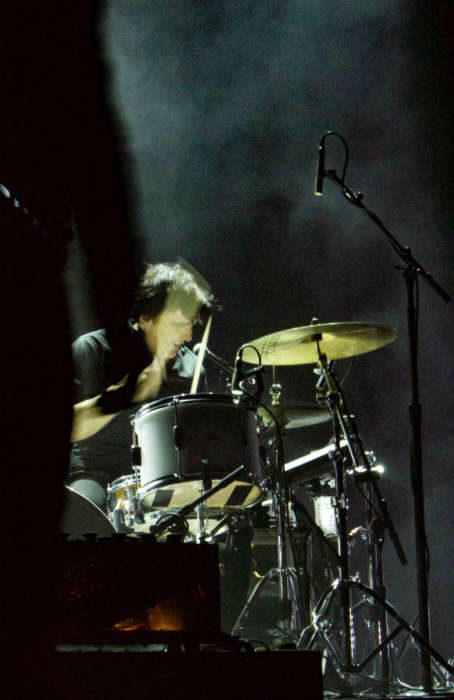 ult to single only a few out. Gimme Fiction's "My Mathematical Mind," for one, perfectly captured the pure bliss of the musicians while playing in the moment. At the song's taut, polyrhythmic breakdown, Daniels held up varying numbers of fingers to indicate the number of uniform accents that they'd all immediate follow with—a playfully showy display of their ability to improvise as a group. Film-soundtrack-favorite "The Underdog" from Ga Ga Ga Ga Ga (2007) was even more defiantly explosive live, with the cathartic horn lines replaced by an organ—which could seem slightly disappointing if not for Larios kneeling on top of the organ backwards while still energetically jamming on it. Their gifted performance of Girls Can Tell (2001) album opener "Everything Hits at Once" also exemplified that even their more somber songs can feel just as rewarding.
Although Spoon managed to never let their steady art rock pace grow tiresome, they were just as in their element without the propulsion. Mid-set, Fischel's cinematic, solo synth interlude (recognized by fans as "Via Kannela") was a dreamy palette cleanser, and lead into a more patient version of Hot Thoughts' "I Ain't The One" beautifully. Out of near darkness onstage, Daniels slowly started carrying the song while laying on an amp platform, then sleepily strutted towards the front of the stage as a fan blew through his hair. The whole performance was shamelessly dramatic and perfectly exemplary of Spoon's diverse talent.
Throughout the night, Daniels made sure to share the attention, pointing to whichever member was playing a particularly impressive contribution at any moment, and even pointing out an excited group of dancing fans on the balcony to show his appreciation. He also gave his praise and appreciation to White Reaper, assuring us that they're "going to be playing for a long, long time," and wholeheartedly thanked us as a crowd, saying "the way the sound bounces off of you—you've got that thing." Always thoroughly in-tune with the crowd, they ended their main set with Ga Ga Ga Ga Ga's "Black Like Me," teasing sentimentality with "I believed that someone would take care of me tonight / As I'm looking out at you, can you see that in my eyes?" to close before returning with an promising encore.
Daniels came back alone, playing a vulnerable solo version of Gimme Fiction's memorable hit "I Summon You," quickly reeling the crowd emotionally back in. Afterwards, the four remaining members joined back onstage to deliver four more energized gems, closing with They Want My Soul's heavy and emboldened "Rent I Pay." Once the night ended, I realized that they didn't play a single song from my favorite of theirs, Kill The Moonlight (2002), yet I was still deeply satisfied and exhilarated—a testament to just how prolific and consistent Spoon has been in their career. I left the show a reenergized fan, excited to both listen more carefully to their newer albums, as well as revisit the brilliance of their celebrated older works. I'm now excited and proud to call Spoon's show one of my favorites.
Written by Dylan Medlock
Photos by Olivia Song
Comments
comments