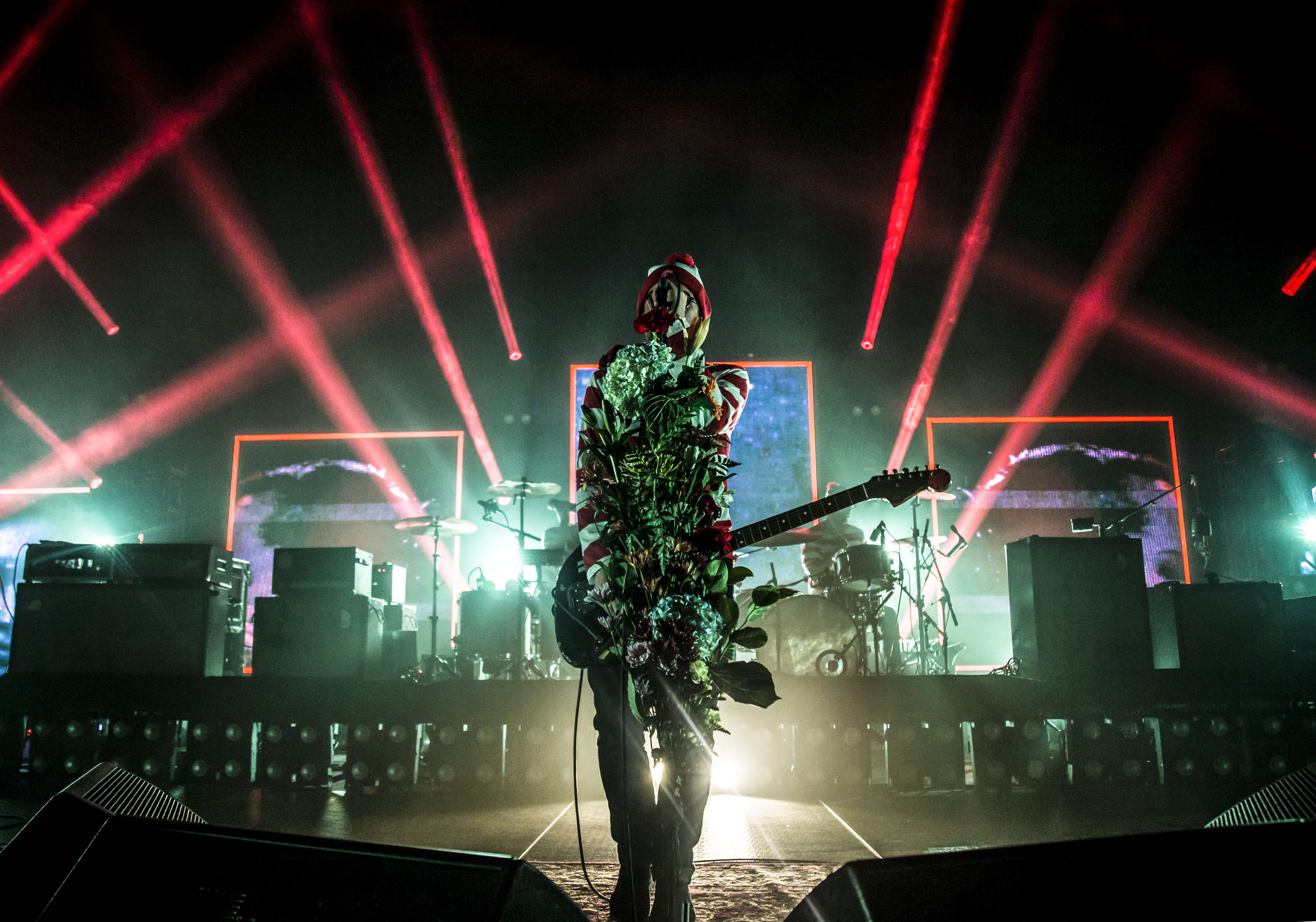 It felt as though this turn of events was just a pleasant dream, but as I awoke sprawled across a couch in San Jose with a memory card full of the best pictures I'd ever taken – I realized that I had not only attended, but I had shot a Brand New concert.
If someone told me nine months ago that I would go from never shooting a concert in my life to shooting the emo/alt-rock legend Brand New in less than a year, I wouldn't have believed it for a single second. I awoke Monday morning around 10AM to find an email saying that I was approved to shoot Brand New. The catch was that I had to scrounge like a madman to find a ticket if I wanted to stay for anything after the first three songs. I went right to Craiglist and messaged about 15 people trying to snag a ticket before I'd have to make my way down to San Jose at 4PM. I came into contact with Kristin, an extremely kind woman who sold me her extra ticket.
After a hectic morning, followed by a two hour and bus ride, I finally arrived at the Event Center at San Jose State University.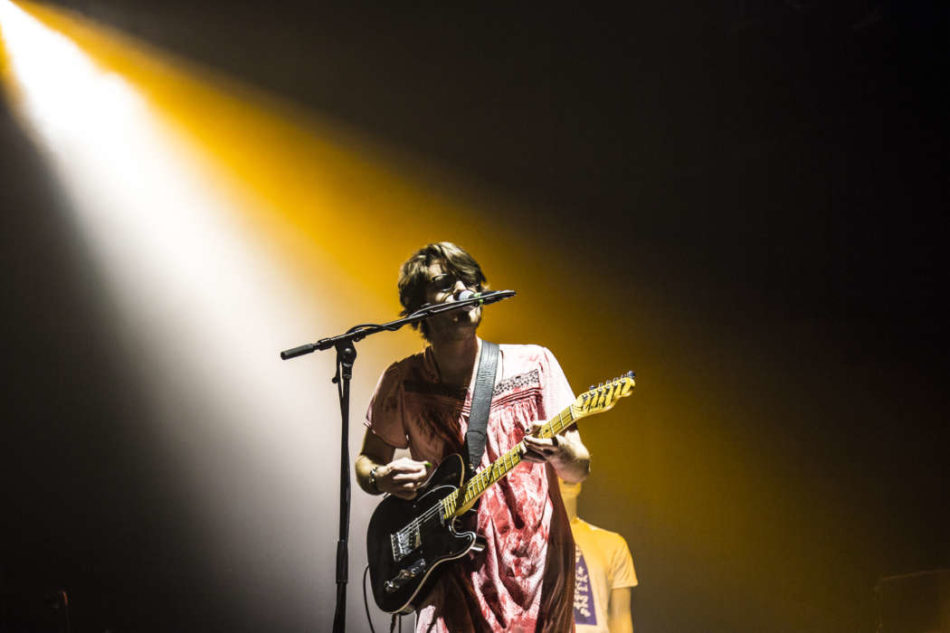 The opening bands included Modern Baseball and The Front Bottoms, two bands which delve on a lot of emotional thematic ideas. I had seen Modern Baseball 3 times before this, the last of which was in the summer of 2015 on their tour with Say Anything in Santa Ana. Modern Baseball released their third studio album, Holy Ghost (2016), following their short hiatus due to the admission of their singer and guitarist, Brendan Lukens into rehabilitation for depression and substance abuse. The band definitely had a slightly different vibe to them this time around.
Their setlist was composed of a mix of songs off Holy Ghost combined with some of their hits off Sports (2012) and You're Gonna Miss It All (2014). They added a decent amount of rhythmical and key changes to certain parts of their old songs which I thought was a really unique touch to change things up.  I wouldn't necessarily say that their set was lacking their usual energy, but they conveyed a more mature vibe than in previous year, seemingly reflective of the events in their personal lives.
Next up was the Front Bottoms, a band which I discovered after finding their music video for "Twin Sized Mattress" back in 2013. I was extremely impressed by the crowd reaction during the Front Bottoms set. I really hadn't realized how popular this band had become over the past few years.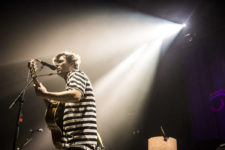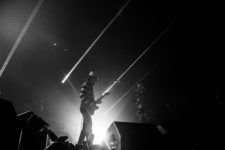 Their lyrical content, similar to that of Modern Baseball, is heavily imbued with teenage angst. It was fitting for both of these bands to be on the bill together.
I lost interest during the middle of their set, which was then later recaptured by the humorously tossed profanity during the opening lines of "The Plan (F**k Jobs)" and held until they closed with "Twin Sized Mattress."
Forty minutes later, the scene began almost in complete darkness as dim white lights illuminated Brand New as they opened with "Sink" off of Daisy (2009). As bright lights illuminated the entirety of the stage, Brand New appeared in full view with each member sporting a Where's Waldo costume. If you needed any verification regarding whether or not Brand New played like the powerhouse they are, I can assure you they did.
For most of the set, two drummers played simultaneously, which allowed for a more impactful chorus. It also added another layer to their sound as one kit drummer would play other percussive instruments during quieter parts. Both of them played perfect unison and interestingly, most of the time it sounded as if only one kit was being playing. This was the first time I had ever seen this done in such a gripping and well-executed manner.
After playing a few more of their popular songs from other albums such as "Okay I Believe You, But My Tommy Gun Don't," Brand New dove straight into playing The Devil And God Are Raging Inside Me (2006) in it's entirety. However, they did not play it in order – they played it backwards, shifting a few song's individual positions in the setlist here and there. It felt as my ears were continuously being bombarded by a wall of sound throughout their set. Even in the rear of the room, the guitars reverberated throughout the entire venue to a point that my ears started to hurt a little. It felt almost as if through sound alone, Brand New was stating that this was their show. And through sound alone, they demanded the attention of each and every individual in the room from the quietly spoken words of "Degausser" (which included a Monster Mash medley in it) to the loud choruses of "Limousine."
Their performance, from both a lyrical and musical standpoint, was immaculate. Their sound was perfectly balanced and it was seldom felt that any instrument was overpowering another. Brand New was hands down one of the best live sounding bands I'd ever heard. No song felt out of place and their setlist was crafted in a way that continually held the audience's attention. Playing The Devil And God Are Raging Inside Me backwards added suspense and contrast to their set, even for seasoned listeners.
From an emotional standpoint, I can confidently say Brand New struck a nerve for each individual that had been listening to their music for a while. As the lights dimmed and cast themselves out upon the crowd and the opening arpeggiated notes of "Jesus Christ" echoed, I felt a chilling rush throughout my body. It was a moment that felt perfectly peaceful, but equally heartbreaking at the same time.
It was a moment that was beautiful in the way it evoked the emotions of sadness, fear, despair, and uneasiness that we hide within ourselves. It was a moment that almost brought me to tears, and that's something I can't really say that a concert has done to me in a long time. And I firmly believe that for anyone who has ever loved, felt uncertain about their life, felt the loss of something important, or ever felt alone, it can be unanimously agreed that "Jesus Christ" was emotional sucker punch straight to the heart of both love and despair.
Brand New continued playing the rest of their songs off of The Devil And God Are Raging Inside Me, finishing off the night with an altered version of "Untitled" with an extended instrumental outro. This outro was extremely loud and really felt like a powerful closing statement that perfectly ended their set. And as the final chord was struck I felt both physically and emotionally exhausted. The band exited the stage as a projected cross made of flowers was displayed across the stage with the years 2000 and 2018 on either side of it.
We aren't entirely certain whether or not 2018 will bring the end of Brand New, but I strongly suggest that you try to make a point to see them before 2018 just in case.
Brand New capture what I believe the most important power of music – the ability to make you feel something within yourself. They showed music's power to make one think about experiences in their life, and the power to make one feel something deep inside, whether it is joy or sadness. And through the emotion that music creates, we find a better understanding of ourselves and our connection to the people around us. Through the music that discusses the subjects and feelings that we feel and hide within ourselves, we can feel like we aren't so alone in this world. I firmly believe that on October 31st, 2016, Brand New accomplished making people feel something. And as I listened to "Jesus Christ" for two hours on repeat on my way back home the following morning, attempting to relive that moment the night before, I knew that my memory of this concert was one that would stick with me for a long time. After years of listening to Brand New, being able to watch them live and shoot them was an experience that I'll never forget. It was truly a dream come true.
The Front Bottoms
Modern Baseball
All HD pictures can be found on my Flickr – https://flic.kr/s/aHskN14NcV
Comments
comments