In recounting my experiences at this year's Symbiosis Gathering, I continue to return to one: gazing into the depths of a beautiful painting titled Genesis by Hans Walør in the art dome.
The image rotates a single female figure in a circular frame and was accompanied by a poem exploring the cyclical nature of life — the connectedness we share as we move through phases of both genesis and destruction. Like two sides of a coin, the figures in this image beautifully encapsulated many of my observations and meditations from the course of the weekend and formed a poignant reminder of how we are all comprised of light and dark. It is the union in the spaces between these poles within which foster a healthy and holistic view of ourselves and our environment.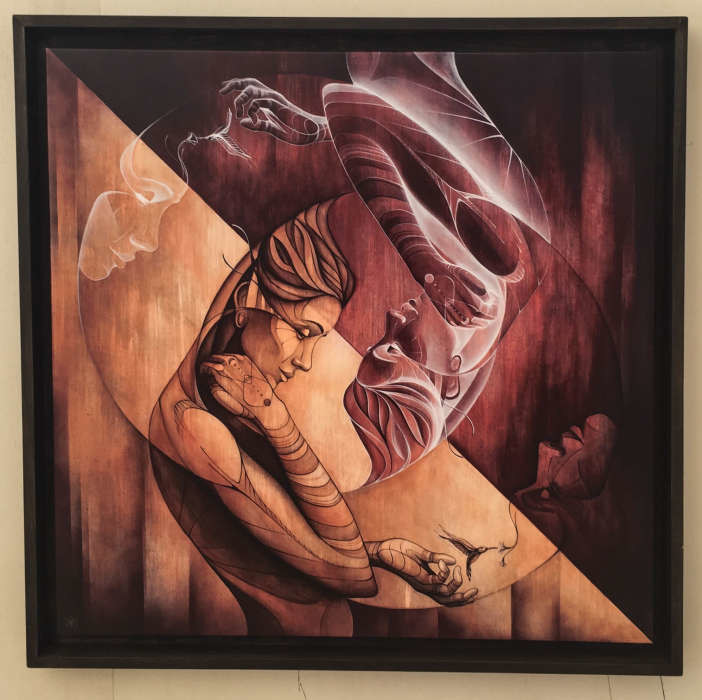 Despite rampant cynicism about the reality of festival culture, spaces like Symbiosis Gathering carry transformational and revolutionary wavelengths for those tuned into the right frequency; in writing, I'm not sure I was successful in even scratching the surface of the emotions that both crashed down upon me and carried me through that weekend. One of many lessons learned was to "say yes" — not as a reckless and irresponsible release of inhibitions, but as an earnest encouragement to open yourself to the possibilities of change and transformation within yourself and through interactions with others.
Each and every one of us has a unique and beautiful story to share, and the practice of storytelling carries the power to open us up to endless alternatives to, possibilities for, and interpretations of daily life and the ways in which we overcome negativity and suffering to discover the beauty and grace inherent in all things. Some of the things that one encounters in this vulnerable state are neither easy nor pleasant to face. The self-actualization that emerges from the progressive learning over the course of these festivals (as well as between them) has the power to reconstitute even the most traumatizing of experiences and channel self-love and compassion for others.
Article by Conner Smith
Comments
comments