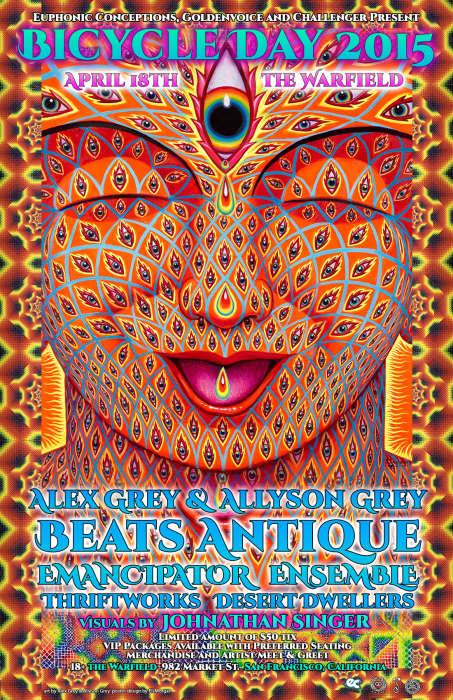 A fusion of visual art and music in an experience of near mythical proportions, this year's Bicycle Day production is set to impress just as much as — if not more than — last year's.
With names such as Beats Antique and Thriftworks on the bill to back the revolutionary talents of painters Alex and Allyson Grey, Euphonic Conceptions does not disappoint, calling upon the Fates to grant our city a night of unparalleled euphoric artistry.
Celebrating the fortuitous discovery of LSD by Albert Hoffman after dosing and riding his bike around Switzerland in 1943, this weekend in April has become an unofficial holiday for many and pays tribute to the union of imagination and experience that this substance can manifest. Set at The Warfield downtown, Bicycle Day brings together the most progressive elements of electronic music and pairs them with live painting by some of the most notable psychedelic artists on the circuit in an ode to innovation and the sounds and sensations that drive us to create.
From Eastern echoes and earthen movement in the sounds of Beats Antique and Desert Dwellers to liquid immersion in the hip-hop inspired bass blasts of Thriftworks, attendees will have ample audio stimulation to accompany them on their visual journey through the color, shape, and lightscapes of Jonathan Singer. No additional substances are needed to experience this altered state of consciousness that has been so consciously constructed by the artists and event organizers. It is a space that allows each and every one of its occupants to find his or her own method of expression and perception of the world and the things that make up its life force.
Let go, drift into the dream this Saturday April 18.
Article by Conner Smith 
Comments
comments