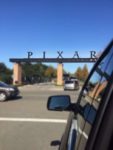 For most of us, Disney and Pixar animated movies take us back to our childhood. For Jon Bellion, these movies represent more than just that — they are the core of his inspiration and his artistic evolution. The multi-talented rapper, singer, songwriter, and producer from Long Island, New York who seamlessly combines pop, hip-hop, and R&B, has already made huge waves in the music industry as a singer on Zedd's "Beautiful Now" and as a songwriter for Eminem and Rihanna's "The Monster" and Jason Derulo's "Trumpets." Despite these achievements that many would only dream of, Bellion has held onto one dream since he was eleven years old: score a Pixar movie.
Bellion has been outspoken in many interviews on how he spent his past two years carefully crafting the music and art direction on his debut album The Human Condition so that it would find its way to the artists at Pixar. Knowing this, I, a loyal fan and college representative for Bellion's label, Capitol Records, approached one of the art producers I know at Pixar about organizing an exclusive performance and studio tour for Bellion.
On Friday, November 4, Bellion's dream became a reality. We all felt a wave of childlike, nostalgic energy as he and his crew walked through the doors of Pixar Animation Studios and were greeted by Buzz, Woody, and the Incredibles family.
Jon Bellion and his touring team, which includes New York rapper Blaque Keys and soul singer Travis Mendes, were granted an exclusive opportunity to perform an intimate, acoustic 3-song show at Pixar Animation Studios. Before he went on to perform "New York Soul – Pt. ii," Bellion described in detail how everything he's worked for thus far has led up to this moment. He laughs, "I performed for 2000 people last night, but I'm nervous right now."
After finishing with "Simple & Sweet" and his hit radio single "All Time Low," Bellion showed Pixar animators his fantasy-inspired album artwork which follows Bellion from youth to adulthood while battling inner demons and the demands of the world. He has already produced an animated short film for "Luxury" off his The Definition (2014) mixtape and says he plans to create another animated video for a song on The Human Condition. "Even if it's a year or three from now, my dream is to score a movie for Pixar. It's all I've ever wanted my entire life."
With countless vibrant retro movie posters and silly cartoon portraits adorning the walls, Pixar's eclectic studio atmosphere inspires its artists and animators to uninhibitedly create. During an interview on Sway in the Morning, Bellion explains why he always plays Pixar movies while he is in the studio:
"Pixar is this accessible thing where parents are bringing their children to the movie theaters but then there are these little things that the parents can appreciate. But the product, the colors, and the palate of the entire thing is just so—there's never been a time where you've seen a Pixar movie and haven't been like, 'Holy crap.'
"Look at these colors and the situation and the genius behind all of these things — simple but so detailed. And I feel like that's very important in music making. I always want to build like an iPhone or something: it has to be simple and artistically sleek that a 4-year-old could scratch at it but also a grown human could be like, 'Wow, I'm really getting something out of this situation.'"
After his performance, Bellion and his team were given an exclusive tour of Pixar Animation Studios, where they saw concept art and behind-the-scenes production on Pixar's latest movie Finding Dory. During the tour, Bellion took every opportunity to share his vision with Pixar employees and caught the attention of Adam Burke, an animator who's worked on Wall-E, Monsters Inc., and The Iron Giant, who drew Pixar characters like Sully, Dash, and Buzz Lightyear for Bellion and his crew.
Only one step away from achieving his ultimate dream, Bellion is more inspired and more humbled than he's ever been and credits his success to God. In a music industry that praises wealth, greed, and other vices, it is refreshing to see that Bellion's artistry comes from a place of sincerity, authenticity, humility, and compassion. He has even given away his last few mixtapes online. Once listeners realize that, they cannot help but become immediate fans, rooting for his success.
From beginning to end, Jon Bellion's The Human Condition is a musical and visual masterpiece.
This slideshow requires JavaScript.
Written by Kenny Zhang
Photos courtesy of Jon Bellion (@jonbellion) and Dexter Findley
Album illustrations by David Ardinaryas Lojaya
Comments
comments