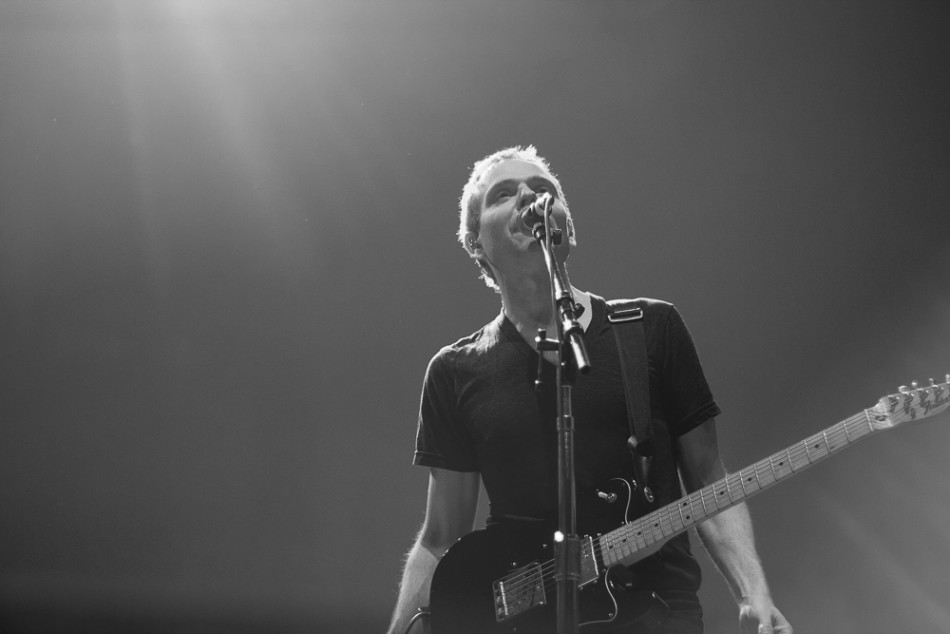 We're truly in the dark. Can I get a splash of light?Stuart Murdoch
Not all bands need to be dark, edgy, or gritty to put on a lively show. Belle and Sebastian demonstrated this on Sunday night at UC Berkeley's Greek Theatre. The easygoing atmosphere having already been established by the powerfully introspective Perfume Genius and the nostalgically mellow Real Estate, Belle and Sebastian, accompanied by a string quartet, filled the large outdoor venue with good vibes and upbeat, dance-y music.
With fifty fans invited onto the stage to blow bubbles and to perform choreographed dance routines, it seemed as if the band was a part of the audience itself – and in a sense, they were. At times, lead singer Stuart Murdoch serenaded the crowd from within the audience; and in turn, a few lucky members of the audience found themselves dancing on stage with the band. Despite the large choice of venue and the group's even larger following, they managed to establish an aura of camaraderie.
Sharing the vocal burden with Murdoch, Stevie Jackson and Sarah Martin provide harmony to the group's colourful instrumentation and sound. Whether they're singing their own verses or harmonizing with each other, their voices fit comfortably and are never out of place. In a similar light, although there are a wide array of instruments featured on each song, there are never moments in which the sound is too chaotic or disorganized. In fact, considering the amount of live musicians on stage, the band is still able to exude a light and buoyant charm.
The seven piece ensemble opened with "Nobody's Empire," the first song on the group's latest album, Girls in Peacetime Want to Dance, which was released earlier this year. With a discography dating back as early as 1996, it was anyone's guess as to exactly which songs they would perform. However, they were able to incorporate both their older fan favorites as well as their newer hits into their set list. The band performed "Sukie in the Graveyard," and was joined on stage by the real life Sukie. "Women's Realm," featuring lighthearted piano chords, can't help but make you reminisce of the Peanuts gang and their cheerful dancing.
Towards the end of the night, we found ourselves lost in the dark. The theatre, devoid of any light, reminded us that the night was close to an end. From the shadows, Murdoch called out, "We're truly in the dark. Can I get a splash of light?" And with that, the stage was illuminated and the night continued – if only for a little longer. Whether it was Murdoch's intention to metaphorically describe his band's concert in this way or not, Belle and Sebastian truly did provide a splash of optimism into our lives.
Article and photos by Joseph Choe
Comments
comments