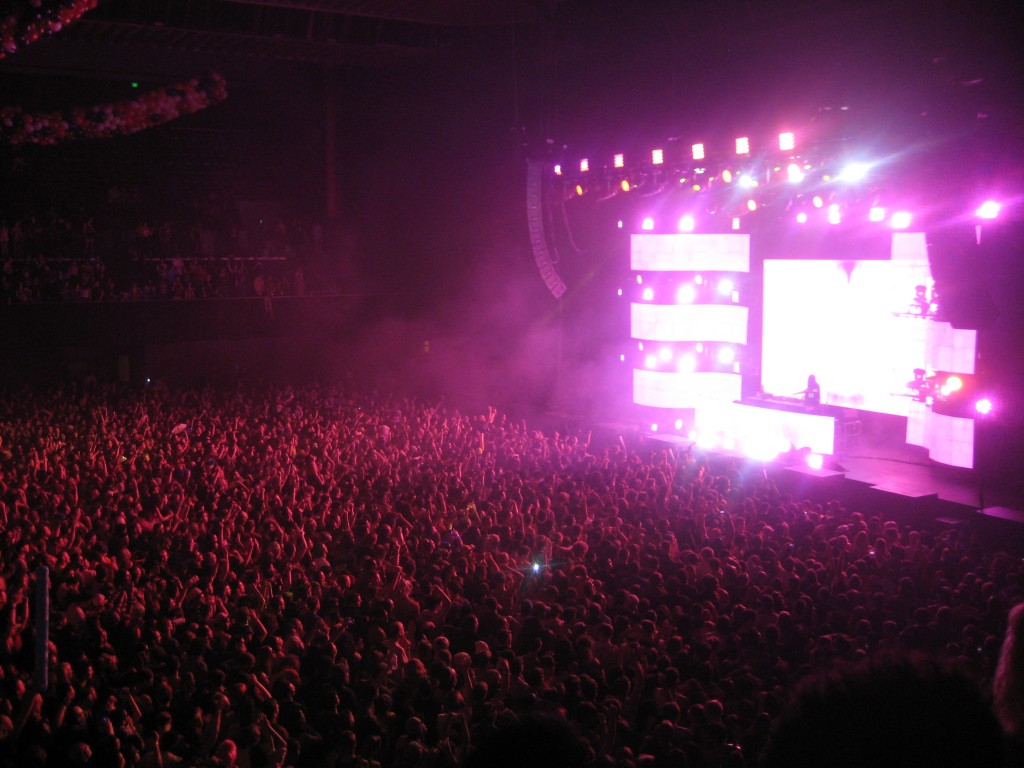 The line dragged across the lawn at Civic Center Plaza to Polk and McAllister, a grab-bag mix of candy ravers, skate punks, mild metalheads, and Giants memorabilia — yes, this last one, even a week after the fact.
November 8, city and Bay Area pride were high on the list during Bassnectar's final NVSB tour showdate at Bill Graham Civic Auditorium. The San Jose native was greeted like a returning hero; many audience members had turned up solely to see Lorin Ashton, leading to an enormous backlog for security and venue staff more than two hours after doors opened. But the Civic Auditorium got everyone in just in time for the headliner's two-hour set. Described as "legendary," and "fully immersive," Ashton's performance was a sensory overload at one extreme and flat at the other—the rest of the time, though, it was fully immersive. And above all, it was ballsy.
He opened with Gemini's reworking of Kelis' "Brave," then spun it into TC's cut of Estelle's "Freak." We prayed no one had epilepsy, but his self-designed lightshow was an epic in itself. Several songs in, Ashton delved into original recorded material, notably "Hologram," "Noise," and "Lost in the Crowd."
Now Bassheads hold your breath: we'd like to make a claim that Ashton's old material just doesn't hold up. However, recorded or live, Noise vs. Beauty, released earlier this year, is a realized pipe dream. Standout moments, all of which were included Saturday night, include designated make-out tape "You & Me;" the aforementioned "Lost in the Crowd" featuring fellow Bay local Zion I; and the turn-up track "Now," which Ashton used throughout the night as a transit.
It takes a fair bit of gall to live mix with the sort of heavy bass we heard that night, but Bassnectar has it down to a tee. A leader in the electronic dance scene next to the likes of Diplo but without a show on BBC Radio 1, Ashton also features a number of other producers in his mixes. Saturday evening, he borrowed from Gemini, TC, (a Crystal Castles edit from) Sound Remedy, and ("Move for Me" by) MSTRKRFT, among others — those were just the ones we recognized. He covered all the crowd favorites, at least briefly: "Upside Down," "Take You Down," "Basshead," "Loco Ono," "Pennywise Tribute," "Freestyle," "Teleport Massive," and "Vava Voom." We don't think we've seen as many concertgoers headbang at a non-metal show as hard as they did to "Ping Pong."
But perhaps most unexpectedly, Bassnectar segued "Flashback" into "Timestretch," mixing the hit track with Lykke Li's "I Follow Rivers" seamlessly. This he followed with the euphoria that was "You & Me," hands-down the most distinct track on Noise vs. Beauty quite simply due to its subdued bassline. Some of the single's Stumbeleine-esque jewel tones missed their targets live; the auditorium was too big and its speakers too loud.
"Thursty" translated well over the soundsystem. The new single, a lead for the 22-track NVSB Remix pack, was written with a fan of his. The repetitive windup led to some downright awkward and some absolutely beautiful grinding that night.
As his set drew to a close, he reverted to his roots, pulling heavier guitar samples and mosh-able licks. Ultimately, what we noticed was the thematic unity of the night — while "Now" served most of the transitions, Ashton frequently clipped "Lost in the Crowd' and other key songs within his set, transplanting them elsewhere like a déjà vu or mental reset. With no record of a classical background, we strongly suspect this consciousness of structure arises from his affinity for metal music (here's why).
Bassnectar finished the night with a thank you to both "the crazy 100 of you kids who have followed us since Rochester" (the first NVSB show on 10/3) and "the locals we haven't seen in years." He teased "Basshead" (oh the gall), then moved to a more rock-centred couplet, before returning to the highly-demanded single.
In contrast to other "organized raves," Bassnectar's NVSB finale party was a class act. The set design was simple; basic props included pool floaties, balloons, and confetti; and Ashton said his "thank you"s. He calmly addressed the crowd, despite jumping around behind his turntable like a wired madman; there were no political comments, and there was no self-promotion or deeply offensive content.
He said, "I know it's illegal but I can fucking smell that shit. I can see that shit." But honestly? Saturday evening's sounds and visual array alone took us to higher places. It was noisy, and it was beautiful.
Article by Joanna Jiang
Comments
comments