Running for twenty-five miles along the foot of the San Gabriel Mountains in Los Angeles County is a strip of water called the Arroyo Seco, meaning "dry stream" in Spanish. As a seasonal river, the Arroyo Seco has over time cut a small canyon along its path, a segment of which the city of Pasadena established roots in the late 1800s. The Arroyo Seco watershed, a necessary life source for the "City of Roses", is an essential element of Pasadena's history and ability to flourish. Therefore, it is only fitting that Pasadena should not only host, but also name its first ever music festival after the terrain defining stream.
Nestled in a wide portion of the canyon, about halfway through the stream's journey, lay the Pasadena Rose Bowl and Brookside Golf & Country Club. Known worldwide as the endpoint of Pasadena's annual New Year's Rose Parade, as well as being home of the UCLA Bruins football team, the Rose Bowl attained another significant cultural event to boast about with its recent introduction to the Arroyo Seco Weekend music festival.
As a Pasadena native, first seeing that Pasadena was going to host a semi-major music festival was both intriguing and perplexing. Trying to conceptualize where the event was going to be hosted, how traffic was going to function, and how many people to anticipate showing up were some of my first thoughts. Though Pasadena hosts the Make Music Pasadena festival every summer, where Colorado Boulevard in Old Town Pasadena is blocked off for a free weekend of music entrainment, a full blown music festival is an entirely different event. With big names such as Tom Petty and the Heartbreakers, Alabama Shakes, Weezer, The Shins, and Mumford & Sons, the potential of the music festival being a large attraction as well as generational melting pot was immense.
Running for two brutally hot days the Arroyo Seco Weekend Music Festival was both a success and, as any inaugural event goes, had some improvements to be made.
Day 1
My friends and I drove up to the Brookside Gold & Country Club, slowly navigating the cones that had been laid out to direct festival guests. Having realized that the festival was going to be hosted on the golf course green, I did not anticipate that parking was going to take place on the golfing green as well. Myself never having step foot on the golf course despite all my years in Pasadena and the countless number of times I had ran the Rose Bowl loop, my first experience on the course was that of sitting passenger seat and driving across the meticulously maintained grass.  Walking ten minutes to the front entrance from our parking spot, everything was incredibly spread out and felt slightly barren. Once through the initial gates, the distance from receiving our drinking age wristbands to the actual welcome sign of the festival was an additional five-minute walk across the green. This immensity of space was welcomed as we attempted to orient ourselves amongst the food stalls, merchandise booths, and three stages – Willow Stage, Sycamore Stage, and The Oaks Stage— but later proved to be a bit exhausting after a long day of standing and dancing in the summer sun.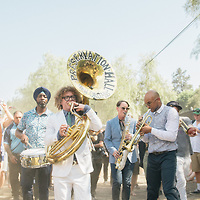 We had arrived towards the beginning of the festival because one of the first acts to go on was the Preservation Jazz Hall Band, who when in town are an absolute must see. Their ability to bring the vivacity and motto of New Orleans – Laissez les bon temps roulez (Let the good times roll)—to life on the stage is intoxicating. Laying our blanket down facing the The Oaks stage, the hypnotic rhythm and immense soul produced by the band's instruments were almost enough to distract from the ninety-eight degree heat in direct sunlight.
Jeff Goldblum is a weirdo. In a good way. But strange. The actor, who has a cult following on par with that of Nicolas Cage, talked with the audience for about ten minutes before breaking into his jazz music set with the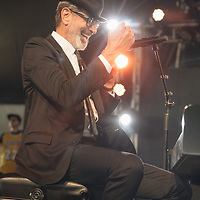 Mildred Snitzer Orchestra. The performance has a slight twist where Mr. Goldblum would have to correctly guess the song the band was playing before jumping in on the piano. Perhaps one of the best moments was where Jeff jokingly quipped that he was in the music festival spirit and was ready to take some LSD, get naked, and roll around in the mud to which the audience responded with a surprisingly rambunctious cheer.  Part eccentric comedic act, part jazz performance, the entire set was just right clocking in at around forty-five minutes.
After refueling with some essential tater tots (the cheapest snack at the festival coming in at $6) and listening to a snippet of funk/soul/R&B legend Charles Bradley & His Extrordinaires we migrated over to the Oaks Stage to get in optimum position for the Alabama Shakes. When the band, especially Brittany Howard, walked onto the stage the crowd went wild. Close enough to catch an occasional glimpse, but too far away for a constant image of her, I had to rely on the screen for a significant portion of the performance. Despite the sound of The Oaks Stage not being o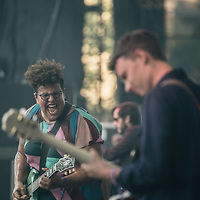 ptimal – Howard's voice was not mixed loud enough in regard to the music, therefore her voice did not carry or receive that extra pop – one could still tell that Brittany Howard's voice is powerfully spectacular.  Her stage presence is empowering, bold, and welcoming – she looks like she belongs on stage but is not imperious about it. Watching the Alabama Shakes perform live is a true experience. They play hard, they play well, and they play with immense emotion– Howard's singing raised dopamine infused goosebumps on my arms more than once throughout their set. 
Exhausted, sunburnt, and dehydrated, there was a moment of doubt in whether or not we were going to make it to Tom Petty's headlining performance. But, the moment Tom Petty walked out onto the stage the air went electric, the crowd surged with energy, and any doubts of endurance disappeared. A rock and roll legend, Tom slowly sauntered onto the stage with presence, charisma, and excitement. At sixty-six years old, he is one of those old school rock musicians who knows his way around the stage better than anything else, and he knows how to play hard. Drawling out how he and the Heartbreakers are celebrating 40 years as a band, Tom introduced his two hour show with classics such as "Mary Jane's Last Dance", "Free Fallin'" and a sing along to  "I Won't Back Down" before playing a significant portion of Wildflowers. Of course, the night ended on "American Girl" to an audience nearly delusional from the long day and Tom Petty & The Heartbreakers remarkable performance.
Beneath the nearly moonless early summer sky, the first evening of the festival came to a close, and as the festival-goers left for their cars the night air hummed with the vibrations of the day.
Day 2
Though Sunday was an equally packed day full of talented musicians, there were only two bands that I knew of that I definitely had to see: Weezer and The Shins. Using the magic of a media pass, I was able to camp away in the media tent during the first few hours of the day and watch artists conduct interviews, conduct a few interviews myself, and listen to acts on the adjacent Willow Stage while being protected from the merciless sun. Interviewing the recently formed indie surf-country rock group Jamtown, which consists of G. Love, Cisco Adler, and Donovan Frankenreit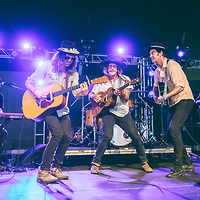 er, each of the band's members are easily approachable and overflowing with intoxicating energy about this new music project, an enthusiasm that definitely crosses over into their live performance. As only their seventh public gig, Jamtown had the audience bouncing around, doing the twist, and smiling despite themselves, unable to resist the good vibes beat.  (Their interview can be found here). 
Following Jamtown was Con Brio whose performance I only captured a snippet of during their last three songs. But from what I did witness, Con Brio is a band infused with a raw power that demands to be reckoned with. A mixture of rock, soul, funk, and pop, Con Brio is definitely a band to watch out for because they are going to take the world by storm.
Before catching Andrew Bird I had the chance to interview a cappella artist Madison McFerrin who is the embodiment of resilience, determination, and passion. As a self-motivated, self-promoting independent artist, Madison approaches music in the most vulnerable way possible by entering the stage alone, with only her voice, a synthesizer, and a loop pedal for vocal layovers. The result is a smooth but poppy infusion of soul, funk, R&B, and jazz that promotes positivity, love, and self-expression. (Her interview can be found here)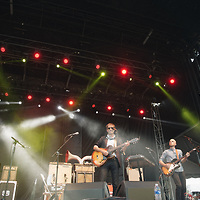 As Andrew Bird was setting the stage, everyone's eyes were on this double-horned gramophone that would sporadically rotate in rapid circles, the horns rotating so quickly they turned into red blurs. It was not long into Andrew Bird's performance that is was revealed that these horns would emit sound in their rapid rotation, would become sonically interesting muffled rhythms and notes. The ingenuity of Andrew Bird multi-instrumentality, his immaculate whistling ability, and his soothing voice created for one of the most hypnotic performances I have ever seen.
Always a fun, throwback performance, Weezer put on a good show, though perhaps not their best. Maybe it was because I was far away from the stage, maybe it was because they were performing on The Oaks stage and the sound just wasn't that good, as experienced before with the Alabama Shakes, or maybe it just wasn't their day. Rivers Cuomo sounded a bit whiny, and the overall sound a little tinny. Regardless, their set was still fun because how can you not sing along to "Beverly Hills" or "Undone" with a smile on your face? 
The best performance of the entire festival, in my opinion (outside Tom Petty because he is a god and still rocks as hard as he did in the 70s) was The Shins. A band I had long been waiting to see, the Albuquerue, New Mexico band put on a show that was dark, pop-y, brooding, forlorn, and all-around infectious. Slotted to play for an hour and fifteen minutes, they stopped and left the stage with twenty-five minutes still left to go. The audience began to panic as five minutes passed, and a lot of people began to leave for the Mumford & Sons stage.
But then they came back, and with more Shins badassery. It was as though they were testing their audience to see who were true fans and those who were only there because they were killing time. Playing as though the sun would not come out tomorrow, for their encore, after leaving the stage for a second time, the Shins came back on with Los Lobos for a collaborative effort of "The Fear" and inserted the chorus of Tom Petty's "American Girl" at one point where the crowd went absolutely mad. It was a phenomenal end to a great set.
Not wanting to taint the beautiful bubble The Shins created with their stellar performance, my friends and I decided to skip Mumford & Sons, a band who I know is great live but was doubtful to live up to the pure electricity that The Shins had produced.
Walking away beneath the white festival lamps to our car, the strum of the banjo and Marcus Mumford's singing could be heard slowly fading away into the summer night air.
Article by Meaghan Allen
Photos courtesy of Goldenvoice's Arroyo Seco Weekend house photopraphers
Comments
comments