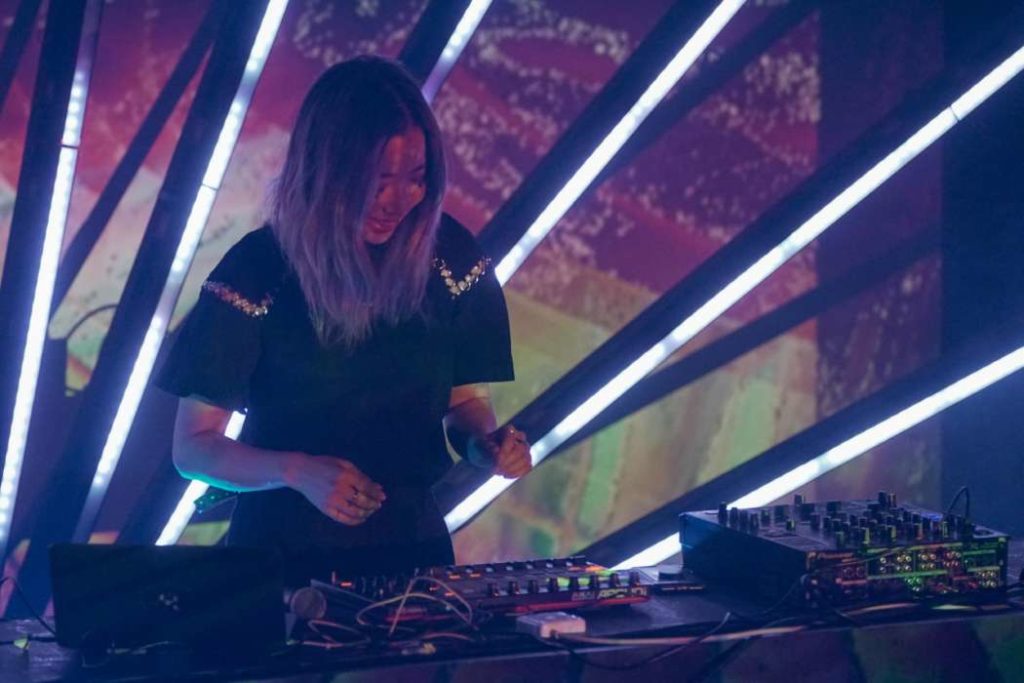 This past Wednesday, DJ/Producer TOKiMONSTA continued her "The Lune Rouge Tour," DJ'ing a packed house at Mezzanine in San Francisco.  Known for her signature style of production that seamlessly combines chilled-out synths, vibrant vocals, and danceable beats; TOKiMONSTA (born Jennifer Lee) delivered a versatile set resulting in a 2-hour long dance party in the middle of a work week.  While Lee's latest album, The Lune Rouge (2017), features more introspective and emotional songs tied to her personal life, the live set combined these sentimental tunes in perfect balance to upbeat songs to keep the energy buzzing all night.
Whenever an artist goes on tour in promotion of their most recent album, there's always the chance that they focus too heavily on that release while not revisiting some of their old discography.  TOKiMONSTA was certainly an exception to this, using her signature setup of running Ableton on her computer along with an Akai MPC 40 mkII controller – a stark comparison to the industry standard CDJ's which most performers use.  Technical know-how combined with an inimitable creative mind for production made the set a truly unique performance.  Throughout the night, Lee took on the role as a de facto guide, speaking through the microphone as the packed house traversed through a uniquely eclectic musical experience.
The best aspect of TOKiMONSTA's performance can be attributed to the fact that she does not restrict her music to a specific genre, instead playing whatever type of music she deems best while reading the crowd.  While the beginning of the set was very low-key and laid the atmosphere for the night, she immediately picked up the energy by playing some songs from her new album. "We Love," featuring singer MNDR's vocals, was just one of the new tracks that established a steady, feel-good atmosphere for the night.  From there, she was fully warmed up and the night quickly faded into a blur of timely transitions that resulted in rhythmic waves riding through the crowd and a smile on every person's face.
Considering the sheer amount of joy on TOKiMONSTA's face the whole night and the good vibes she curated for everyone in attendance, it would be hard to imagine that she has recently experienced a significantly difficult time in her life.  Just over a week before her San Francisco show, she shared an intimate interview with Pitchfork discussing the hardships she experienced following a diagnosis of a rare brain disease known as Moyamoya.  Following two successful brain surgeries, she was faced with the challenge of re-learning how to speak, walk, and make music.  With all of these physical and emotional difficulties, it's almost incomprehensible as to how she has been able to keep such a consistent touring schedule less than two years after the operations.  Lune Rogue features tracks only made after reclaiming her ear and understanding of music, which makes it all the more remarkable.  One cannot help but feel incredibly happy for Lee and genuinely appreciate the passion and drive she has had in her quest to connect with people through her love of music.
Written by Connor Tapley
Photos by Kyle Mikami
Comments
comments