When writing about concerts, I can typically rely on the personalities of the band members, the stage setup, crowd interactions, and a plethora of other unpredictable qualities to illustrate why the show was unique and meaningful. For English rock band Slowdive's performance at The Fox Saturday night, it's difficult to focus on ornamentation and non-musical details, because every aspect of their performance served solely to amplify the absolutely captivating power of their live music.
Since their self-titled debut EP in 1990, Slowdive has been categorized as shoegaze, dream pop, indie rock, and ambient—all in attempt to capture their unique integration of hazy atmospheric tranquility with their sweeping torrents of sonic energy. In the 27 years since then, the band has released four studio LPs, with their most recent self-titled album released earlier this May. Given that it's been 22 years since their previous album, the band's re-emergence to both touring in early 2014 and recording new music has been a pleasant surpirse for those not anticipating such a strong comeback release, and particularly exciting for longtime fans. With Saturday night as Slowdive's first-ever Oakland performance, that excitement was thoroughly justified for The Fox's adoring audience.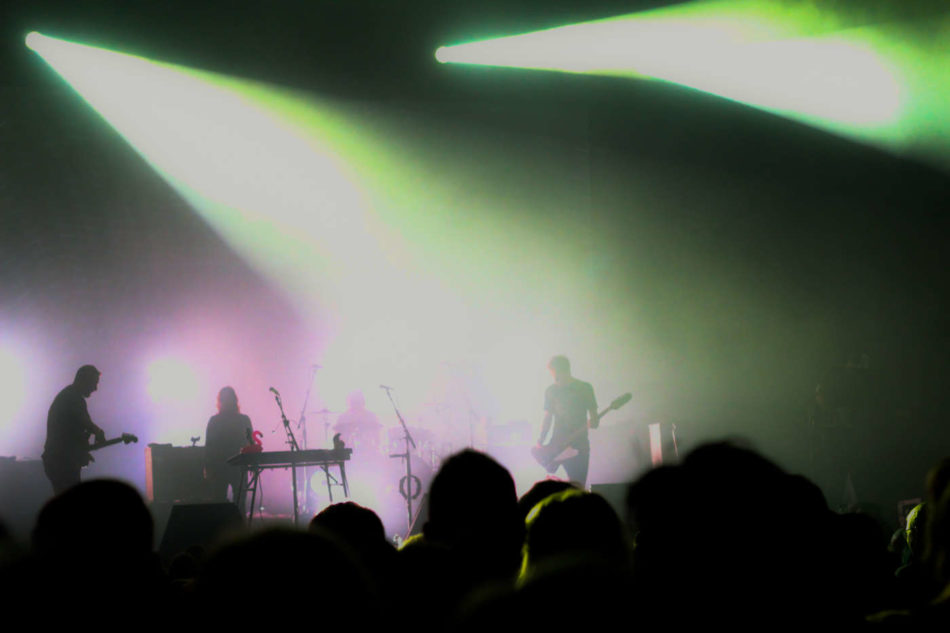 Opening the night with the steady bounce and gated-reverb drums of Slowdive's album opener, "Slomo," the audience was instantly locked into a hypnotic sway that continued throughout the set. The crowded mass felt simultaneously steeped in dreamy awe at the whole experience and charged with spiked excitement at the start of each song. Two particularly devoted fans in front of me shook each other in apparent disbelief every time one of their favorites started (which seemed to be practically the entire set). Consisting of tracks both 27 years old and not even half a year old, the band's 16 song set contained tracks from every release since their debut, mostly pulling from their most recent album and definitive classic of the shoegaze canon, Souvlaki (1993). That Slowdive have been able to garner just as much praise for their recent work as their classics is a testament to how on top of their game they are now, and their quiet confidence on stage was only more reassurance for the audience that they were experiencing the best that classic shoegaze and modern dream pop have to offer.
Avoiding any chance of distracting from the music itself, the complementary elements of the concert were supportive first and foremost. Ambient tracks by past collaborator Brian Eno cued the entrance and exit of the band members to and from the stage, appropriately providing the performance with a misty warm up and cool down for the sonically and emotionally dynamic set. The visual setup wasn't unfamiliar for an indie rock band at The Fox (although definitely fitting for Slowdive), with geometric lighting patterns complimenting the pulse of the drums, slowly morphing minimalist projections recalling outer space, and copious amounts of stage fog actualizing the haziness of the music. The five band members onstage simply held their place as they played, and only took time to talk to the crowd two or three times, succinctly but sincerely telling the crowd, "Thank you, this is a beautiful theater—we're so lucky to be here."
At times it was hard to believe that so much soaring energy was able to emanate from such a relatively humble onstage presence. Mid-set Souvlaki classics like "When the Sun Hits" and "Alison" were so intensely beautiful and awe-inspiring that no written description could ever do them justice. Dense layers of reverberated guitar pervaded through the whole theater, and the forceful gravity of the drums and bass kept the celestial energy grounded enough to resonate throughout the body. The mood recalled a similar reach for transcendance as Sigur Rós, and the drive was less abrasive than but nearly as breathtakingly powerful as Mogwai. At its most intense, experiencing Slowdive at their climax could be comparable to watching a rocket take off up-close and in slow-motion, but instead of feeling the piercing boom of the explosion, hearing something profoundly healing and beautiful. Even with an underlying chaotic spirit, the movement of the music still feels contained and controlled. Likewise, a key element to the band's unique ability to maintain serenity in the face of so much chaotic intensity is the calming vocal approach of Neil Halstead and Rachel Goswell, both of whom delivered welcomingly simple melodies in a soft, and occasionally haunting timbre.
After leaving the stage for a moment to let our emotions settle, the five-piece returned for a much-appreciated three song encore. As the penultimate song, Souvlaki's pensive, slowcore-style "Dagger" served as an emotional highlight of the night, carried by Goswell's poignant mantra of "I thought I heard you whisper, I hear it all the time." Not to close the night too softly, the band ended with the searing drive of Souvlaki's "40 Days." Even as they walked offstage to the ambient Eno track that signaled the end of their performance, many fans stood in place, hoping for another encore. Honestly, I can't say I did any different; even after a wholly satisfying show I wouldn't risk my chances to see just one more Slowdive song. Reasonably, after such a roaring performance, I also started to think to myself that I should probably start investing in ear plugs. But if any show would be my last to take in directly, damage and all, I was glad it was for Slowdive.
Written by Dylan Medlock
Photos by Bianca Lu
Comments
comments