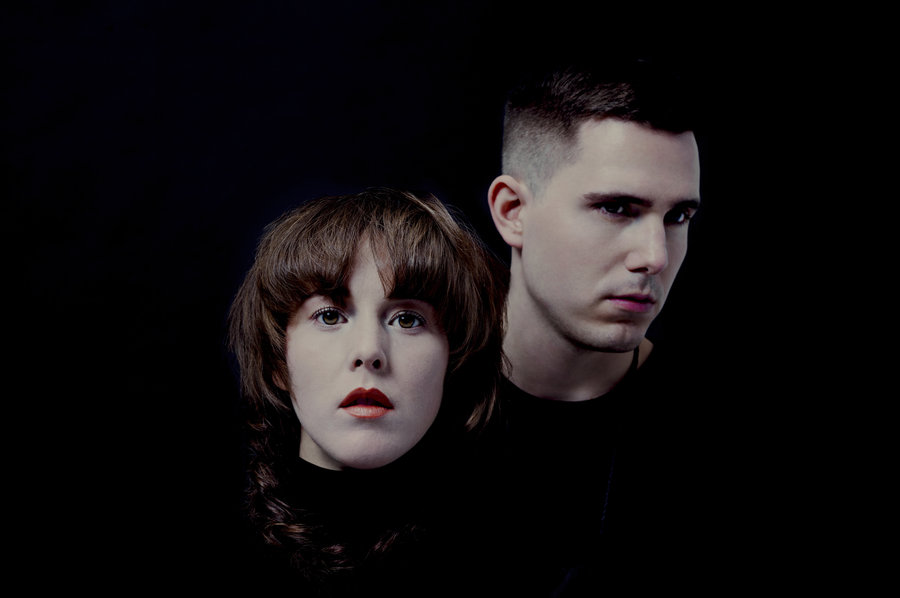 Regardless of their position in the another eternity / "Purity Ring sound" debate, patrons at Purity Ring's Fox Oakland debut could agree that Purity Ring's live show is fully-developed and leaves "future pop" to no interpretation. The already bold and imaginative display has magnified in scale since the band's second release – bigger is better in this case; the captivating light spectacle has been selling out mid-sized theatres across the nation, including the 2800-person capacity Fox Friday night.
The evening began with a set from Born Gold, otherwise known as Cecil Frena, a longtime friend and collaborator of Purity Ring's. In fact, both acts (as well remix artist / producer Kuhrye-oo) are the spawn of GOBBLE GOBBLE, an earlier electronic foray into the far left during the era of psychedelectropunk, if you will (think Hot Panda, Galaxie, DD/MM/YYYY… and the go-to American iteration – LCD Soundsystem). For the month-long US tour, the sets of Born Gold and Purity Ring were separated by one from BRAIDS, a fellow Canadian band of the baroque-pop persuasion.
Purity Ring said very little besides the expected gratitude at the end, perhaps for the better. BRAIDS frontwoman Raphaelle Standell-Preston managed to botch (with little consequence besides amusement) her congratulations to the Warriors by calling the local basketball team a baseball team, whereas Purity Ring's Megan James simply donned a Golden State jersey for the final number, "Begin Again." The change of outfit also permitted a crowdsurf that was probably much more comfortable in athletic attire than the structured shoulder top James wore throughout the tour.
Between the deliberate costuming, the elaborate setup, and the minimal breaks between songs, Purity Ring became the duo's identity. We never heard the instrumentalist's voice, and we only saw him as Roddick once, when he dropped something on the stage in front of his elevated platform. We acknowledged James a few times: when she returned the item Roddick dropped to him, when she had to take a breather after getting too much theatrical smoke in her face, and when she had to repeat Standell-Preston's observations. Gone was the cosmic goddess of Purity Ring for a moment as James gazed with wonder up towards the balcony and vaulted dome, declaring The Fox to be one of the most beautiful venues she's performed at.
From beginning ("Stranger Than Earth" and "Push Pull") to end ("Bodyache" and "Begin Again") and without a word, Purity Ring excelled at audience engagement. If you weren't hypnotized by the lightshow, you were wishing you had James's hair and dance moves, or trying to figure out how Roddick was playing the lanterns in front of him like they were bars of a metallophone. Since Shrines (2012), Purity Ring's set design has become less DIY and the dangling cocoons replaced with light vines, but the basic touch- and sound- sensitive technology is the same.
The lanterns, as a sort of visual proxy for uniform instrumentation, also made it painfully obvious that yes, you could put all the tracks from another eternity and Shrines in a hat and randomly re-compile the two records at random to meet the same result. But from the equally as good, if not better response that songs from another eternity received Friday night, that result is an effective one. There's also a very plausible chance that the rise of trap and grimier electronic music gave Purity Ring's second album more mainstream success while retaining the band's initial following. Needless to say, it's not the worst place to park for a while.
The most accurate criticism of the show, overheard afterwards, was that "everything was pre-recorded; they just pushed buttons." This does hold true for most electronic acts and forms a mould that the duo strives to break. James's vocal delivery was exceptionally exact to the recording, so Roddick bore the weight of mixing things up Friday night, which he did, adding extra reverb or layering more heavily when appropriate. I caught one of his DJ sets in Toronto last summer and can say he is completely gimmick-free, trading rudimentary breakdowns for perhaps a slower and more subtle set, but one that is commendably attentive.
There was an artificiality to the strategically ordered set. The "again, again, again" refrain of opening song "Stranger Than Earth" and the chorus of finale, "Begin Again," line up neatly like a literary device, there was no encore, and the process of bringing James's smaller set of touch-sensitive lights out on stage had its own set of theatrical cues ([lights dim; stagehand enters stage right, pushing the apparatus; James puts on light gloves; stagehand positions apparatus and leaves stage right; lights rise]). But the artificiality was no more than what is to be expected from an electronic group. If anything, the theatricality added to the set.
Besides this one, complaints were non-existent as Purity Ring ploughed through the best of both records. Half technological lightshow, half a midsummer night's dream, Purity Ring's performance was anything but forgettable. If this is what "future pop" looks like, we can't fucking wait.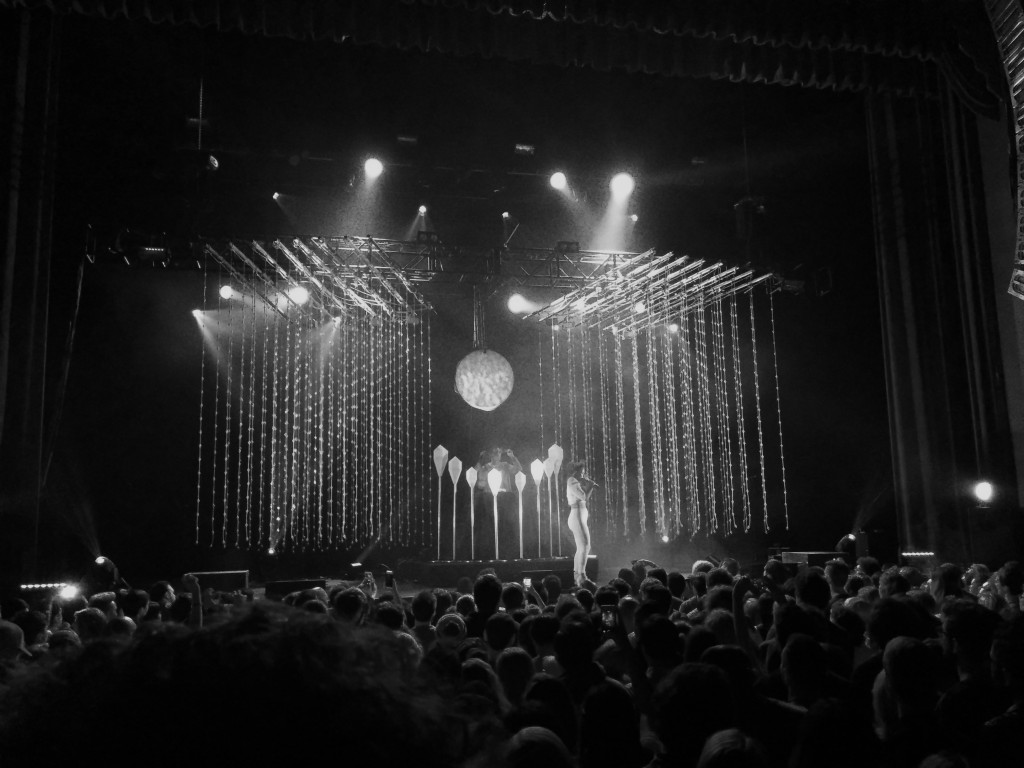 Article by Joanna Jiang
Comments
comments