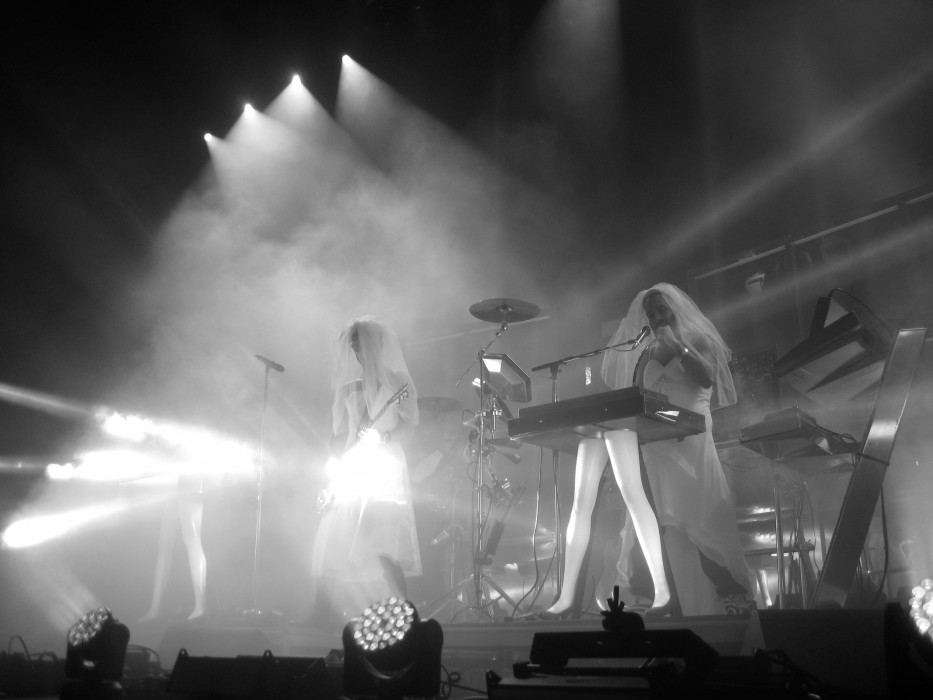 It may have been Halloween, but the only thing scary last Friday was the number of patrons at LIVE 105's Spookfest who wrote Chromeo off as a "band." In fact, one patron we spoke with at the end of the night said it like it was a dirty word. A funk band between DJ sets? What gives?
To be frank, the French Canadian duo's signature flair and commitment to organic instruments saved the show, which had an oddly European lineup. It wasn't a shabby roster or a shabby turnout — together, locals Slaptop and Henry Fong, Englishmen Duke Dumont and Gareth Emery, the aforementioned Chromeo, and Sweden's Alesso sold out the 20,000 person-capacity Oracle Arena's standing floor and filled most of its lower level seats. But whereas the DJs did a fair job of transforming the basketball stadium into a dance hall, Chromeo took it one step further, giving the omnipresent disco ball above the stage cause to truly sparkle.
Word in the stadium was that the show had started mid-afternoon, but slowly so. We thought the room was sufficiently packed and at its peak by 9pm, though, when chants of "Chromeo" summoned Dave 1 (David Macklovitch) and P-Thugg (Patrick Gemayel) onstage. Each stationed at a two-literally-legged table with multiple instruments and dressed in a bridal gown with veil, the initial prettiness of this scene was made beautiful and glowing by the duo's talent and execution over the course of the evening.
Recorded, Chromeo strike as an inherently hilarious cross between Daft Punk and MSTRKRFT — the former an important influence for Macklovitch and Gemayel, the latter contemporaries and fellow Last Gang artists — but they struck harder live.
The novelty of this duo is that they are both multi-instrumentalists and that they capitalize on this live. Drum and synth pads are looped in their live performance and stylistic auto-tune is used so liberally it is nearly abused; however, there were moments that made Friday's show come alive: Dave 1 and P-Thugg both grabbing guitars and jumping down to the front of the stage to do a guitar-off, Dave 1 turning around to deliver a hammering drum solo, P-Thugg stilling his audience with a glowing keyboard interlude.
The duo covered most of the goodies, including a percussive "Hot Mess" where Dave 1 destroyed the cowbell on the kit behind him; a "Tenderoni" that had the floor jumping in tandem; a vigorous "Bonafied Lovin'" — this one was "for those who've been with [Chromeo] since day one;" a strong "Fancy Footwork" with P-Thugg whispering "two-step, two-step;" and a flawlessly executed guitar riff by Dave 1 on "Jealous (I Ain't With It)." This finale was further boosted by P's live upward harmonies for the lyrics "back in 2011" and "they come back around."
Minor details like these, Dave 1's smooth talking, and a tremendously responsive audience put Chromeo at the top of their game that night. The boys didn't need to do anything groundbreaking, recycling their infallible "Over Your Shoulder" gimmick: "for this song, we want to see as many girls on shoulders as we can; last time we were in the Bay, we had 500." The record was easily beat.
Chromeo spun us into a dynamic discothequé, interspersing high velocity guitar funk ("Sexy Socialite") with glossy keyboard ballads ("Momma's Boy"). They were intelligent (the college boys that they are — in fact, Macklovitch is a lecturer at Barnard in Montreal), seasoned performers (oh, how far they've come), who made clear just why their worldwide recognition has been gaining in momentum.
Ay, band is not a dirty word: visually, Alesso's performance to top off the night paled in comparison — despite stirring every crowd member, his DJ booth setup and lightshow could not quite compete.
Highlights of the headliner's set included a brief Tove Lo ("Habits") edit; "Sweet Escape;" as well as hit singles "Don't Blame it on Me;" "Under Control;" and "Heroes." Perhaps the most applaudable moment was on his cut of OneRepublic's "If I Lose Myself," though, when he extracted an upward interval from the chorus and improvised on it for twenty seconds — a good, interesting twenty seconds in a night full of wonder.
There's our argument for the evening: upbeat electronic artists are often hard-pressed to keep a stadium-sized crowd engaged, and Chromeo nailed it.
Article and photos by Joanna Jiang
Comments
comments